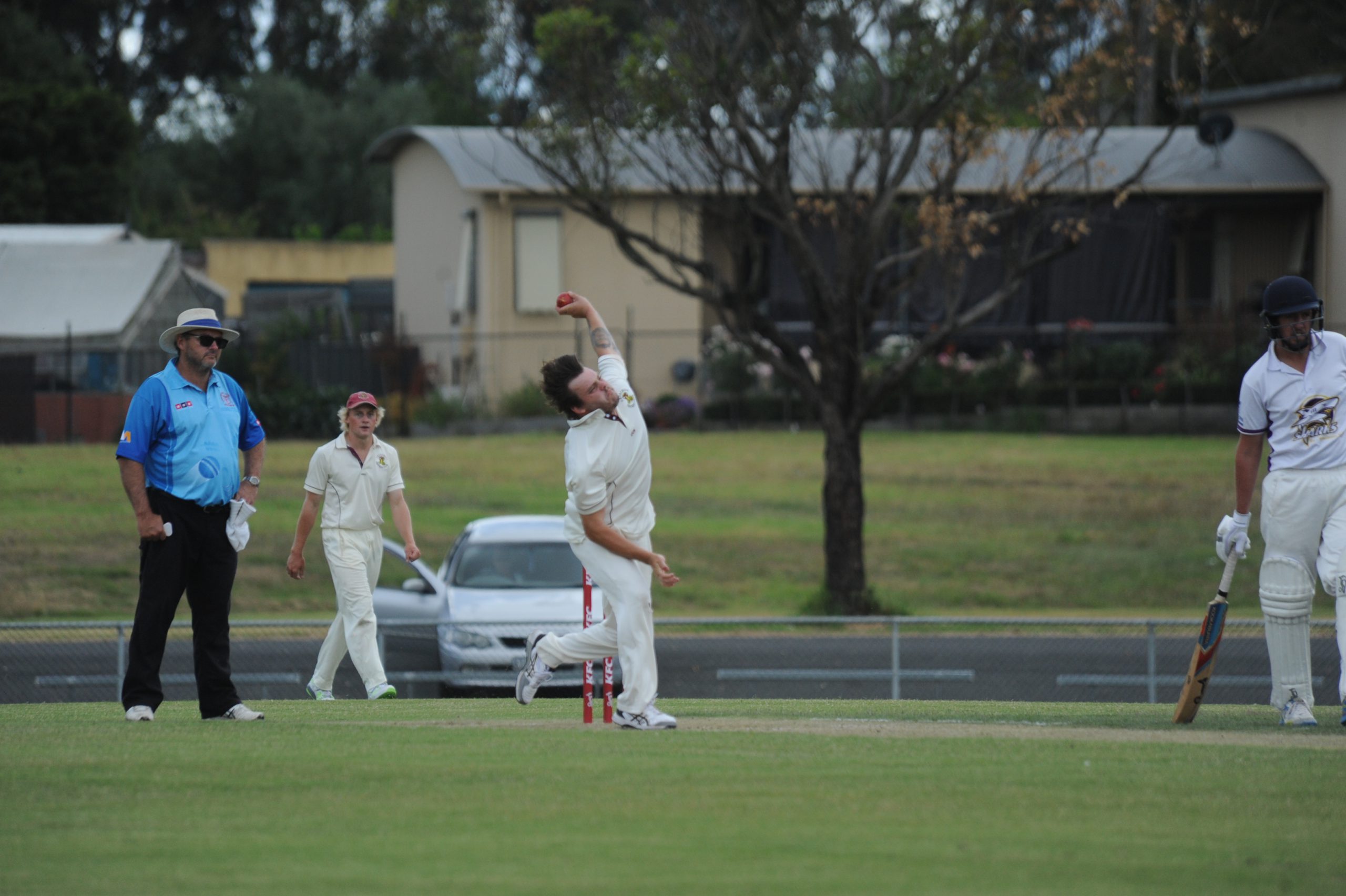 CRICKET
TDCA
Gormandale needs 138 runs to overhaul Churchill's first innings score of 226 on day two of their Traralgon and District Cricket Association A grade match.
Shaun Barbour (4/65) and Travis Switzer (3/2) did the damage for the Tigers on Saturday, removing many of the Cobras batsmen cheaply to get their side into a good position at George Cain Oval.
But the visitors were made to pay for their inability to remove opener Ben Kearns who blazed his way to 123 before he was bowled by Switzer.
Brendan Mason (39) and king Cobra John Keighran were (18) were the other Churchill batsmen to get starts as the team posted 226.
At the end of play, Gormandale had got itself to 3/89 with captain Adrian Burgiel not out on 54 after openers Chris Lehner and Conor Little fell cheaply.
The Cobras will be made to sweat if Burgiel is able to build on his overnight score, but to do so he must contend with Churchill's Ryan Harvey and Steve Warr.
Harvey is fourth on the A grade wicket-taker list this season with 30 wickets at an average of 9.83 and has already claimed the scalp of Lehner.
CATS v Centrals
CATS will expect to complete an outright victory when play resumes in its match against Centrals at John Black Oval on Saturday.
Centrals batted first after losing the toss before being blasted out by the rampaging CATS attack for 44 in less than 25 overs.
Tinashe Panyangara, Rory Hare and Callum Stewart shared 10 wickets between them as they all but snuffed out Centrals chances of victory.
The CATS batsmen struggled when it was their turn to bat, with Josh Keyhoe (21) and Marty Anthufor (29) helping the home team to 113.
Centrals woes continued when they fell to 5/45 at the end of play with captain Corey Pollard still at the crease on 15.
After conceding first innings points on day one, the visitors need 25 runs to make CATS bat again and will need to bat deep into the day to avoid an outright loss.
Glengarry v Imperials
Imperials have their work cut out for them if they ares to chase Glengarry's first innings total of 239 at Fred King Oval on Saturday.
The Magpies worked themselves into a dominant position through the lower-order efforts of Ben Marks (96).
Marks' innings built on the earlier work of Paul Henry (33) and Alistair Jenkin (54).
Nathanael Campbell did the damage for Imperials – taking seven wickets and bowling an astonishing 28 overs.
The visitors finished 0/9 from four overs with openers Ryan Morley (six not out) and Matt Hibbs (three not out) still at the crease.
Rovers v Toongabbie
Toongabbie's batsmen made Rovers bowlers toil on day one of their match at Duncan Cameron Park on Saturday.
Robert Wheildon was the star of the show with a half-century as batsmen throughout the order chipped in with scores in the 20s and 30s.
The Rams posted 266, helped along by Jason Veneman's unbeaten 33 and Tom Shippen's 27 not out.
The last time the two teams faced off in round one, Toongabbie blasted Rovers out for 65.
Rovers will need to do much better this time if it is to walk away with the points this time.
Ex Students v Traralgon West
Ex Students go into day two of their match against Traralgon West with first innings points in the bag and all eyes set on an outright victory.
The Sharks finished day one 3/93 in their second innings at Traralgon Recreation Reserve after steamrolling the Eagles to dismiss them for 71.
Ex Students hold a 206-run lead with seven wickets in hand.
Captain Lee Stockdale's big conundrum this week will be how far to bat into day two.
The home team would be confident of defending its current tally but will likely push for some batting practice with just one round to go before finals.