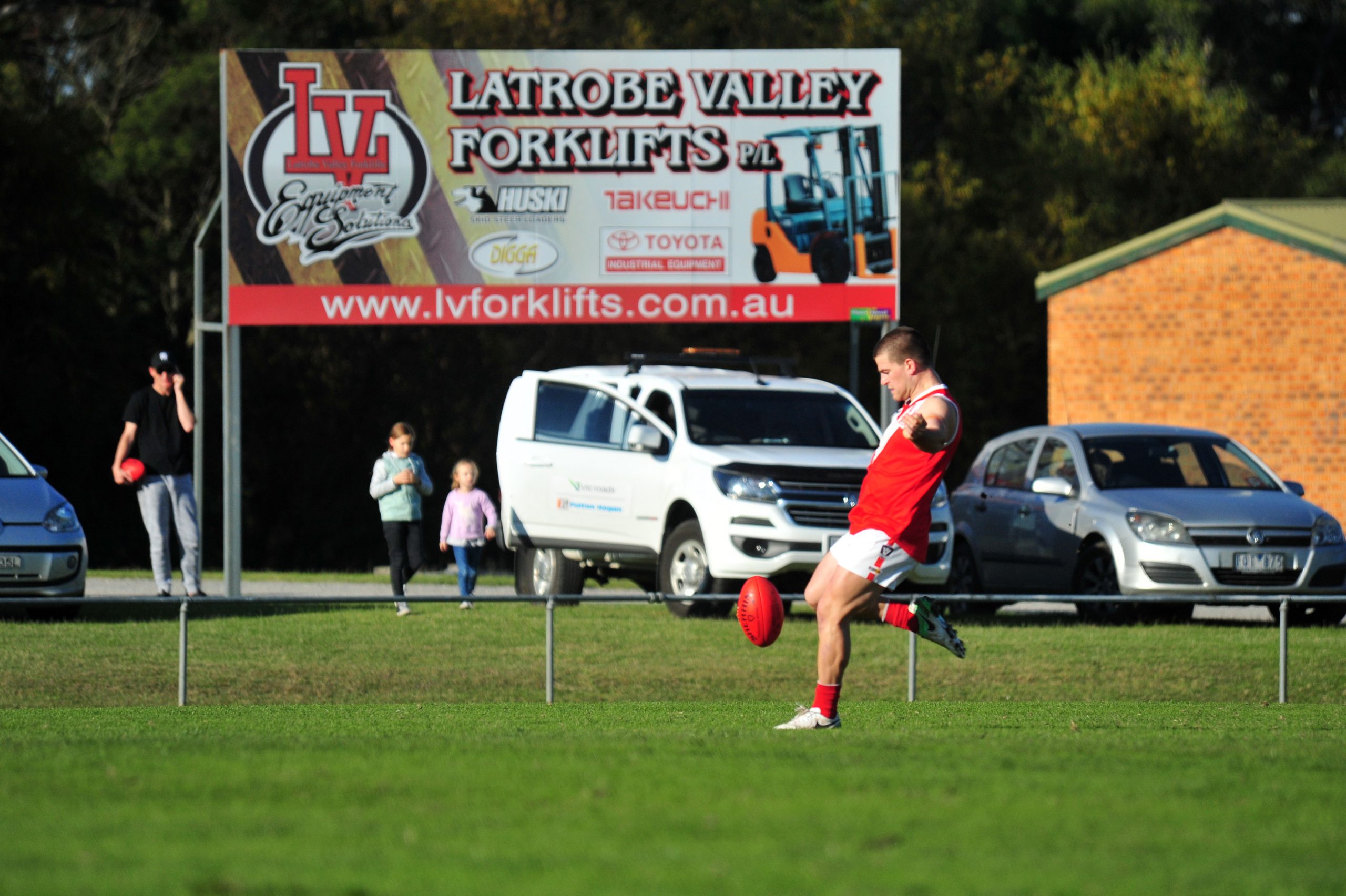 FOOTBALL
NORTH GIPPSLAND

Fine conditions are forecast ahead of Friday's round one opener with Rosedale coach Sam Bristow keen to bolster his team's potential as the Blues line up to face Woodside in the North Gippsland Football League.
Rosedale finished last season with only three wins, sitting ninth, above Gormandale who claimed the wooden spoon after going a second consecutive season without winning a seniors game.
Bristow said the side was involved in "six or seven close games" last season with a deficit of only a handful of goals.
"We've had another year to mature with the younger blokes, so hopefully the experience of being in those close games will help us build on," he said.
Former league best and fairest Rohan Diamond will return to the side, along with teammate Brad Scott, who returns from playing cricket in the UK.
"Brad really helps set up our structures on the field and he's a very important player to add to the side," Bristow, into his third year at the helm, said.
Former state league footballer Todd Bryant, who played for the Wildcats last season, will coach Woodside after spending two years up north playing for Palm Beach in the Queensland Australian Football League.
Bryant, who takes over the reins from Gary Jones, will add depth and leadership to a side which finished fifth on the table last season.
With his leadership comes a raft of experience, having grown up in Albury-Wodonga and captained and vice captained the Wodonga Raiders in the Ovens and Murray Football League for four seasons.
"We've made a big effort to re-sign our list from last year and we've probably brought about seven or eight blokes to the club who are at senior level to improve the depth of the side," Bryant said.
"The boys have really taken on board an increase in training load. We've worked hard on our athletic conditioning and there's been a larger focus on contested ball."
The Wildcats are likely to attract a number of players from Devon Welshpool Won Wron Woodside after the Allies, who played in the Alberton league, announced they would not field a senior team this year.
"We've got a few travellers this year from Melbourne, one of those is Mitch Thomas. He's been on Heidelberg's list in the Northern League and he'll be a good centre-half forward for us," Bryant said.
"We've got a couple from the Allies but a majority of our recruits come from either Sale, Traralgon or are Melbourne-based."
Bryant said his side's goal this season would be to win a final after playing a "mid-range" season last year.
"The long-term goal is to win a grand final but this season we'll be happy to win a final," he said.
Yarram v Churchill
Former Morwell footballer Matt Scholz has taken over the reins as Demons coach this year following the departure of Chris Pettitt after Yarram finished the season top of the ladder but lost to Sale City by 59 points in the grand final.
It is the Traralgon South resident's first year at the club and he told The Express he was excited ahead of round one. Scholz cited a good thirds selection, along with a number of key recruits, as strengths for his team.
"I've got a great bunch of blokes to work with and I think our talent is very deep. It's just a matter of playing to our game plan and trying to utilise our ball movement more effectively than what they did last year," Scholz said.
"We've got a few injury issues at the moment so we're going to utilise a few of the bigger bodies this year and rely on the kids from the thirds to come up and play a free-flowing game."
Justin Staley is out with a possible hamstring for the Demons, and Bill Jenkins – one of a handful of players returning to the side from Toora – will miss several rounds due to a foot injury.
League best and fairest Griffin Underwood is expected to be a dominant force across the ground while leading goalkicker Corbin Sutherland will provide plenty of strength up forward.
"Griff's a very smart player and even on the sidelines at quarter breaks and at training, he puts in a lot of advice to our younger guys," Scholz said.
"Corbin is just a natural talent that can read the play. He's strong and quick and he'll win most of his one-on-one battles and be that stand up, electric forward who can bag a number of goals when needed."
Churchill coach Chris Williams said his side lacked consistency last season and acknowledged they would have to play some "pretty good footy" to knock off the Demons.
"We're fielding a pretty young side – it will be young and exciting and we're hungry to play an attacking-style game," Williams said.
"Nathan McRae (from Tarwin Lower) is probably the only in this week from last year's side. There's no other surprises this week other than him.
"He'll play in the ruck, he's a pretty decent runner and he'll cover the ground well."
Williams, who has previously captained the Cougars, replaced Brendan Holt as head coach who has taken up an assistant-playing role.