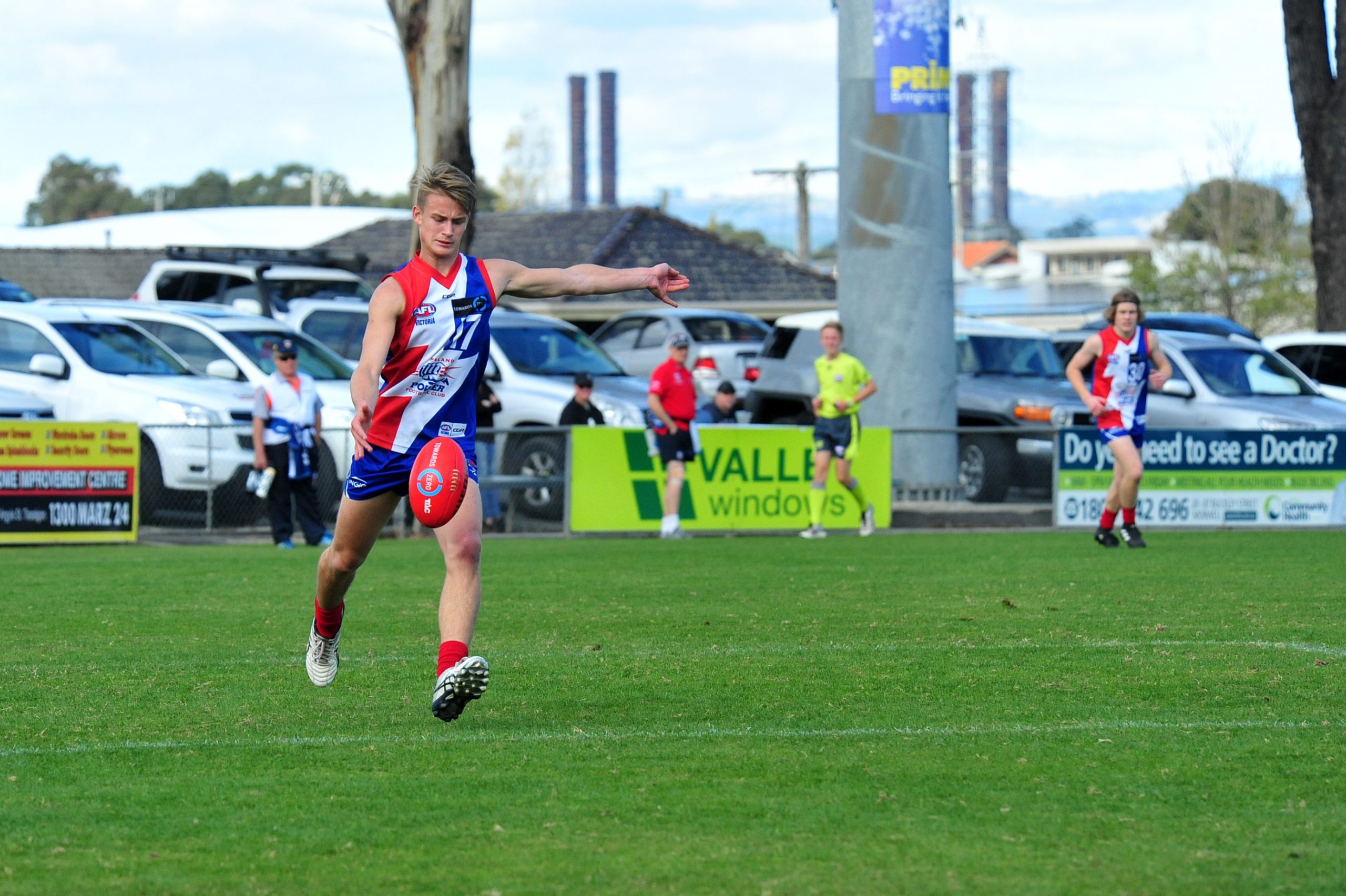 FOOTBALL
GIPPSLAND POWER

Gippsland Power have burst out of the blocks in their first run of season 2018 with a resounding win over Murray Bushrangers on Sunday, 15.14 (104) to 8.12 (60).
Coach Leigh Brown showed plenty of faith in his young list and was suitably impressed by the 12 bottom-agers who took to the park in the Power's season debut.
"I thought the bottom-age players, their effort on a whole to come in and compete and perform like they did was fantastic," Brown said.
Gippsland was one point in the red at the first break but tore away to kick 13 goals to the Bushies' six thereafter.
The Bushies drew first blood from a free but the Power responded quickly through Jake Van Der Pligt, who kicked back-to-back majors to see them within a point at quarter time.
It was heavy going for the Bushrangers after the first break as five more Gippsland players joined in the goal-kicking action to give their side a 15-point buffer at the main break.
A four goal to one final quarter was the icing on the cake for Gippsland as excitement machine Irving Mosquito rounded out scoring with his second major of the day to seal the 44-point win.
Brown was quick to heap praise on his charges in the wake of their season-opener and was suitably impressed by their efforts across board.
"I'm really pleased with the first up win and I thought the boys' team effort was absolutely fantastic," he said.
"I thought our top age players and 19-year-olds really led the way.
"Austin Hodge, Matt McGannon, Boadie Motton and Xavier Duursma were fantastic … Kyle Reid was very good down back and Noah Gown, who has come in for his first game from a basketball background, was very good as well, so it was a really good team effort," Brown said."
McGannon was one of the best for the Power and had the ball on a string in defence, racking up 16 marks in one of his best games to date.
Motton was also key and had a stellar game on the ball.
Joshua Smith was the lead scorer for the Power in the win and kicked three while Hodge, Jake Van Der Pligt and Mosquito kicked two each.
With just five days' rest until their round two encounter with the Dandenong Stingrays, Brown said the focus was on recovery for his young group.
"Now it's about repairing a little bit, the boys are a bit sore but we look forward to taking on the Dandenong Stingrays on Good Friday," he said.