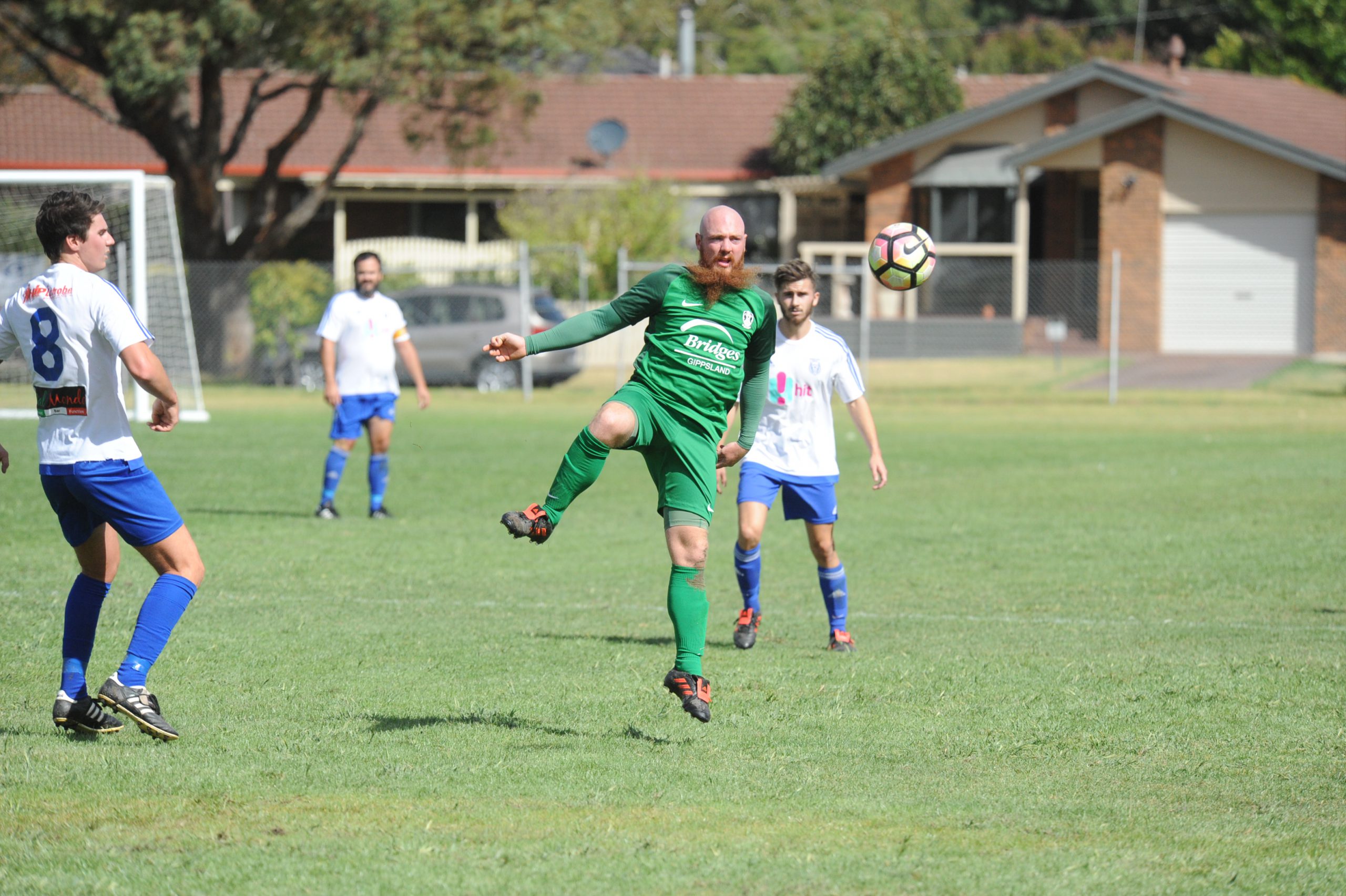 SOCCER
LVSL

Fortuna and Traralgon City were inseparable in Sunday's round two fixture of the Latrobe Valley Soccer League with the match resulting in a 0-0 stalemate.
A nil-all draw wasn't what either Fortuna or Traralgon City planned at this stage of the season.
Traralgon City started well in windy conditions and made Fortuna's guardian Andrew Hayden work hard.
The home side made a big effort to atone for last season and cranked up its efforts but repeated corners were wasted.
Liam McCluskey was a tower in defence for Fortuna and they received good drive but with little reward from coach David O'Dowd, Harvey Bates and new recruit Kuku Mahmoud.
Fortuna looked the attacking side in the second half and recorded 13 corners, five of those within a six-minute period as the Lions continued to attack.
Traralgon City keeper Chris Hall was forced into good saves as the Lions went close.
The away side had few opportunities against the wind but shots from Daniel Holt and Jake Budija went wide of the mark.
Falcons v East Gippsland
A four-goal haul from Jesse Kennedy led Falcons to a resounding 5-0 win over East Gippsland on Sunday.
Winger Kevin Carcella swung the match in Falcons' favour with a good run and goal at the six-minute mark.
East Gippsland were favoured by the breeze but couldn't get past the Falcons' back three in Andrew Carbone, Isaac Abas and Joey Auciello.
Falcons gave East Gippsland keeper David Pachl a hard time but the young keeper stood firm under the pressure until Jesse Kennedy exerted his brilliance at the 26-minute mark and goaled.
Kennedy provided the highlight of the second half with a hat-trick of goals to finish with four.
He was assisted with good play from Tommy D'Alia and Jamie Pistrin who fed the ball with purpose all day.
Newborough/Yallourn v Trafalgar
Newborough/Yallourn stamped its mark on the competition with a massive 8-0 drubbing of Trafalgar to record its biggest winning margin against the club.
The home side looked sharp early and rattled the net four times within the first 38 minutes.
Mark Fairbrother and Alex Van Vliet caused all sorts of panic among the Trafalgar defence as Newborough/Yallourn went into the break 4-0 up.
The carnage continued after half time as Newborough/Yallourn added a further four goals to seal the win and top spot on the ladder.
Alex Van Vliet finished with a hat-trick and Mark Fairbrother with two goals.
Sale v Churchill
After their opening round loss to Olympians (1-3) Sale bounced back to record their highest score against Churchill with a resounding 6-0 win.
The Swans raced to a 5-0 lead at half time with two goals to Joshua Ryan at seven and nine minutes, Orin Geisbers at 18 and Nathi Khamchorn at 19 and 31.
Churchill was on the defensive but Sale eventually broke through again at 70 minutes with a goal from Jake Hards to secure the record-breaking win.
Monash v Olympians
Monash capitalised on its second consecutive home game at the weekend with an emotionally-charged win over Olympians, 3-1.
It took some 37 minutes for first blood to be drawn with Monash breaking the drought through defender Braden Paulet.
Olympians hit back four minutes later with a classic goal from James Alesi.
Braden Paulet made his brace just before half time which gave Monash a 2-1 lead at the break.
Monash went further ahead at 77 minutes through Ethan Lawrence to wrap up the win.