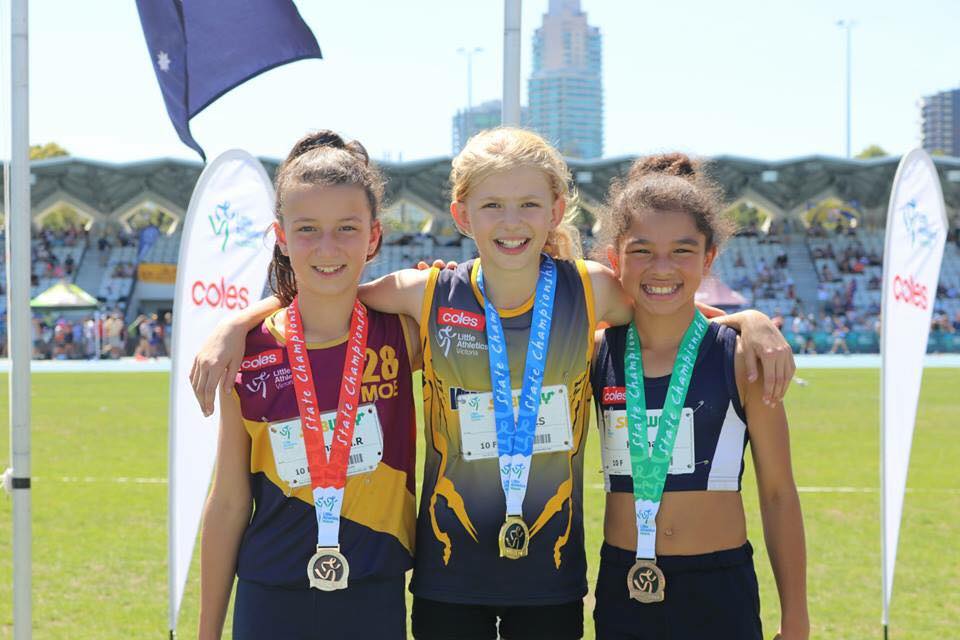 ATHLETICS

The Moe Little Athletics Club wrapped its season in style recently with several long-standing records broken at its championship day.
A 94-strong contingent turned out in sweltering heat on Saturday, March 3 to finish the 2017/18 season with a carnival of track and field events.
Annabella Denton smashed the under 8 girls record in 400 metres set in 1972/73 and Lachlan Rosato broke two records set in the same year in the under 8 boys 200 and 400 metres.
Michaella Rosato also joined in on the record breaking action in the under 10 girls high jump with a leap of 1.29 metres while Alarna Gibson-Williamson set records in the under 14 girls high jump (1.56 metres) and the 80-metre hurdles (14.04 seconds).
Clio Bergmann broke the record twice for the under 16 girls javelin with a throw of 19.58 metres and Reed Paterson took the under 6 mini hurdles by storm with a run of 13.96 seconds.
Perpetual shields were also awarded to Moe senior club champions Mac Brosnan and Elly Fleming and junior club champions Lachlan Rosato and Hana Schloetel.
Moe also enjoyed great success at the Region Track and Field Championships with 23 athletes journeying to Berwick to represent their club.
A total of 36 medals were won including 13 gold, 12 silver and 11 bronze medals while 14 athletes qualified for the State Track and Field Championships.
Gibson-Williamson took out the gold in the under 14 high jump and was joined on the podium by Michaella Rosato who won silver in the under 10 high jump.
Claire Birks (under 15 girls shot put) and Ben Denton (under 11 boys discuss) finished ninth in their respective events while many others achieved personal bests.