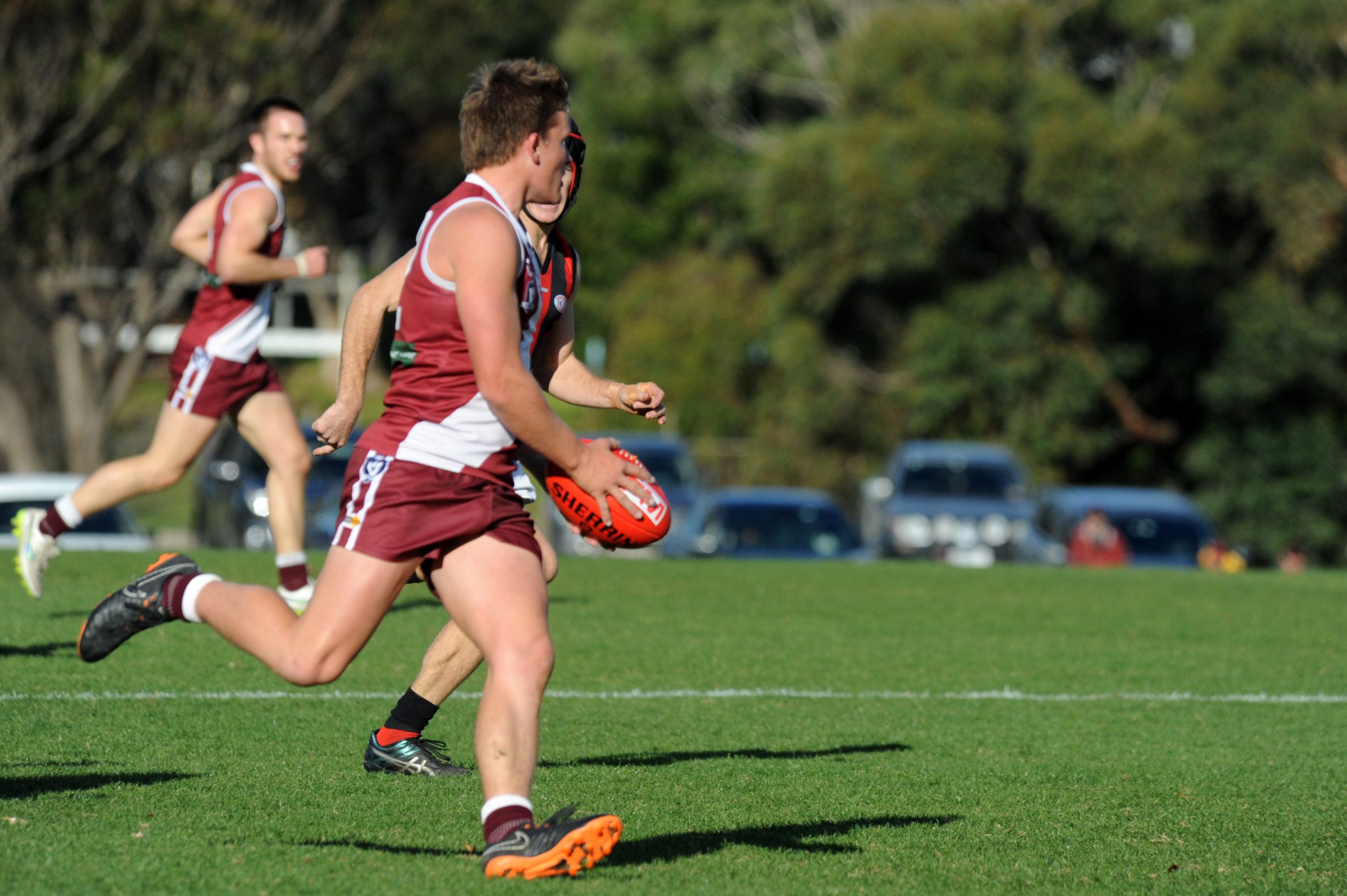 Kate Withers
FOOTBALL
GIPPSLAND LEAGUE

Traralgon did what they needed to do to hang onto fifth spot and secure a finals berth with a convincing win over Morwell on Saturday, 14.15 (99) to 5.12 (42).
Maroons coach Mark Collison said he was "really pleased" with his side's win.
"I thought we played a really good four-quarter game. We were a bit sloppy in the first half with our disposals and gave Morwell opportunities to score and needed to clean up and we did," Collison said.
"We addressed that at half-time and to come out of the third and fix the things we needed to fix is the sign of a really good side."
Collison said it was difficult to pinpoint a handful of best players given all 22 played their roles.
With eight individual goal-kickers, Collison said his focus was more geared towards "how we get the goals, not who kicks them".
"We definitely don't put any time into having set avenues to goal, but we just like to get a good even spread," he said.
Collison said the Maroons "got through unscathed" and will have a full list to select from for this weekend's do or die clash with Moe, which he said he was "really excited" for.
Leongatha v Sale
Defending premiers Leongatha have sent a clear message to the rest of the competition in the final round of the Gippsland League senior competition, holding Sale to just six goals on Saturday to run out 59-point winners, 14.15 (99) to 6.4 (40).
The Magpies will have to regroup quickly before they face the Parrots for a second time in as many weeks in the qualifying final this weekend.
The Parrots had just a slight edge by the first break with a one-goal lead, which blew out to 26 points by half-time.
Leongatha's wayward kicking in the third term – with two goals and seven behinds – wasn't enough to let Sale back in and the lead had ballooned past six goals by the last break.
Chris Dunne was at his menacing best and provided all sorts of headaches for the Sale defence, finishing with six goals while Cade Maskell and James Lloyd both kicked two and singles went to Tom Marriott, Colin Sanbrook, Josh Hopkins and Brok Davidson.
Moe v Maffra
Maffra have finished the 2018 season as minor premiers of the Gippsland League senior competition after they put away Moe on Saturday, 10.18 (78) to 6.10 (46).
The Lions' loss wasn't enough to bump them from fourth spot and they will now face arch rival Traralgon in the elimination final this weekend.
The Eagles dashed out of the blocks in the first term and looked in typically ominous form as they piled on four goals to lead by 18 points at the first break.
They had the ball on a string in the second term but failed to make the most of their chances – converting just one goal from 11 scoring shots to stretch the margin to 15 points at half-time.
Moe went goal-for-goal with Maffra for the rest of the day but the early work held the Eagles in good stead and helped them run out 32-point winners.
Drouin v Wonthaggi
Drouin rounded their season 2018 out on a high with a win over Wonthaggi at home on Saturday, 13.17 (95) to 10.9 (69).
The Hawks were four point in the red at quarter-time but kicked six goals in the second to overturn the lead to three points in their favour at the main break.
The lead remained at three points heading into the final term as the Hawks added five goals to the Power's one to finish 16-point winners.
Ed Morris led the way for Drouin and bagged four goals while Josh Seri, Tom Barr and David Olsen kicked two each.
Warragul v Bairnsdale
Bairnsdale emerged three-point winners in a final-round thriller over Warragul on Saturday, 15.12 (102) to 15.9 (99).
The Gulls were an outside chance to play finals heading into the clash but their hopes were dashed early as fifth-placed Traralgon steamed away to a convincing lead against Morwell down the highway.
The home side were 11 points up at half-time but relinquished their lead and were 21 points down at the last break.
Brayden McCarrey was a front-runner for the Redlegs and kicked five goals to finish the season with 41 while Shaun Wyatt kicked three and Alex McLaren two.
All the usual suspects showed plenty up forward for Warragul with Nathaniel Paredes, Brayden Fowler and Luke Di Ciero all bagging three goals.