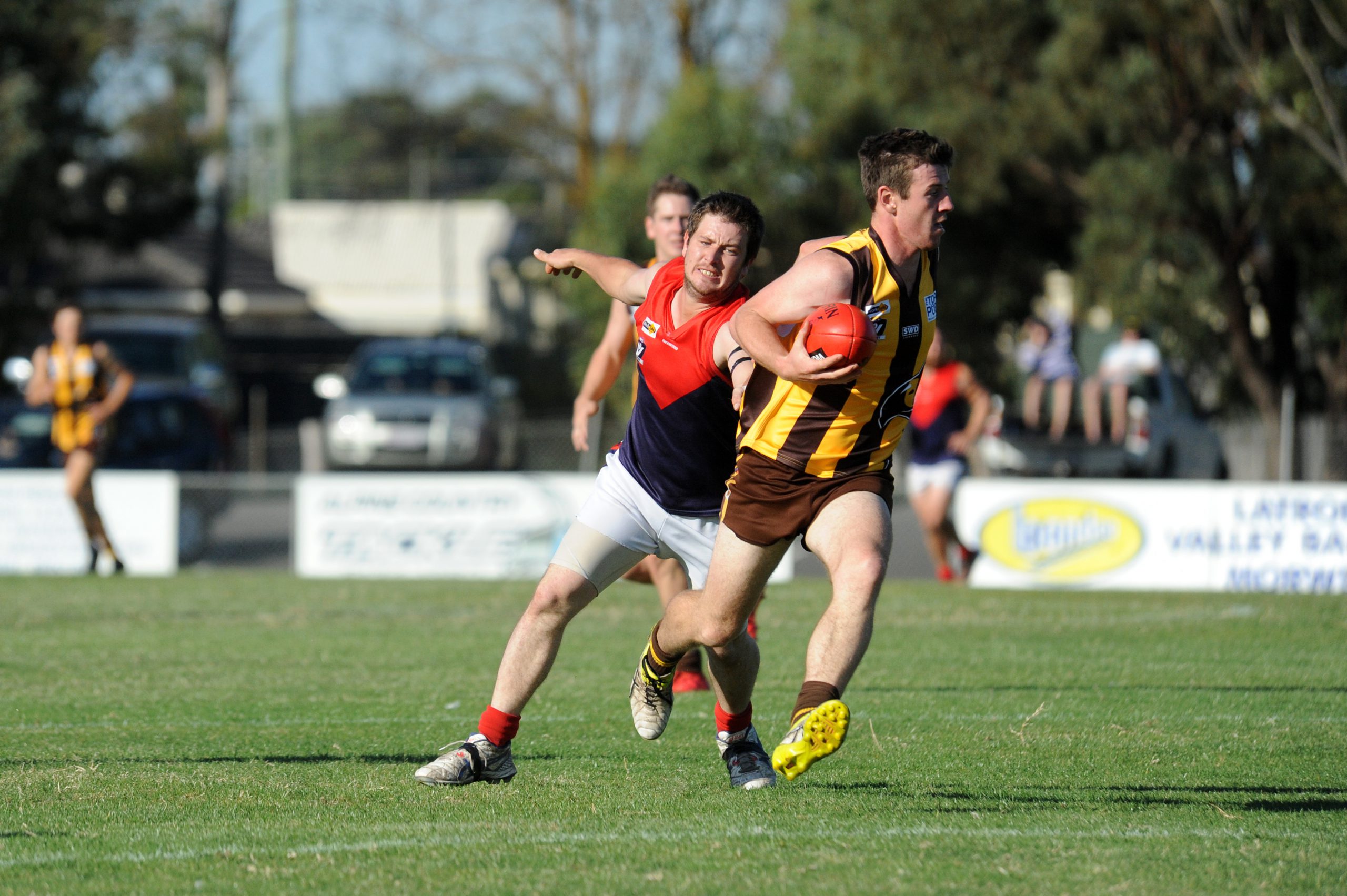 Kate Withers
The Mid Gippsland Football League has rejected AFL Gippsland's recommendation that it merge with the Alberton Football Netball League to form a new competition in time for the 2019 season.

AFL Gippsland last week released its Leagues and Competition Review Draft Recommendations report and suggested nine MGFL clubs and six AFNL clubs form the Central and Southern Gippsland Competition.
In the report, AFL Gippsland said the review panel "deemed structural change necessary following 100 per cent of AFNL clubs suggesting that a six team competition was not viable into the future".
However, MGFL spokesman Rob Popplestone said "all MGFL clubs are unanimous in rejecting the recommendation" and raised concerns about what the new competition would mean for clubs.
"At the moment we believe there is a vibrant and financially strong league in the MGFL that doesn't believe it will be made stronger by adding more clubs," Popplestone said.
"It might actually put at risk the strength we already have."
AFL Gippsland region general manager Ben Joske said the MGFL had "quite a good senior model at the moment" but change was necessary.
"Essentially these recommendations were established to sustain football and netball clubs in the region and make sure they're viable into the future," Joske said.
"We see it as being a really positive step forward for Gippsland and the region so it's upon us to work with those clubs and make them feel comfortable."
The report also suggests the new competition would operate under AFL Gippsland governance and administration.
"I think an alignment of the administration, and economies of scale … will allow us to actually deliver a better product," Joske said.
He also said AFL Gippsland's Regional Administration Centre would offer "really well-educated people working in an area in a professional manner."
However, Popplestone said the MGFL had "been doing their own research" and were "not so comfortable with what AFL Gippsland might deliver".
"The problem is that AFL Gippsland have got noble intentions of trying to operate seamlessly, but it's not a one-size-fits-all," he said.
"The biggest problem at the moment is the concern of what might happen but I don't think anyone knows what the result will be."
The MGFL has also taken issue with the timing of AFL Gippsland's release and the time given for clubs to provide feedback.
"To release this report the day before the Alberton grand final borders on disrespectful," Popplestone said.
"All the focus should have been on their grand final and listen to spectators and radio stations not talk about what is happening right now, but what might happen, is disappointing. To have two weeks to reply heightens our apprehension about whether they've got any empathy for the history of our clubs."
AFL Gippsland also acknowledged the new league would mean increased travel time for some clubs, however, said it was a small price to pay to ensure the longevity of football in the region.
"Three times a year teams will be doing an extra 30 kilometres per game, so across the season that means 90 kilometres additional," Joske said.
"I wouldn't say it's a huge stretch when it comes to making sure Gippsland football is existing."
However, Popplestone said increases in travel, "however small … could make the difference between attracting coaches and players or not".
"Right now there's seven coaches being sought for MGFL and clubs are trying to recruit new players. What do we tell those coaches?" he said.
"It's put a cloud of doubt over what we'll look like."

Seven clubs from the Traralgon and District Junior Football League are preparing to lodge an official objection to AFL Gippsland's plans to abolish the league's under 16 competition.
It comes after AFL Gippsland last week released a set of recommendations relating to football and netball across the region as part of its Leagues and Competition Review Draft Recommendations Report.
The TDJFL under 16 competition, comprised of Sale City, Pax Hill, Southside, West End, TEDAS, Heyfield and College junior football clubs, met last night to discuss their options for season 2019.
TEDAS president Matthew Addison labelled AFL Gippsland's recommendation to scrap the under 16 competition "too much too soon".
"I know they've got to pick a time to present the review, but on the eve of the TDJFL grand final when clubs are finishing up their year, they drop that bombshell on us," Addison said.
"Unfortunately on Sunday that conversation overshadowed the grand final and their timing couldn't have been worse.
"They've only given us the off-season to get our heads around this and it's not long enough."
A petition is being circulated to keep the under 16s TDJFL competition and had more than 1000 signatures when The Express went to print.
However, AFL Gippsland region general manager Ben Joske said all draft recommendations were carefully considered.
"We haven't made these recommendations lightly and the review panel is made up of a broad range of people in Gippsland and really well credentialed within the region and the game."
The report also recommends an under 17 age group be created in place of under 16 and under 18 divisions across all but two of the region's senior competitions.
"The concerns for a lot of our parents are that kids are going to a senior football environment," Addison said.
"A lot of boys may turn 15 middle or late next year, so they will be 14 playing against 17-year-olds that are hitting the gym and have a couple of seasons under their belt and are a lot fitter and stronger. The age gap is too big."
Joske said AFL Gippsland "acknowledge[ed] the three-year age gap will be a challenge" but said "we needed to make a change".
"We've had about 2200 kids between those ages playing football and if we kept the current under 16 and 18 system we'd require about 2900 kids to fill those sides," he said.
"By reducing it down to an under 17 age group actually means the number of kids registered and playing for Gippsland currently can fill the sides that we actually require."
Addison said "numbers are poor and have been dropping off in under 16" in the TDJFL, but urged AFL Gippsland – which administers the competition – to reconsider.
"The solution this year was we had four teams in the Traralgon District and three in Sale that we combined, and we feel that worked pretty well for a temporary solution," he said.
"I think what they need to do is give us time to keep working on encouraging numbers in that age group with this solution and see if we can improve numbers that way."
"Our feeling is that AFL Gippsland are going to see a bigger drop off in participation numbers than they ever have because of this review and kids will be intimidated to go out to a senior football club."
Joske said feedback regarding any of the draft recommendations was welcomed until September 14, with final recommendations to be handed down on September 21.
"We're asking for clubs to actually make submissions with a club letter head. It's important it is done through the official structure and procedure," he said.