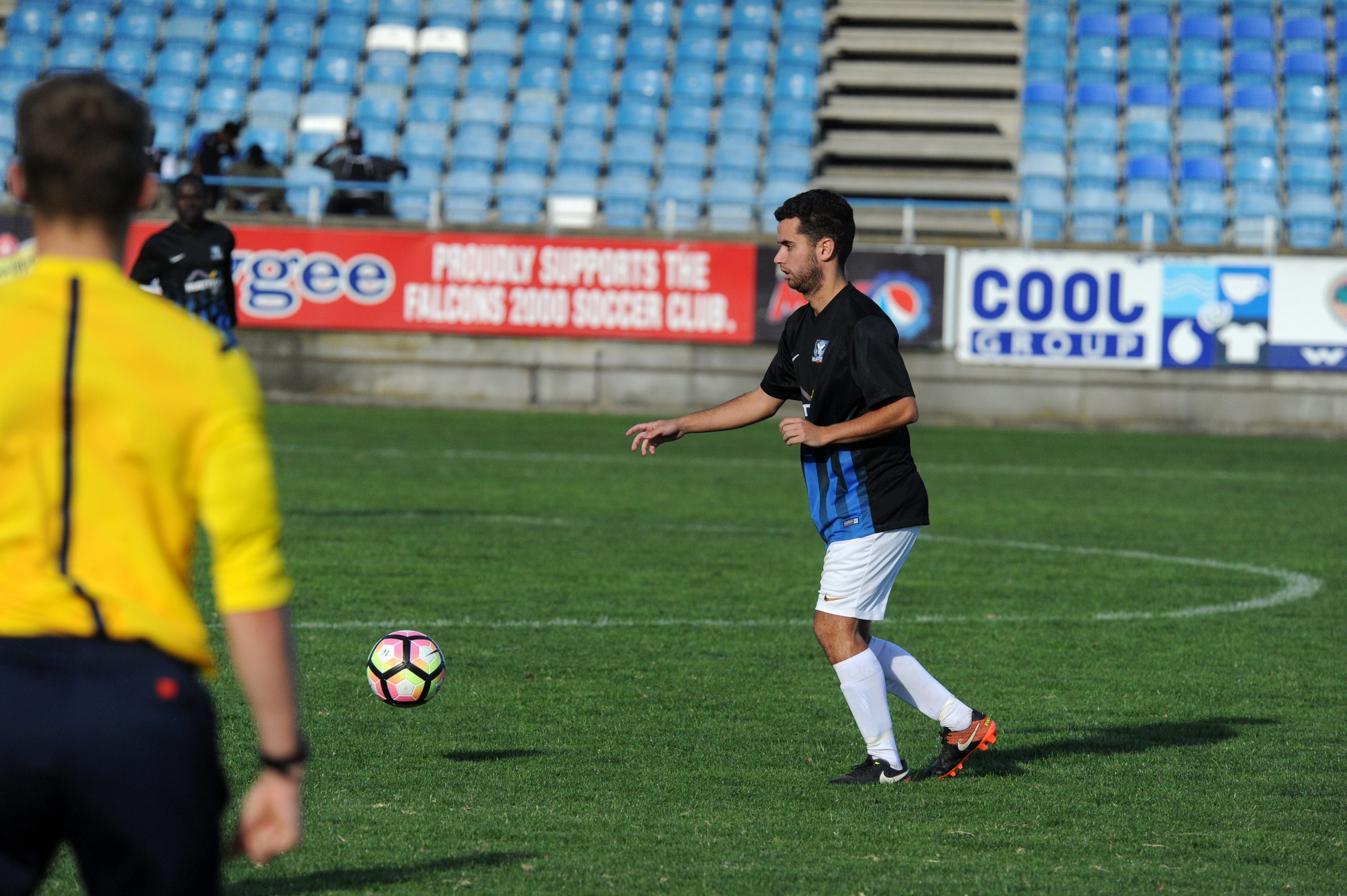 Laurie Williams
SOCCER

LVSL
Preliminary final review

A four-goal haul to Sam Amaira and a single to Nando Lazaris gave Falcons a healthy 5-2 victory over archrivals Fortuna in Sunday's preliminary final.

It took just four minutes for Falcons to get on the board when Nando Lazaris beat Fortuna keeper Nick Pridgeon.
Falcons were controlling the early play with coach Nick D'Alessandro and Jamie Pistrin having plenty of possession.
At 12 minutes in Amaira got on the end of a Kevin Carcella cross and scored his first.
An error in defence saw Kuku Mahmoud slip in and score Fortuna's first goal at 27 minutes to give the Lions some hope.
Falcons got a break at 47 minutes when Amaira was awarded a penalty and converted.
Falcons went into half-time with a 3-1 lead and increased it two minutes after the break when Tom Amaira latched onto a loose ball to score his third.
Fortuna applied pressure but the Falcons line of Conner Clarke, Gianni Salvatore and Jordan Kennedy held strong.
Takudzwa Gwara and Shane Cassar were busy for Fortuna but the Lions couldn't break through.
Amaira got his fourth goal after a good cross from Nando Lazaris, the best player on the park, to put it past the keeper.
With the clock ticking down Fortuna got a goal back at 89 minutes when Mahmoud scored his second but it was too late as Falcons advanced to next Sunday's grand final.
Newborough/Yallourn v Traralgon City

NYU advanced to their first grand final after a hard fought 2-1 victory over Traralgon City.
NYU were able to get away early in the match and posted the first goal at 17 minutes when coach Clayton Bell fired cleanly.
They went in at half-time with a 1-0 lead but Traralgon City equalised five minutes in from Michael Gaundiano.
Hayden Tanti broke the stranglehold at 77 minutes to carry his side through.
LVSL women

Fortuna had to come from behind to beat Trafalgar in a penalty shootout in the preliminary final.
Trafalgar led 2-0 with goals from Chloe Allison and Tumi Yusef but in the space of two minutes Emily Bramazon scored twice to level at 2-2.
Scores were level at full-time before Fortuna won on a penalty shootout.
Traralgon City v Monash
Traralgon City had to come from behind to beat Monash in a tight match up, 2-1.
Monash scored first at six minutes through Janet Essler and held the lead until the 31st minute when Traralgon City equalised with a boomer from Kate French.
The league champions were under pressure and finally got a good break at 42 minutes when Kate French scored her second to grab the sealer.
Grand final preview

Falcons will be in their third grand final but have yet to win a premiership while Newborough/Yallourn will be in their first grand final.
Falcons earned their place with a 5-2 win over Fortuna in last Sunday's preliminary while NYU had to overcome a tenacious Traralgon City, 2-1.
Falcons have played NYU 34 times with a 22/8 record and four drawn matches.
Falcons won both season-proper matches, 1-0 and 4-0.
On form throughout the season Falcons will go into the match as favourites but NYU will be worthy contenders after a successful season.
Falcons have Sam Amaira up front and he is a dangerous player around the goals with 21 to his credit this season.
Nando Lazaris has provided a good back up for Amaira and the pair should cause NYU some headaches.
NYU also have talent around the goals with Mark Fairbrother, Alex Van Vliet and Shayne Pavich all experienced and capable strikers.
Midfield action is going to be tough as Falcons are content to attack from the wings and cut the ball towards goal.
Nick D'Alessandro and Jamie Pistrin are rarely beaten but NYU's Clayton Bell and Ash Birrell could have their measure.
Reserves and second division

Fortuna and Monash will face off in the reserves and second division grand finals
Women
The two top teams of the competition Traralgon City and Fortuna will battle it out for the top prize.