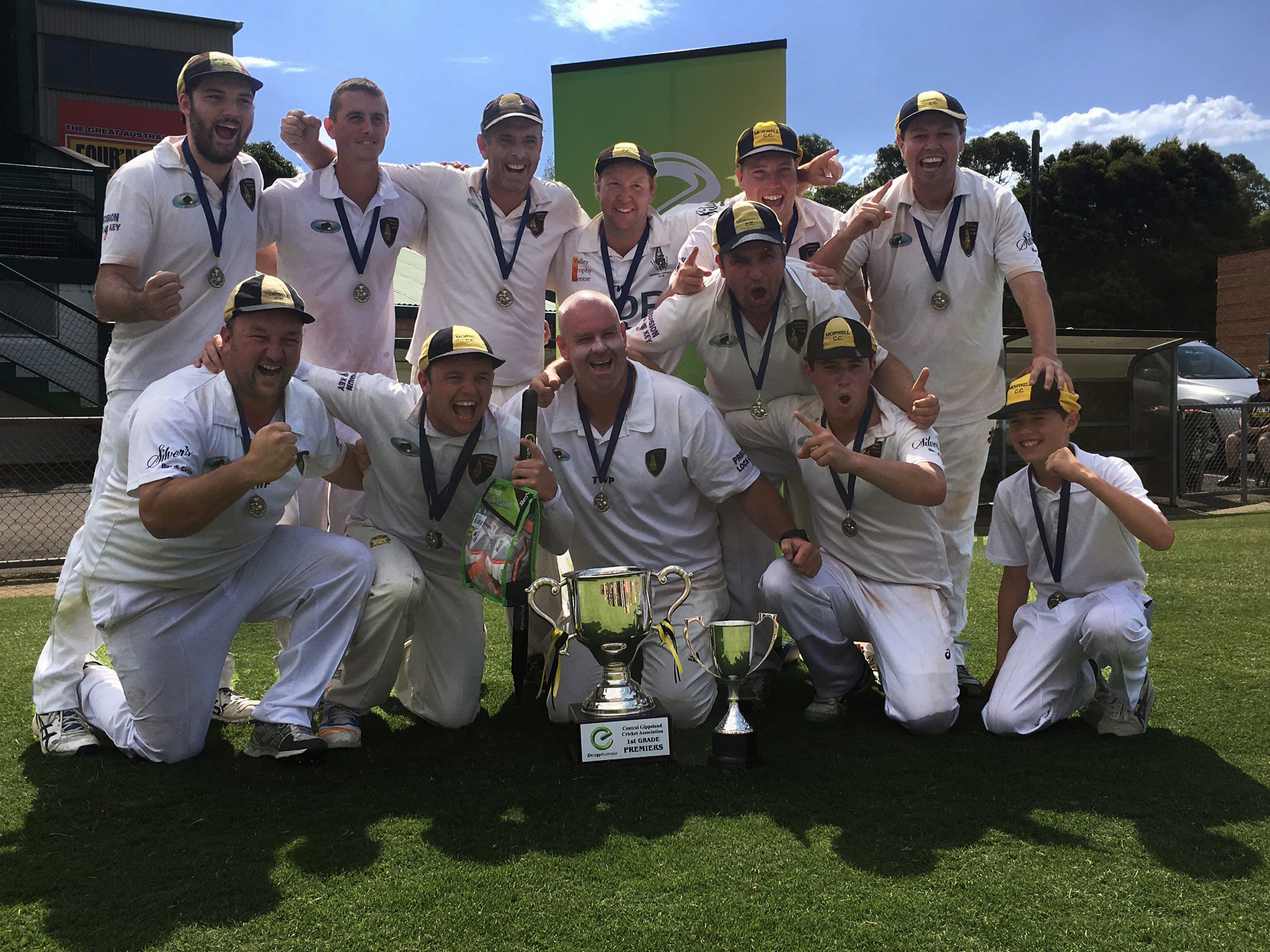 Kate Withers
CRICKET
LVDCL
Premier A grade

Season preview
Morwell
Captain-coach: Robert Webber
Season 2017/18: premiers (CGCA)
The Tigers were an indomitable force in 2017/18 and stormed home to take the last CGCA premiership in stunning fashion and their phenomenal batting order will again be the envy of many in 2018/19.
Robert Webber, Blake Mills, Mark Cukier, Jordan Campbell and Brendan Brincat all finished in the top 10 run-scorers for the season and the stocks run deep, with Lewis Harper – second behind Latrobe's Tyron Gamage with 41 wickets for the season – amassing 216 runs to boot.
The side goes into the inaugural LVDCL season unchanged and presents a daunting prospect to the rest of the competition.
Player to watch: Lewis Harper.
Lewis Harper emerged as a weapon for the Tigers last season and while principally an opening bowler, doubles as a very handy middle-order batsman.
Churchill
Captain-coach: John Keighran
Season 2017/18: runners-up (TDCA)
The 2017/18 runners-up would have to be one of the pre-season fancies for the inaugural Latrobe Valley and District Cricket League premier A grade flag after pushing TDCA powerhouse Ex Students at the last hurdle.
Stalwart John Keighran will again lead the Cougars in a captain-coach capacity and has the luxury of a relatively unchanged roster at his disposal.
Ross Whelpdale joins the Cougars from MTY Raiders and took 28 A grade wickets in season 2017/18.
Whelpdale will be in good company alongside 2017/18 bowling aggregate leader Ryan Harvey and Steve Warr, while Ben Kearns and Jesse Giardina will again command Churchill's top order.
Club legend and former leading run-scorer Ash Bolton will take on a coaching development role this season and will assist the Cougars across all grades.
Player to watch: Brendan Mason.
Talented youngster Brendan Mason had somewhat of a lean year in 2017/18 for an opening bat, but look for him to set the tone early this season.
Mason is also a key cog in the field for Churchill and can easily save his side 20 or 30 runs on a good day.
MTY Raiders
Captains: Brad Knowles (two-day) and Liam Maynard (one-day)
Coach: Mark Andrew
Season 2017/18: minor premiers (TDCA)
Raiders took out the minor premiership in season 2017/18 but stumbled in the preliminary final, and with Brad Knowles and Michael Higgins in line to lead the top order again in 2018/19, they will be hell-bent on going one further this time around.
Two all-rounders have flown the coop in the off-season, with Englishmen Owen Kelly and Tom Woodley returning home.
Kelly and Woodley have been replaced by incoming all-rounders Kegan Holzmann and James Speer.
The Zimbabwean Holzmann joins the Raiders from the Southern Premier Cricket League in England and will be a handy inclusion as a right-arm seamer and middle-order bat while Speer comes in from the Kent Cricket League.
Player to watch: Liam Maynard.
With 100 games under his belt, Maynard has well and truly come into his own as a leader for the Raiders and is a dangerous leg spinner/top-order batsman, sure to cause some headaches for opposition players in all capacities this season.
Mirboo North
Captain-coach: Rob Phoenix
Season 2017/18: runners-up (CGCA)
Mirboo North have enjoyed an active off-season and are ready and raring to go one better under skipper Rob Phoenix.
Phoenix led by example in season 2017/18 and took out the league leading run-scorer title with 581 to his name, including three half-centuries. Middle-order batsman Brett Pedlow has departed, but is the only player to exit as four others make welcome entries.
Clubman and opening bowler Liam Smit is back in action for the Tigers after a year off and all-rounder Jimmy Grande comes in from Parkdale in Southern Bayside where he captained the side to a premiership.
International recruit and fast bowler Ryan Murray will be a welcome addition to the line-up from the Southern Premier League in England and Callum Polo will fill the role of wicket keeper after coming in from Yallourn North.
Player to watch: Will Cheatley.
All-rounder Will Cheatley has blitzed pre-season training and looks set to continue the red-hot form that took him to 382 runs and 28 wickets in a blinding season 2017/18.
Moe
Captain: Andrew Philip
Coach: Harry Frei
Season 2017/18: third (CGCA)
The Lions den has been a hive of activity in the off-season, with a number of high-profile recruits jumping on board in the hopes of driving Moe one step further in season 2018/19.
Left arm quick Keenan Hughes comes into the bowling line-up from Longford in the Sale-Maffra Cricket Association, opening bat Tim Hayes joins the club from Seaford, Anthony Clarke-Bruce has jumped ship from Trafalgar and clubman and left-hand bat Michael Johnstone will also make a return.
Captain Andrew Philip amassed 556 runs for the Lions last season to finish third on the batting aggregate table and will no doubt be a reliable source of firepower again in season 2018/19.
Harry Frei will again lead the Lions and boasts a wealth of experience, having played first-class cricket for Queensland and coached players like Matt Renshaw, Chris Lynn and Joe Burns, and is at the helm of a side that will surely push for a berth in the last dance.
Player to watch: Keenan Hughes.
Keenan Hughes is a tall left-arm quick who can move the ball and also doubles as an exciting middle-order batsman.
CATS
Captain-coach: Ben Julin
Season 2017/18: sixth (TDCA)
CATS have sourced two very handy bowlers in the off-season and will be bolstered in season 2018/19 thanks to the addition of international recruits Aamir Raza and Jordan Britcliffe.
Britcliffe captains Ribblesdale Wanderers in Yorkshire and is a right-arm seam bowler who can swing the ball both ways.
With Raza, Britcliffe, fellow international recruit Tinashe Panyangara, Jeeralang-Boolarra recruit Matt McGrath and captain-coach Ben Julin, the CATS bowling roster could cause some headaches for opposition this season.
Evan Sheekey has departed to join home club Yallourn North, Cal Stewart will take a year off and Dylan Keyhoe comes in from the Rock and will be a handy wicket keeper.
Player to watch: Amir Raza.
Amir Raza comes to CATS from Bromley in the Kent Cricket League and is a crafty leg spin bowler and has the capacity to contribute valuable runs in the middle order.
Raza took 27 wickets and averaged just under 30 with the bat for Bromley last season as will add another dimension to the CATS line-up.
Round one (October 6)
Churchill v Morwell (George Cain Oval from 2.15pm)
MTY Raiders v Mirboo North (Apex Park from 2.15pm)
CATS v Moe (Peter Siddle Oval from 2.15pm)