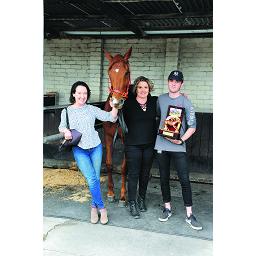 Heidi Kraak
Despite a string of injuries and being "on her last chance", Latrobe Valley trainer Allison Bennett's Chica Mala took out the 1600-metre maiden plate at the Moe Cup last week.

The five-year-old mare finished last in the 2050-metre handicap at Mornington last month after she "completely lost her mind" and "took four people to saddle her".
"She had run her race before she ran," Bennett said.
"She's always shown ability but she's had lots of problems and accidents."
Bennett, daughter of Moe-based trainer Barry Bennett, has had runners in every edition of the Moe Cup over her 25 years as a trainer and said the win was "a long time coming".
"I'm hoping that now [Chica Mala's] got the hang of it, she'll win a couple more and it will be good," she said.
Bennett, who trains and owns Chica Mala with Phillip Shanks, said she'd "changed a few things around" in the "temperamental" mare's diet which may have helped with the win.
"It's her home track too. She was very familiar with that environment," she said.
"The surfaces were perfect for her … the last start was way too firm.
"And Chris [Symons] rode her perfectly."
Bennett had another runner, Maldestro, going head-to-head with Chica Mala on Thursday, however, the four-year-old gelding placed last.