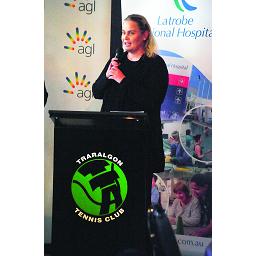 Kate Withers
TENNIS
Former Australian tennis champion Jelena Dokic recalled a moment that "really stuck" in her mind for all the wrong reasons.

"One of worst things I remember to this day … it's like it was yesterday, was when I was 13 and I wanted to be a part of a team," she said.
"We went overseas and I wanted to be part of the group with the other girls and boys and I wanted to play cards with them.
"I knocked on the door, they were always with each other and I was always excluded, and one of them shut the door in my face and said 'go back to where you came from'."
At just 13, and having recently fled war-torn Croatia with her family, Dokic said she faced racial vilification and bullying on a daily basis.
Speaking to guests at the Pride in Tennis event, the 35-year-old detailed her own story of exclusion and its "heartbreaking" impact.
"My story is a bit different to what we're celebrating here today, but I went through my own personal struggle with diversity and inclusion," she said.
"I faced a lot of bullying at school and racism, so this is something that's really close to my heart because I was really affected.
"It's made me stronger in who I am today, but that doesn't mean it was easy."
Dokic's off-court struggles with mental health and domestic abuse have been well-documented, and despite a "tough" exterior, she said they took their toll over the years.
"I battled depression for 10 years and almost committed suicide, so some of these things are so important to me," she said.
"I think it's just so silly to judge someone on what their preference is. It should be about what sort of person they are and not what their preferences are."
Nearly 20 years to the day since she held the Traralgon International trophy aloft in 1998, Dokic credited Traralgon for being a "stepping stone" in her tennis career.
"It's amazing to be back here, it's changed a lot," she said.
"I always remember Traralgon because it was one of the first really, really big tournaments that I won in ITF.
"I went on to make the semis of the Australian Open at 14 and become junior world number one six months later, so I always felt like Traralgon was a special place for me."
If you are troubled by this report or experiencing a personal crisis, you can phone Lifeline 131 114 or beyondblue 1300 224 636.