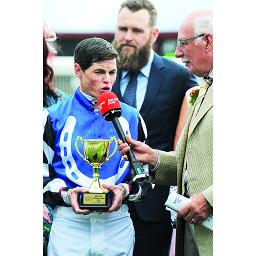 Bryce Eishold
THE absence of veteran trainer Darren Weir from Moe on Thursday had no impact on the result of the Moe Cup, with two Weir-trained thoroughbreds claiming first and second, respectively.

Cup winner Sixties Groove opened the morning second favourite paying $2.90 a place but firmed to be the favourite for the main event, running the 2050-metre race in two minutes and 10 seconds.
The six-year-old bay gelding won by three-quarters of a length in front of a crowd of about 2500.
Sixties Groove was followed to the line by a second Darren Weir-trained horse, Snitzepeg with the Eric Musgrove-trained Noumea from Cranbourne in third place and King Way trained by Shea Eden in fourth.
Owner Mark Burgin, from Strathmore, said the horse was purchased from Australian Bloodstock about 14 months ago but "went amiss" last year.
"I worked down in Traralgon for 17 years so I was very much aware of the history of Moe and I've travelled down here [on] many, many occasions over that time so it was a bit special to win one," Burgin, a former director of Gippsland Aeronautics, said.
"He's been back at work since June and he's had six starts now – two wins at Flemington – and he's just snared the Moe Cup and that's the best win he's had so far.
"Craig [Williams] rode him at Flemington over 2000 metres when he won that race there and he rode it a treat that day, and he's done the same today.
Burgin said Sixties Groove had pretty good sprint towards the end of the race and came home strongly.
Moe Racing Club chairman Mike Vanderfeen said despite the track being rated a soft six, the likes of Damien Oliver said its condition was far greater.
"In the cup today, out of the nine runners, there was only two Australian-bred horses – the rest were all overseas horses which is good because horses are looking for this type of track and Moe's prize money," Vanderfeen said.
Owned by a syndicate of about 20 people, Burgin said the plan was to run Sixties Groove on Derby Day in the Lexus Stakes, and should he win, he would qualify for the Melbourne Cup.
"If we can win the Lexus we'll be in the Melbourne Cup on the Tuesday," Burgin said.
"One run at a time, he's going to be a big chance and fingers crossed, who knows – that's what dreams are made of."
Winning jockey Williams said Sixties Groove had a big future.
"I've only had two wins with him from two rides but he's doing everything really well on the race track with more improvement to come."
"He's still doing a few things wrong when you go left-handed but his performance was excellent."