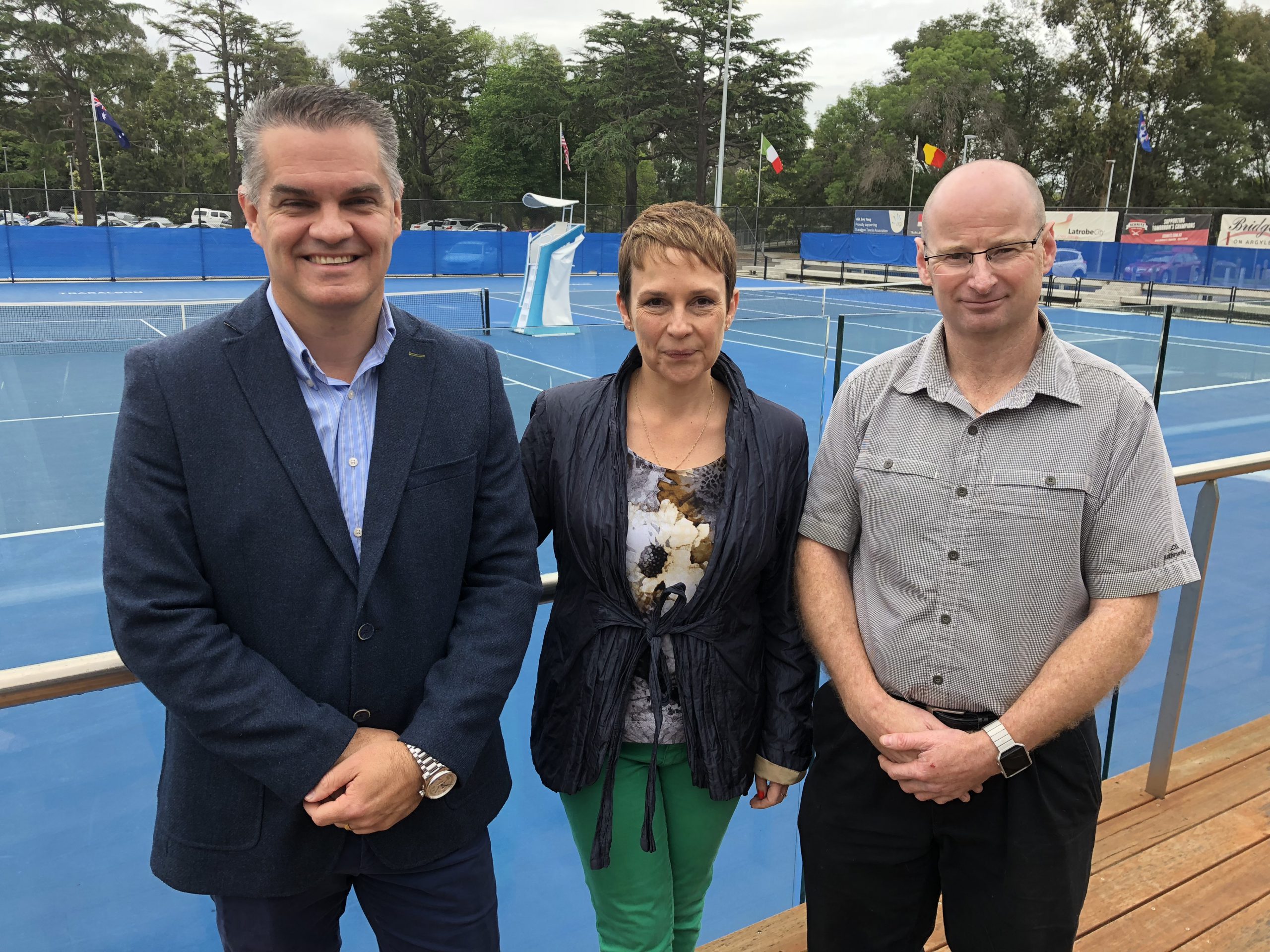 Heidi Kraak and Kate Withers
Labor continued its push to secure government with an announcement Traralgon City Soccer Club and Traralgon Tennis Club would receive funding should the party be successful on November 24.
Minister for Regional Development Jaala Pulford visited both clubs on Monday to promise $286,000 to install new lights at Traralgon City Soccer Club and $27,000 to install a new lift at Traralgon Tennis Club.
Ms Pulford said new lighting at the soccer club would allow matches to continue after dark in the winter months.
"It is something the club have actively been pursuing [Labor candidate] Mark [Richards] to deliver and it is wonderful to see him kicking goals, pardon the pun," she said.
"[Traralgon City Soccer Club's] argument to us has been around games that can be scheduled that currently can't be scheduled … extra people being more active and having a better experience, more people playing soccer."
Traralgon City Soccer Club vice president John Kamphuis said the existing lights were not "up to scratch" and were not bright enough to facilitate play after dark.
"This will mean the ability … to play some night games and more areas where we can train," he said.
"These lights [existing lights] are quite bad. They are very old.
"It will cut our bills – these old lights are expensive to run. The exact dollar amount, I don't know, but [the new lights] will be cheaper to run."
Mr Kamphuis said the Traralgon City Soccer Club has the largest amount of junior players of all clubs in the Latrobe Valley, and perhaps in Gippsland.
"It will give us the opportunity to play some night games … and with night games you generate more money," he said.
"It just generates more interest. You can break it up so you don't have to play every Sunday. You could play on a Friday night or something like that.
"It will just be great for us."
The Traralgon Tennis Association has also been promised a $27,000 grant to install a new lift to make its facilities more accessible.
TTA president Darryl Higginbotham said the lift would help draw back some of the user groups that had left the facility due to accessibility issues.
"Recently we've lost a couple of groups to this facility and this was due to the fact that they had [no] access [because] the toilets were not undercover," Higginbotham said.
"They had to go outside to go around to the courts, which was not really fair, but we're hoping we'll get them back through the portable lift system, which will actually give them access to the facility."