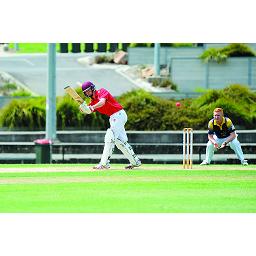 Kate Withers
CRICKET
LVDCL
A GRADE
Trafalgar cruised to victory in a revised Twenty20 fixture in the LVDCL's A grade competition on Saturday, putting away Jeeralang-Boolarra with ease at Ted Summerton Reserve.

The Ships were sent into bat and rose to the occasion, with openers Brodie Burgess and Leo Connolly pairing for a 42-run stand before Burgess was skittled for nine.
Connolly went onto make 64 in a top performance and was ably assisted by Rhys Holdsworth who chipped in with 32 and Nick Gurney with 22 as Trafalgar posted an impressive 7/153 at end of overs.
Jeeralang-Boolarra stuttered early in reply with opener Ben McCormack falling for a duck along with four other Panthers to have them all out for 98.
Wicket-taking duties were shared by Trafalgar with Rhys Holdsworth, Daniel Heathcote and Callum McCarthy all finishing with two each.
Yallourn North v Traralgon West
Traralgon West has broken one of the longest standing droughts in Gippsland cricket with a win over Yallourn North on Saturday their first in A grade competition in five years.
It started with the decision to send the Bombers into bat at Morwell Recreation Reserve and despite the threat of rain the Eagles' attack pushed on and had Yallourn out for an even 100 runs after 20 overs.
Matt Heeps was the only Bomber to make it past 20 and Tim Fitch single-handedly gave Traralgon West a sniff with a stunning five wickets for 17 runs.
The run chase wasn't pretty and started off abysmally with the first three wickets falling for 14 runs.
Ben Edebohls and Daniel Cropley – with 18 and 17, respectively – didn't set the innings alight but hung on for long enough to help their side over the line after 18 overs for a landmark victory.
Chris Perry finished with two wickets for Yallourn North while singles went to Luke Sumner, Curtis Howell and Jason Wiseman.
Centrals v Latrobe
Centrals have toppled ladder leaders Latrobe in style on Saturday, barely breaking a sweat on their way to a resounding win at Traralgon South Recreation Reserve.
The Lions won the toss and sent the Sharks in in a decision that paid off almost immediately with Justin Vajler (duck), Ronnie Chokununga (two) and Benn Zomer (one) all falling cheaply.
Latrobe struggled to regain composure and posted 8/88 at end of overs.
Marc Fenech, Lachlan Patterson and Tom Webster each took two wickets.
In reply, Centrals romped home to reach the target in the 12th over with just one wicket down.
Ross Allen was the toast of the innings with an unbeaten 56 and Corey Pollard made 28.