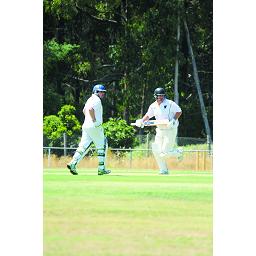 Kate Withers
CRICKET
LVDCL
PREMIER A GRADE

Mirboo North will be rueing their decision to send Morwell into bat after the defending CGCA premiers set themselves up for an outright win on day one.

A stunning 112-run opening stand from captain Robert Webber and Mark Cukier played Morwell into the box seat.
Webber made 56 before he was caught and Cukier went onto top score with 82 from 129 balls before he suffered the same fate.
Brendan Brincat made 35 but an unbeaten 57 from Dylan Day helped Morwell to 8/302 at stumps.
Will Cheatley took three wickets for Mirboo North and Jed Alexander two while Ryan Murray, Dale Banks and Jarrod Speed each took one.
Morwell will resume day two with Dylan Day and Brent Reside at the crease.
MTY Raiders v CATS
CAPTAIN Brad Knowles played MTY Raiders into a commanding position at stumps on day one against CATS at the weekend.
Knowles top-scored for the innings with an impressive 84 after Yinnar fumbled to be 2/26 early through the loss of openers Michael Higgins and Chris Stanlake.
Liam Maynard was also handy and chipped in with 29 and James Speer was equally thrifty and added 28 before Raiders declared at 9/208.
In reply, CATS found themselves in a spot of bother at 3/6 after facing just seven overs before play was called.
James Speer is on fire and took 2/0 for Raiders while Kegan Holzmann took 1/5.
Churchill v Moe
CHURCHILL will resume play against Moe in control after dismissing Moe for 132 on day one at George Cain Oval.
League leading wicket-taker Ross Whelpdale was at his indomitable best and did most of the damage, finishing with a five-wicket haul to lead Churchill into the run chase.
In reply, Churchill lost two early wickets to stand at 2/34 after 17 overs at stumps.
Jesse Giardina was taken for one and Ben Kearns fell LBW for 10.
Brendan Mason and John Keighran will get the innings underway when play resumes on Saturday.