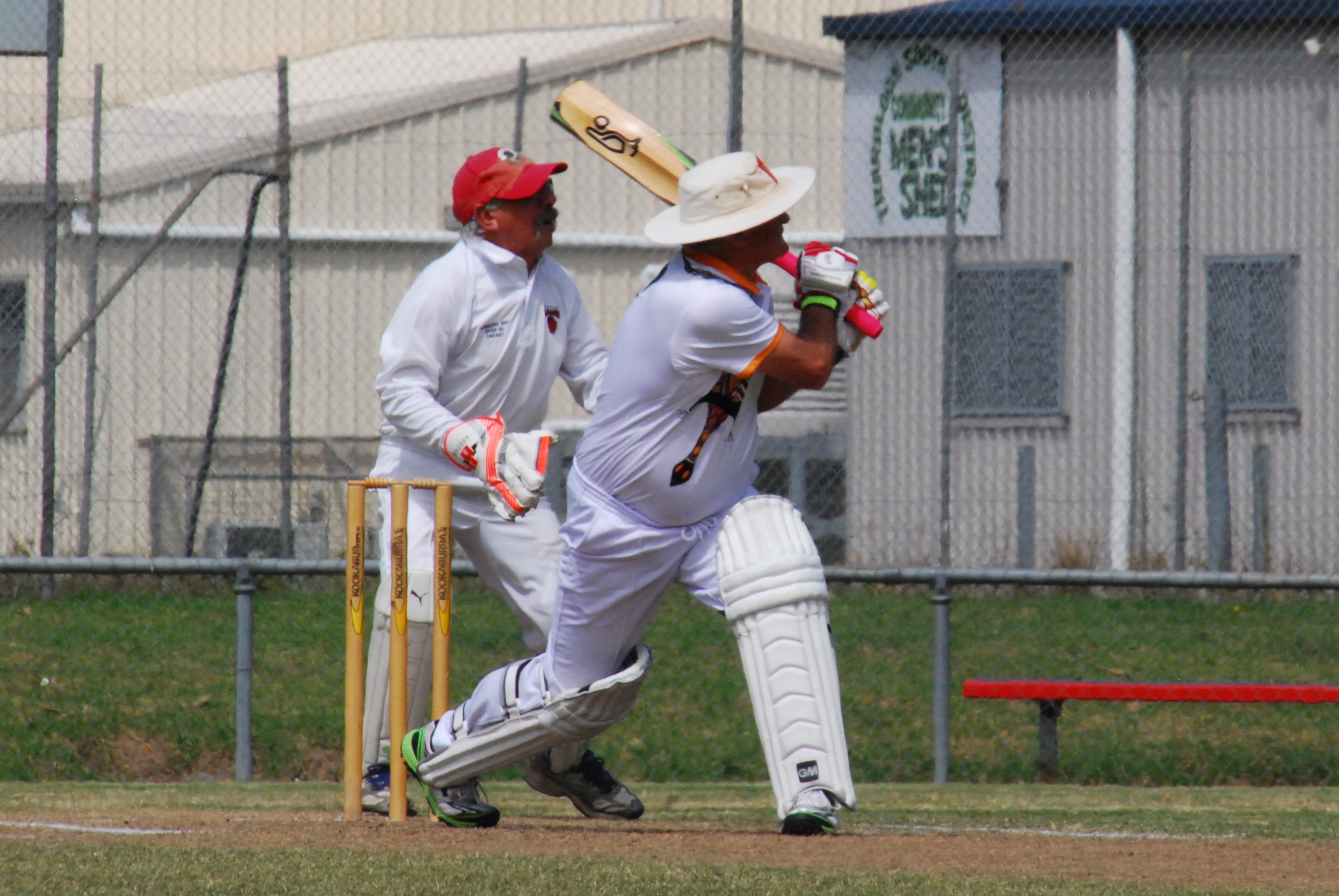 CRICKET

The Gippsland Goannas welcomed the Hobsons Bay Over-60 cricket team to the CATS Cricket Club ground at Traralgon South on Sunday.

The weather was beautiful for cricket as the Goannas won the toss and batted.
Kelvin Bond and Ray Smith opened the innings briskly with Smith bowled for 21 from just 15 balls.
Bond followed soon after for 8 with the score at 2/32.
Col Carmody and Murray Moore combined well to take the score to 54 at the 10 over mark, and 83 when Moore was caught on the boundary for 21 runs.
Neil Meredith helped push the score along to 102 when he was dismissed for 15.
At drinks the Goannas were looking good at 4/105. Soon after, Carmody retired for a very well made 41, and Derek Morris, 6, Barrie Nunn, 14 and Bob Duljas helped take the score to 7/134 after 30 overs.
Ian Gibson and Ian Southall upped the tempo with a 53 run partnership, until Gibson was run out for 28 in the 40th over.
Southall was 34 not out from 31 balls and Peter Anton was the other not out batsman.
The Goannas ended up at eight wickets down for 196 at the end of the 40th over.
The CATS club was commended on the wicket and thanked for their help in putting on the game and umpire Tony Hawkins was also commended.
After the tea break Southall and Anton opened the attack for the Goannas, with Anton taking the first wicket, and the score was 1/26 after the first 10 overs.
Meredith and Smith bowled 16 overs of spin between them, each taking a wicket as the Hobsons Bay score advanced to 3/76 at the 20 over drinks break.
Moore and Nunn then helped restrict the score to 5/119 after 30 overs, and Morris and Duljas also bowled some overs as HB were restricted to 5/148 from 40 overs.
Southall took a very good catch and was instrumental in a run out, several other catches went to ground and recruit Chris Tudor was active in the field.
Meredith ended up with 2/35 from his 8 overs, Anton 1/25 from 6, Smith 1/26 from 8, Southall 4 overs for 11, Moore 6 overs for 20 and Nunn 5 overs for 19 were the mainstays of the attack.
Ray Smith will fly out to New Zealand this week, to join Kevin Lanigan and the rest of the Australian Over-60 cricket team to play a series of matches against the Kiwis.
For the Goannas to have two of the three Victorian representatives in the national squad is indeed a proud time for veterans cricket in Gippsland.
The Goannas' next game will be Sunday, March 3 against the Iona Veterans at Churchill Cricket Club.