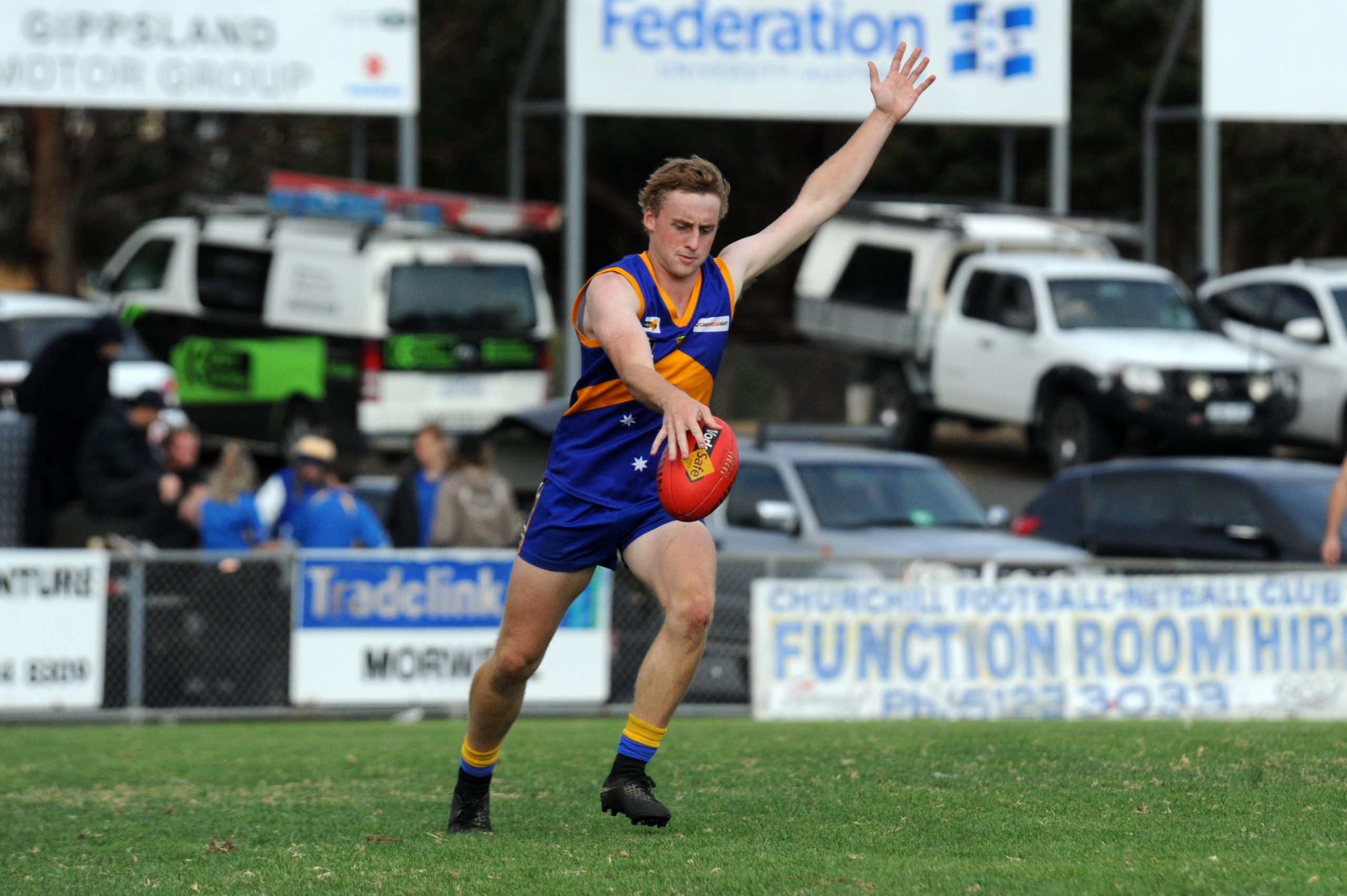 FOOTBALL

NORTH GIPPSLAND

Churchill opened their account in fine form with a strong win, 20.8 (128) to 9.9. (63) over Traralgon Tyers United.

The Cougars established their dominance over the Bombers early on at Gaskin Park, racing out to a 19-point lead in the first quarter while holding TTU goalless.

TTU got on the board with two goals in the second quarter but Churchill had already closed the gate with a 53-point half-time lead. By three-quarter-time the differential had blown out to 73 although a four goal to three final quarter saw the Bombers close the gap slightly to 65 at the final siren.
Churchill were led in goal kicking by Ben Skinner (5) and Brendan Holt (4). Also making their mark on the scoreboard were Ryan Lowrie, Noah Deubel and Christopher Williams with two goals each while singles were scored by Brendan Mason, Luke Brereton, Cain Iorangi, Travis Brighton and Benjamin Kearns
Skinner, Williams and Holt were named in the Cougars best along with Jordan Fenech, Lucas Towns and Bradley Tyas.
Goalkickers for TTU were Jack Brown, Bill Morrison, Hayden Willaton and Michael Duncan with two each while Jye Neilson slotted one through the big sticks.
TTU's best on ground were Jacob Albanese, Dougal Williams, Brown, Willaton, Guy Sinclair and Morrison.
Cowwarr v Sale City

Sale City ran out strongly to overpower the Saints, 18.13 (121) to 12.6 (78).
The first half was evenly-matched on the scoreboard with just two points in it at quarter-time and four points at half-time.
Goals continued to flow in the third quarter with three to Cowwarr, however, five majors to Sale City put the Bulldogs in prime position for the final effort.
The Saints were held to just two goals in the fourth quarter while Sale City put a further six on the board to run out solid 43 point winners.
Shane Morgan put in a strong performance in front of goals and kicked five. Benjamin Coffey, Braden Johnston and Nick Wozniak scored two apiece and Ned Gowers kicked a single.
Cowwarr's best on the day included Patrick Tainsh, Morgan, Johnston, Nicholas Szabatura, Gowers and Andrew Cunningham
Joshua Barton led all-comers with six goals for Sale City followed by Jacob Schuback and Nicholas Grainger with three each. Josh Granger kicked two goals while singles were scored by Justin McLay, Kerrod Macgregor-Davies, Joel Hutchins and Mitchell Evans.
Best on ground for Sale City were Brad McKay, Hutchins, Barton, Thomas Bowman, Granger and Evans.
Heyfield v Glengarry

A high-scoring final quarter saw Heyfield run away with the win against Glengarry, 16.14 (110) to 10.8 (68).

Glengarry took the first quarter honours but Heyfield had kicked themselves back into the match by half-time with a three goal to two second quarter.
The Magpies responded after the main break with a four goal quarter that took them into the final period with a two point buffer before the Kangaroos bounced into action, holding Glengarry to just two points in the final quarter, while adding seven goals, four points to run out 42 point winners.
Heyfield's goalkickers included Nicholas Woodland (5), Jesse Bedggood (4), Benjamin King, Trent Anderson and Kodie Woodland with two each and Jack Woodland (1).
Best for the Kangaroos were Jack Woodland, Jesse Bedggood, Kodie Woodland, Nicholas Woodland, Daniel Saunders and Matthew Bedggood.
Jay Neagle kicked four goals for Glengarry, Layne Hetherton kicked two and singles were scored by Alexander Bermingham, Andrew May, Hayden Britten and Nicholas Quenault.
Glengarry's best were Colby Morley, Benjamin Truin, Heatheron, Nathan Larkin, Jordan Symons and Lachlan Patterson.
Rosedale v Gormandale

In a weekend of big wins, the biggest of all went to Rosedale who thrashed Gormandale by 93 points, 20.23 (143) to 7.8 (50).

Rosedale came out of the gates strongly, booting five goals in the first quarter to carry a 30-point lead into the first break. They increased their lead to 47 at half-time and then pushed out to an indomitable 89-point lead at the final break.
Gormandale were held to just two goals in the first three quarters and while they managed to add five more in the fourth quarter, Rosedale marched on to a solid 93-point victory to get their season underway.
Eight players contributed to Rosedale's 20 goal tally with Ben Jones (7) and Frazar Brouns (5) leading the way. Doubles went to Matt Royal and Dale Fleming while Jake Suter, Will Logan, Brandon McDonald, Blake Willebrand each added singles.
Best on ground for Rosedale were Jones, Tom Anderson, Rohan Diamond, Rohan Hildebrand, Fleming, and Brouns.
Gormandale had just one multiple goal-scorer in Jarryd Garlick with three. Nathan DeMaria, Shannon Edwards, Lewis Ferguson and Steven Burgess all kicked one each.
Gormandale's best were Jaryd Gilroy, Mitchell Jones, Tim Northe, Nathan Teale, Ryan Burns and Ferguson.
Woodside v Yarram

Defending premiers Yarram 17.15 (117) were too strong all day for hosts Woodside 5.10 (40), skipping out to a 28-point lead at quarter-time.
A slightly better showing by the Wildcats in the second quarter narrowed the margin to 25 points at the long break but it was blown out to 40 points by three-quarter time and 77 points at the final siren.

Woodside goalkickers were Christopher Witchell, Jeremy Morgan, Corey Whiteoak, Dale Hanratty, Gary Jones with singles.
Their best players were Thomas Crosby, Jones, Frazar Ryan, Kelsey Pavlou, Harley Hoppner and Michael O'Sullivan.
Yarram had many goalkickers including Tyler Chisholm and Zacharie Richards with three each and Shem Rendel, Daniel Vardy and Griffin Underwood with two apiece.

Jake McFarland, Keifer Sutherland, David Brinker-Ritchie, Tanner Chisholm and Liam Bentley scored one goal each.