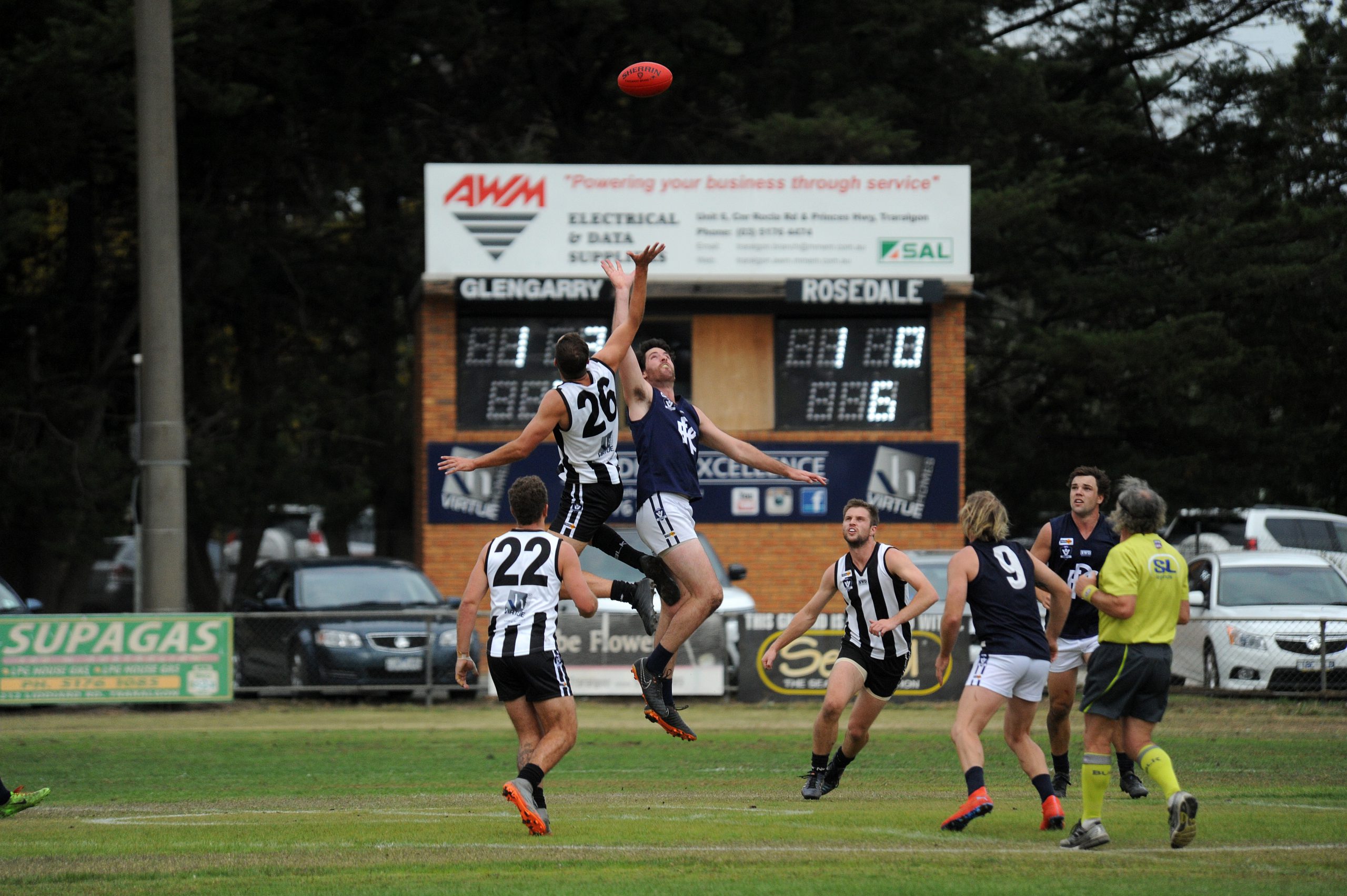 Scott Berechree
FOOTBALL

NORTH GIPPSLAND

This week's North Gippsland match of the round has Sale City take on the much improved Rosedale outfit.

Both sides head into the clash full of confidence as two of only three undefeated sides after two rounds of action.

The Bulldogs have so far taken care of both Cowwarr and Woodside with Rosedale having easily accounted for Gormandale in round one and then running out easy winners over Glengarry.
It would be fair to say both sides, however, meet their sternest test of the season at Stephenson Park on Saturday.
Not that last year's finals series counts for much in season 2019 but Rosedale won't have fond memories of their last clash with the City outfit.
It was of course the elimination final at Heyfield where Rosedale held a 26-point lead at the last change only to go down to a rampaging Doggies side by eight points.
For City so far this season it has been a case of everything that's old is new again with the likes of Jacob Schuback, Ben Chivers, Nicholas Grainger and Tom Bowman leading the way.
Rosedale, however, have had an influx of players from the higher levels who have had an immediate impact with a mix of new and old getting the job done.
While City are always hard to roll on their own ground, the loss of Chris Kelf and Harrison Kaandorp in the off-season will allow Rosedale to dominate the middle of the ground.
It should also provide enough supply to Frazar Brouns and Ben Jones to kick the Blues to a winning score.

Gormandale v Glengarry

At the opposite end of the spectrum the clash between Gormandale and Glengarry will provide both sides with an opportunity to chalk up their first win of the year.
While both side have had winless starts to the season, Glengarry look to have had the stronger losing form.
They led Heyfield at three-quarter-time of their earlier match while the Tigers have had the highest score of the first two rounds kicked against them in their opening pair of matches.
If ever Gormandale were going to be up for a game it was surely last week as they farewelled favourite sons Daniel Domaille and Luke Hegarty.
Glengarry meanwhile have a young and enthusiastic list with a bona fide match winner to kick the ball to in the forward 50.
It will be hard to see anything other than a black and white day.
Yarram v Cowwarr

On face value two of the remaining three games appear to be rather one sided with last year's premiers Yarram enjoying a second home game in a row when they take on Cowwarr and Traralgon Tyers United welcoming Woodside.
Cowwarr will be buoyed by their massive win over Gormandale last week, however, face a much stiffer task this week.
Their best hope might be that Yarram have a few sore players after their physical encounter on Good Friday while the Saints enjoyed a week to bask in the glory of their round two rout.
TTU v Woodside

Tyers were sparked into action after a disappointing round one loss and set up their win over Heyfield with a six-goal to nil third term.
Woodside will have their work cut out for them if they are to avoid sliding to zero and three at the conclusion of play Saturday afternoon.
The Wildcats might be struggling to find 22 quality senior players but those that put the jumper on will undoubtedly give their all.
Churchill v Heyfield

The final clash of the round has danger game written all over it for the home side Churchill who take on the winless Heyfield.
It is no secret both teams extract a great deal of pleasure in knocking each other off and they have put on some memorable clashes in recent times.