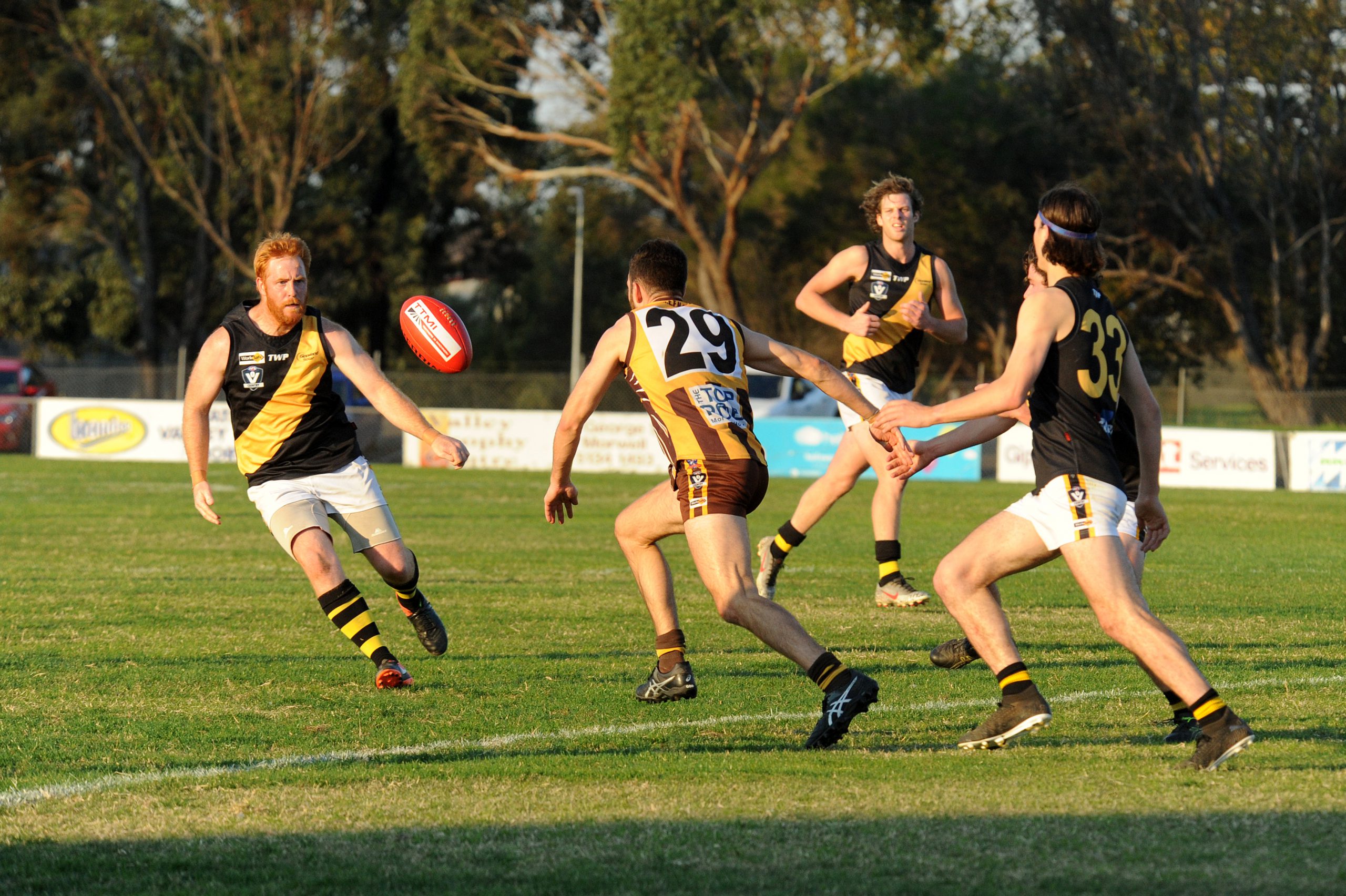 FOOTBALL

MID GIPPSLAND

It was tipped to be the match of the round and neither side disappointed as Mirboo North came up trumps against Morwell East, 6.14 (50) to 6.5 (41).

The margin was three points at the first break, one point at half-time and four at the last change.
The home side had more opportunities in front of goal but were inaccurate which could have proven costly on any other day.
"It was a tough game of footy. Both sides had really good pressure and it was played between the 50-metre arcs," Tigers coach Josh Taylor said.
"We knew it was going to be a scrap. We just had to get our noses in front."
The Tigers, so often the hunters after slow starts to seasons, will become the hunted in the back half of this year and that will be yet another test for them.
YYN v Boolarra

ON a perfect deck Yallourn-Yallourn North honoured playing coach Barrie Burnett in his 300th senior game and made a meal of Boolarra, 23.16 (154) to 2.1 (13).
A seven-goal lead at quarter-time was extended to 10 by the main break.
It was in the third quarter that the Bombers put together their best, adding another eight goals and proving they were much more than Keenan Hughes and Dean MacDonald.

There was a handful of others with multiple goals for the Bombers who showcased some of their best team football.
Twenty-four scoring shots in the second half at an accuracy of just 50 per cent, given their first half was outstanding, might have saved the Demons from a far greater defeat.
Yallourn-Yallourn North now face a real test this weekend when they host Morwell East.
"The boys played well. It very much a team effort and we ran out the game well," Bombers coach Barrie Burnett said.
"The next few games will be the test that we have been looking forward to."
Burnett himself isn't one to seek the spotlight but deserved the attention he earned over two decades of football.
Thorpdale v Newborough

Newborough finally wrapped their jaws around victory and tasted success with a confidence-building nine-point win over Thorpdale, 14.12 (96) to 13.9 (87).
The Bulldogs were off to a flyer with their accuracy in the first quarter, a feature and a reason for their healthy 16-point lead at the first change.
The Blues, like they did in their opening round against Boolarra, did whatever they could to stay in the contest.
"It was a really good win with three teenagers in the side and playing their first senior game and it will do a lot for their confidence and team morale," Newborough coach Dean Caldow said.
"Thorpdale were very aggressive at the ball and physical around the contest. We were down to one on the bench for the last quarter and had to hang on."
"We got out of jail, we were in front at every change and at times got out to a four or five-goal lead and looked like running away with it but we did our best to keep them in the game with some basic turnovers."
Hill End v Yinnar

In perfect conditions Hill End shot out of the blocks and shrugged off the challenges of Yinnar to register an impressive victory, 11.20 (86) to 6.15 (51).
The Rovers got off to an impressive start with their skills under pressure first class but the Magpies' rebound from the back half was equally good.
In seasons gone by, Hill End might have buckled but their first 30 minutes indicated they were ready for the fight.
A nine-point margin at quarter-time courtesy of a goal after the siren was just reward for a solid start.
Hill End continued their dominance in the second quarter but inaccuracy was causing them problems and a 25-point lead at half-time could have easily been more.
"We dominated the play even though we were losing the clearances without ruck sensation Calvin Rees," Hill End coach Mike Santo said.
"We maintained the pressure and racked up opportunities but were sloppy in front of goal.
"Yinnar are a class outfit and came back hard in the third quarter but our belief in the group to not only win but put the foot down in the fourth quarter was super pleasing."