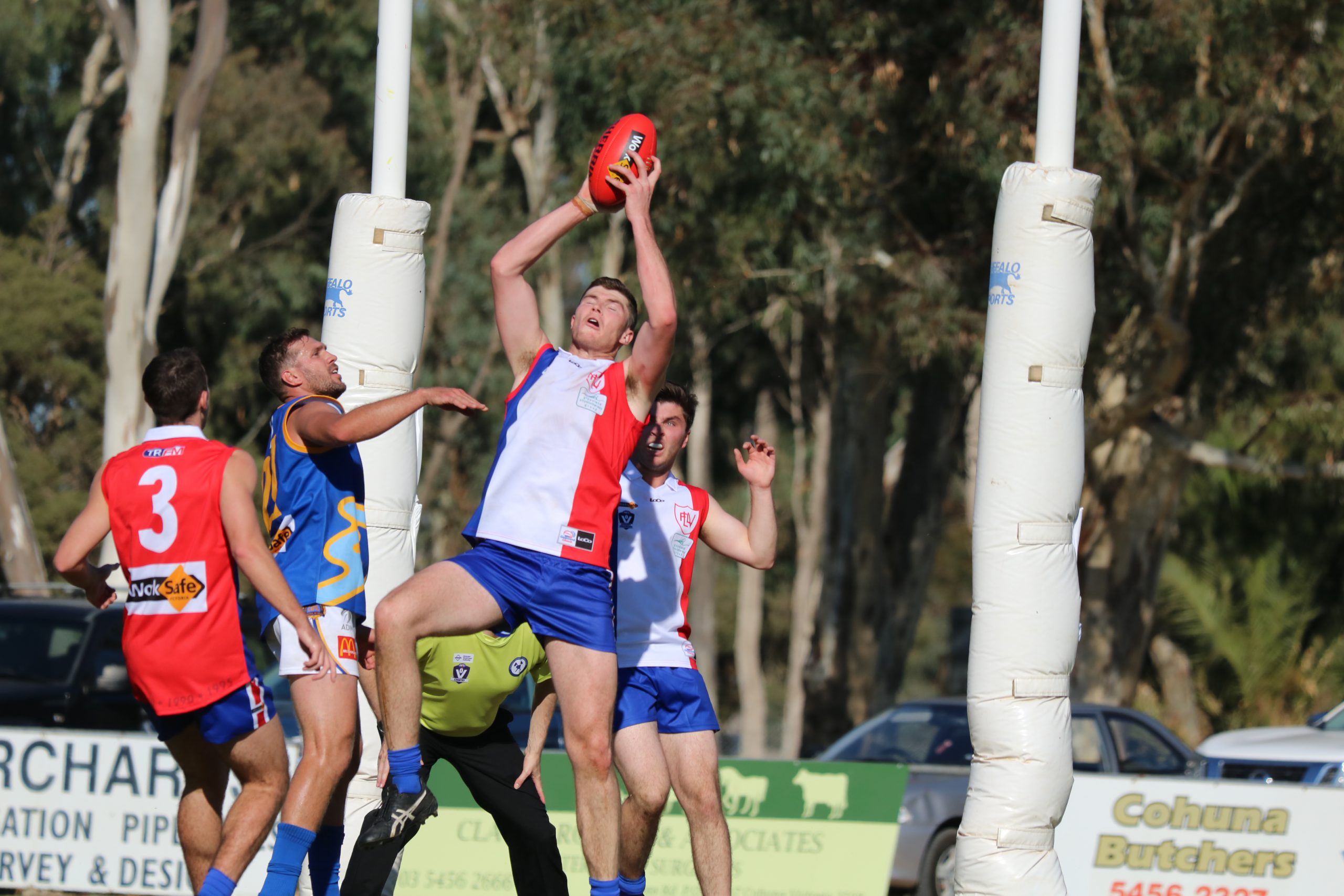 Football

Gippsland League

Gippsland League's senior interleague team fell to a disappointing defeat at Sunday's Community Championships.

The squad made the long trek to Cohuna to take on Central Murray Football League in a battle between 11th and 12th on the AFL Victoria rankings, but came home empty handed after coming up short 12.4 (76) to 11.19 (85).
The Gippsland team started brightly with goals to Bairnsdale's Brayden McCarrey and Traralgon's Dylan Loprese giving the visitors an early lead.
The home side gradually worked its way into the contest and briefly pinched the lead, before classy goals from Chris Dunne, either side of a clever snap from McCarrey ensured Gippsland went into the first break ahead.
Buoyed by a late opening quarter goal, Central Murray seized the initiative in the second term and only some wayward goal-kicking from those in blue and gold combined with two goals against the run of play to Dunne and Dylan Farrell kept Gippsland in touch at the main change.
Coach Steven Kidd called for patience and renewed pressure during his half-time address but it was Central Murray that lifted their intensity in the third and three unanswered goals ballooned the margin to beyond 30 points.
Bairnsdale's Russell Cowan ducked and weaved his way past a trio of would-be tacklers and kicked a crucial goal to stem the tide and give his side a glimmer of hope heading into the final term.
Untidy disposal by hand and foot plagued Gippsland all game, particularly coming out of defence, but their forwards looked dangerous throughout and when the men in the red, white and blue jumpers finally found a way to get the ball into the attack, the likes of Dunne and McCarrey went to work.
Central Murray continued to spurn chances and when they began to tire and their meticulous ball use – underlined by short, sharp kicks to pick their way through the Gippsland press – and relentless pressure slipped, Gippsland pounced.
McCarrey kicked things off with his fourth of the game, before a goal to Cowan from the ensuing centre bounce slashed the lead to 20 points and when Dunne twice found space in behind in behind the Central Murray defence, Gippsland was within eight points.
However, it was too little, too late and the unlikely comeback fell short.
Cowan was outstanding on the ball, racking up contested possessions, driving his side forward at every opportunity and contributing two goals and was deservedly awarded the AFL Victoria Medal as Gippsland's best player.
Skipper Jordan Dessent battled gamely alongside Cowan at the stoppages and Ash Dugan proved a good outlet across half-forward.
Deeper forwards McCarrey and Dunne made the most of their opportunities to finish with four goals each, while Matt Rennie was the pick of the defenders under a mountain of pressure, with his intercept marking a feature.
Coach Kidd said his young side was outplayed.
"They were winning the ball inside and getting it out into space and it took us a while to adapt with so many new guys in the team that hadn't played together," Kidd said.
"We finished the game off really well and came hard at the end but it just wasn't enough.
"We really appreciate the guys putting their hands up [to play]. There was a lot of young guys in the team this year so they'll get a lot of experience out of playing at this level of footy."

Gippsland goalkickers: B.McCarrey 4, C.Dunne 4, R.Cowan 2, D.Farrell 1, D.Loprese 1

Gippsland best: R.Cowan (AFL Victoria Medal), M.Rennie, J.Dessent, C.Dunne, B.McCarrey, A.Dugan.