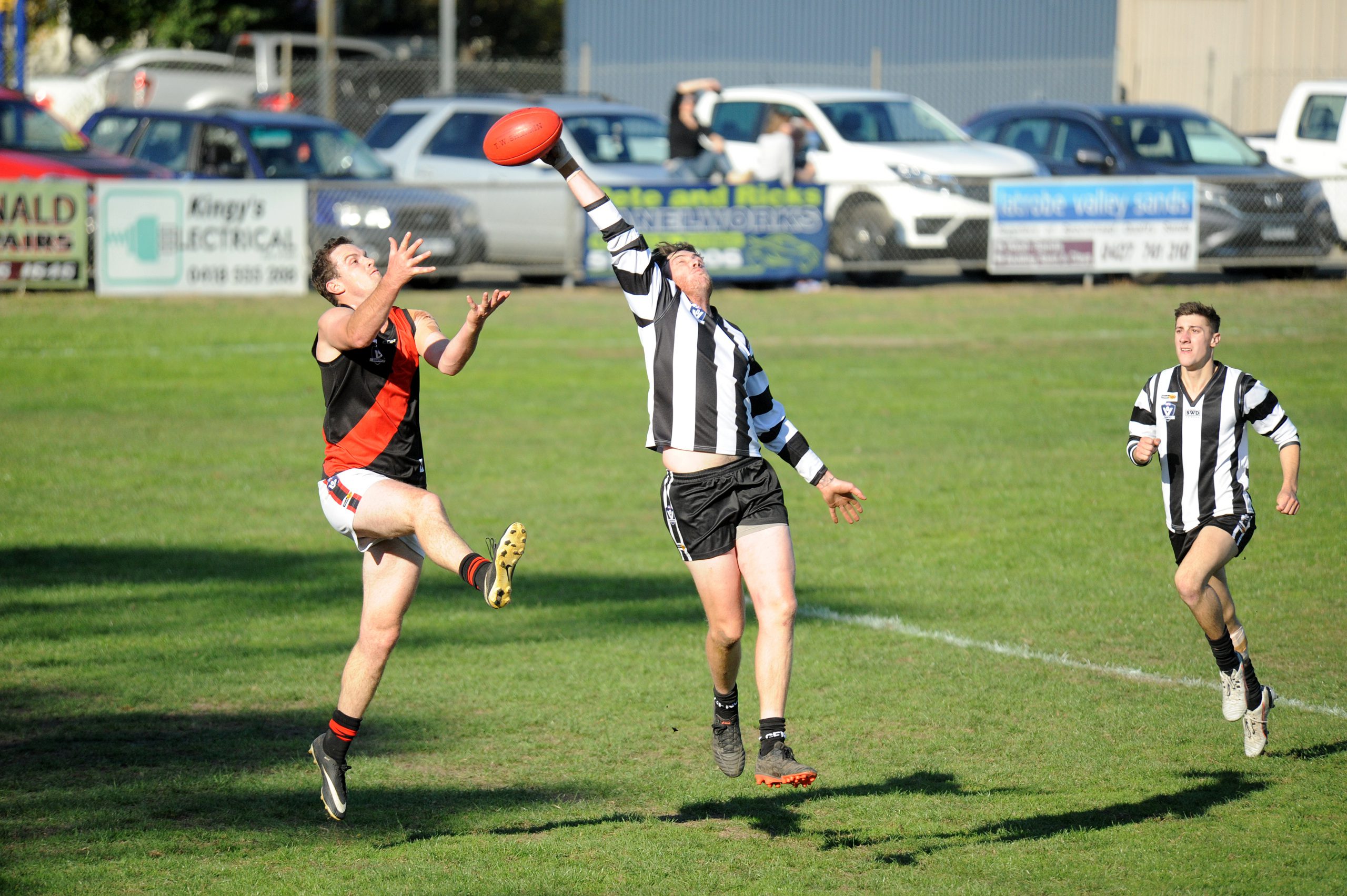 Scott Berechree
Football

North Gippsland
Attention will be focused on one huge match up in North Gippsland round seven this weekend.

With four of the five games pitting teams with genuine finals claims against teams that could safely book their respective trips away for late August, the clash between the sides that have won the last two premierships, Yarram and Sale City, is the clear stand out.
After dropping their first match for the year in round six, Sale City will look to return to the winner's circle this week when they travel to Yarram.
Awaiting them will be a Demon line up full of confidence after they surged to third on the ladder on the back of a percentage- boosting 177-point win against Gormandale in round six.
A Sale City win will have them remain within touching distance of top spot, whereas a home-town victory would likely provide top side Churchill a two-game buffer on top of the ladder.
Yarram v Sale City

Sale City coach Jacob Schuback lamented his side's inability to play a consistent four quarters in last week's loss to Heyfield and said Yarram would be "a massive contest" for his team.
When questioned about any plans he might have for Yarram's prime movers such as Griffin Underwood, Liam Farley or Jack Weston, Schuback said his side would "not focus on stopping a couple of players" and the Bulldogs would "pay respect" to all of Yarram's line up.
He also said he was hopeful of being able to re-call a couple of players to the line-up for Saturday's clash.
Yarram too will need to make at least one change from last week's side with Chris Coulthard unavailable for this game – or the one after.
The defender was suspended during the week, given a four week ban – with two games forming part of a suspended sentence – after an investigation stemming from Yarram's Good Friday clash with Churchill was completed.
He will be sorely missed having been a likely opponent for City's goal-kicking small forward Nick Grainger, and also Heyfield's Jack Woodland the week after.
While not a like-for-like replacement for Coulthard, Yarram coach Matt Scholz said he would have Ben Vardy available in round seven.
This game kicks off a big four weeks for the Demons that has them face off with the other four sides that currently sit with them in the top five.
The Demons will be taking a positive approach into the game.
Like his opposing coach Scholz said he'd back his side in to win the contest rather than focusing on stopping opposition players.
He did note, however, that the Bulldogs are great ball users so he would like to shut down their run and carry on the outside.
The attacking mindset of both coaches should set the scene for a ripping game which is likely to be played out in front of a large crowd with many of those attending heading to the mid-season ball following the match.
Heyfield v Cowwarr

Heyfield will enter this week's match with Cowwarr full of confidence after their win over the ladder leader Sale City on Saturday.
Roos coach Rick Galea was confident if his troops stuck to his game plan, they would be capable of beating anyone and so it proved.
On paper this week seems an easier outing for Heyfield, however, as reigning premiers Yarram can attest, the Saints have already proven they are capable of a surprise result.
Cowwarr were left a little nonplussed after last week's loss to Woodside where the Wildcats took advantage of the Gippsland league bye and selected several former players to spring what some would call an upset win.
There will be no such surprises this week for Saints coach Jeremy Jones who will be acutely aware of the challenge his side faces.
For Cowwarr to win they will need to shut down the run and carry of Heyfield's gun on-ball brigade.
Adam Wallace continued his outstanding start to the year for the Roos with a best-on-ground performance last week with Nick Dowse and Jack Woodland also touching plenty of the ball.
If the Roos can keep Cowwarr's ball-winning machine in Pat Tainsh in check, it is doubtful the Saints can get enough of the ball to the likes of Shane Morgan, Dale Murphy and Nick Wozniak for them to kick a winning score.
At the other end of the ground the bear in the square Shaun Humphreys, who had 16 majors in his last month of football, will cause plenty of headaches for the Saints coaching staff.
Woodside v Rosedale

After chalking up win number one last week Woodside welcome Rosedale in round seven in what is a must-win clash for the visiting team.
If not for a second quarter lapse last week where Rosedale conceded four goals to none against Churchill, the Blues would be only percentage off a top three spot and a game from the top of the ladder.
The reality is, however, Rosedale sit sixth on the table with their only win against a fellow finals contender being a three-point thriller over fifth-placed TTU.
Simply put, this is the kind of game Rosedale need to win to keep in touch with the top sides.
They will face a vastly different Woodside line up this week with a handful of last week's winning Wildcats returning to their 2019 Gippsland league sides.
Buoyed by the win and playing on their home deck, the Wildcats will look to the outside run of Tom King and the aerial dominance of Tom Crosby and coach Ryan Foat to keep Rosedale's Adam Diamond and Dale Fleming from dominating through the middle.
The problem for them, however, will be once the ball goes into the Blues forward line.
The Wildcats don't look to have the personnel to stop Rosedale's Brandon McDonald and Frazar Brouns.
McDonald had three majors last week and Brouns just the one but look for them to kick double figures between them this week and for Brouns to lead the way with half-a-dozen or more majors to his name.
Churchill v Glengarry

The league's only undefeated team, Churchill, should have the measure of Glengarry this week when the two clubs battle it out for the Gary "Woosha" Welsh Cup.
The two clubs honour the legacy of Churchill great Garry Welsh annually with the cup proudly in the possession of the Cougars at present.
Glengarry has shown glimpses of improvement at times in 2019 but are yet to put in a four-quarter performance against a top side with their 30-goal demolition of Gormandale the Pies only win of the year thus far.
Churchill meanwhile have taken all before them while also getting a multitude of senior experience into their younger players.
A couple of those youngsters should be available for selection this week with Rory Peter having served his one match suspension and Kyle Hearn potentially available after pulling up a little ginger after the Cougars win over Cowwarr two weeks ago.
TTU v Gormandale

It must surely be hard for a side sitting zero wins, six losses with a percentage of 15 to find a reason to get excited about footy.
Even more so when you have an away game scheduled against a side coming off a 15-goal win.

But for Gormandale the trek out to the Tyers Recreation Reserve this weekend has a real sense of purpose.
In what is a magnificent achievement, club stalwarts Sam Burgess and Gavin Swann will both play their 300th club games.
Even factoring in last week's federal election result, the Tigers pulling off a win to celebrate the occasion would be the biggest turn up on a Saturday afternoon for some time.
Hopefully everyone can get back to the club after the game and enjoy what is a terrific individual achievement for these two great servants of the Gormandale Football Club.