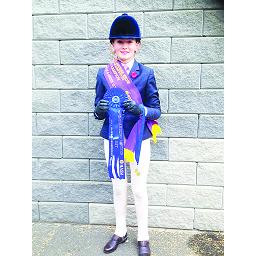 Michelle Slater
The Latrobe Valley equestrian community is rallying behind a talented young rider who is in hospital with a shock illness that has left doctors scratching their head searching for a diagnosis.

Champion show rider Sophie Kootstra was rushed to hospital about a fortnight ago after being becoming critically ill during a riding lesson.
The 15-year-old Yinnar South girl was put on life support after a minor stroke and open heart surgery.
She is now in intensive care at The Royal Children's Hospital, with her family constantly by her side, and her parents are unable to go to work.
Family friend Ebonee Foat is helping to organise a fundraising event, and said Sophie's illness had taken a huge toll on the family who are anxiously waiting for more tests for doctors to get an accurate diagnosis.
"It's still a long road to recovery. It's day-by-day and they can't do anything until a diagnosis. No one knows how well she will recover," Foat said.
She said Sophie was a well-loved member of the equestrian community. The elite rider competes at royal shows, Barastoc Horse of the Year and is a familiar face on the local show circuit.
Sophie had most recently come back from the 2019 Grand Nationals in Sydney, competing on her beloved thoroughbred Robbie.
"She is a lovely, elegant rider. Horses are her dream and passion. She rides every night. We are not sure what this means for her as a rider. We want to get her back on a horse," Foat said.
"We can't imagine what her family is going through. She has a lot of rehab ahead of her."
The equestrian community has banded together to organise a Ride4Sophie day at the Traralgon Pony Club grounds in June.
Top riding instructors David McKay, Rebecca Carrolan and showjumping expert Danni McKeon are taking bookings for lessons on the day.
Raffle prizes include vouchers for farriers, equine dentistry, car services, horse feed and accommodation. There will also be a car boot sale, stalls and barbecue run by Boolarra Pony Club.
"The support has been amazing. Everyone wanted to do something and we wanted to do it sooner than later. We didn't think we'd get this kind of response – my phone hasn't stopped," Foat said.
Sophie's mum Wendy Pattinson said her family was overwhelmed and grateful for the community support.
"I have had private messages of support and well wishes from people I don't even know which has been lovely," Pattinson said.
"Sophie is doing really well with little improvements everyday. She is still very weak and still in ICU while they determine what has caused her to be so ill."
Ride4Sophie will be held at the Traralgon Pony Club on June 8. Gates open at 7am and lessons start at 8.30am. Raffle tickets can be purchased from Rodwells and Horseland in Traralgon.
For more information, phone Ebonee Foat on 0498 242 244.