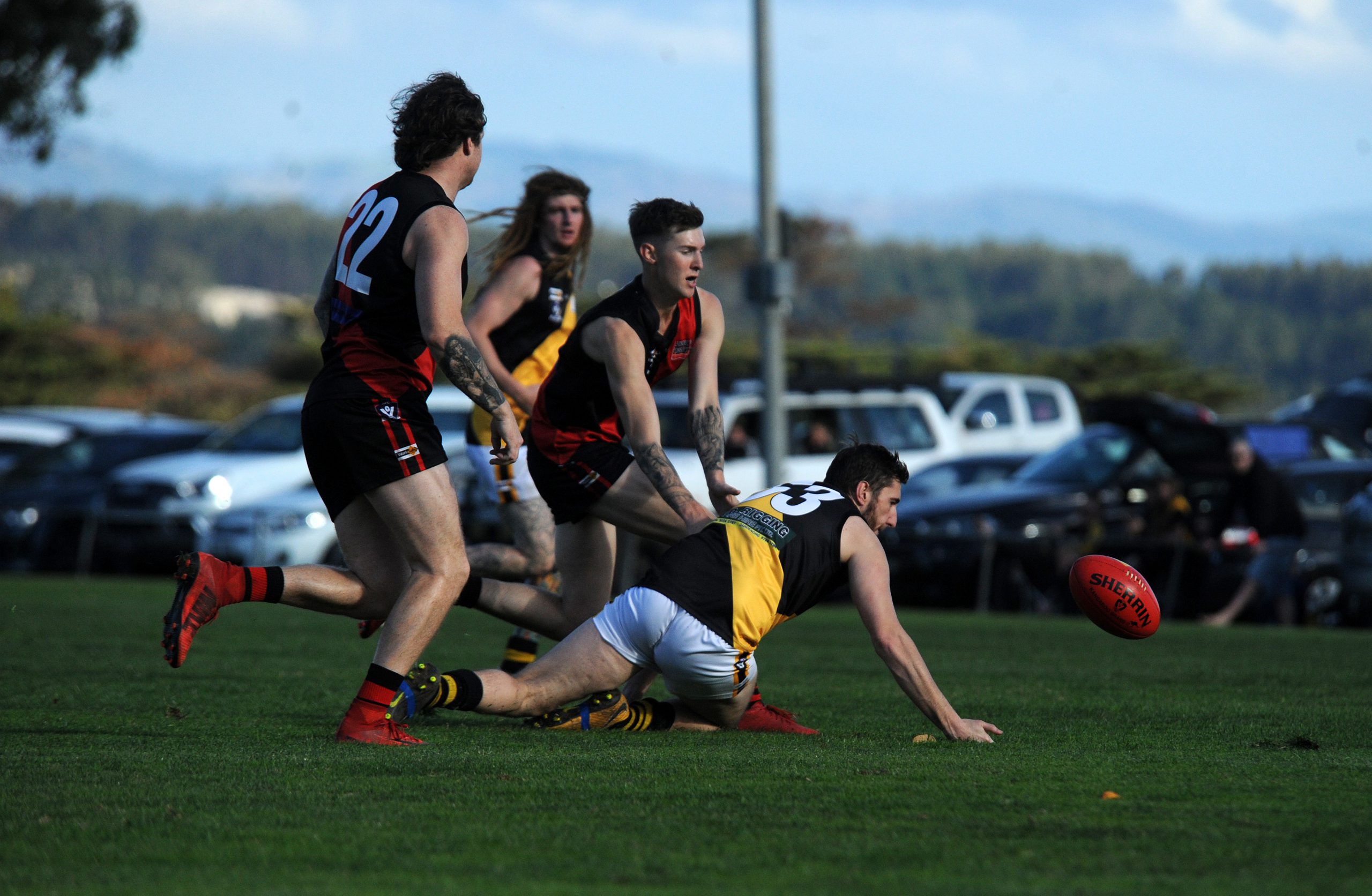 Foootball

North Gippsland

In a season and a round of big wins, not even a 113-point difference was enough to give Churchill all the bragging rights of round seven.

That honour didn't even go to second-placed Yarram who thrashed Sale City by 136 points but to Traralgon Tyers United who racked up their fifth win of the season by 143 points over the luckless, winless Gormandale.
However, Churchill remain undefeated after round seven, accounting for the Magpies 23.26 (164) to 8.3 (51).
The Cougars raced out to a 35-point lead by the first break, extended it to 51 by half-time and stood 70 points clear at three-quarter time. They kept the pressure on the visiting Magpies to rack up an extra 50 points in the final quarter – just one point short of Glengarry's total match score.
Blake Slater kicked a bag of nine for Churchill backed up by Ben Skinner with five of his own. Brendan Holt scored three, Brendan Mason two, and singles went to Aidyn Sheers, Christopher Williams, Daniel Beyer and Kurt Holt.
Slater, Williams, Skinner, Holt and Mason were joined by Nathan McRae as best on ground.
For Glengarry, the honours were shared with Hamish Busk and Nicholas Quenault kicking two goals each and singles going to Nathan Larkin, Chris Ewert, James Dawson and Andrew May.
Best for the Magpies were Jake Read, Leigh O'Mara, Ashley Russell, Ethan Powell, Dawson and Ewert.
Heyfield v Cowwarr

In contrast, the closest match of the round was Heyfield's 16 point win over Cowwarr, 7.10 (52) to 4.12 (36).
The Saints were not only in touch but looked promising for the first half as they led by one point at quarter-time and four points at the long break.
The Kangaroos came out with an extra skip in their step for the second half, scoring three goals to one in the third quarter, before holding the Saints scoreless in the final.
Inaccuracy hurt the visitors as they were only able to convert four of their 16 scoring shots.
Jesse Bedggood kicked two for Heyfield with support from Charlie Driffield, Jesse Jackway, Mark Johnston, Shaun Humphreys and Jack Woodland.
Best afield for the hosts were Jack Woodland, Brayden Woodland, Bradely Berry, Adam Wallace, James Conway and Johnston.
Vincent Johnston was the only multiple goalkicker for the Saints with singles to Shane Morgan and Ned Gowers. Best for Cowwarr were Gowers, Patrick Tainsh, Siaosi Lay-Blake, Nicholas Szabatur, Michael Bloss and Mitchell McDonald.
Yarram v Sale City

Yarram easily accounted for Sale City, 24.24 (168) to 4.8 (32) to put them solidly in second place on percentage from three other teams with five wins and two losses.
The hosts declared their intentions early with a dominant 50-point opening quarter while holding Sale City to just one point. That lead grew to 83 points in the next session and to 98 points by the final break before storming away to a 136-point victory.
Yarram's goalkickers and best on ground were not available at the time of going to press.
Nicholas Grainger kicked three goals for Sale City with one scored by Kyle Grainger. Best for the Bulldogs were Thomas Bowman, Joshua Barton, Abe Schuback, Troy Carstairs, Zac Hider and Jed Malone.
TTU v Gormandale

Traralgon Tyers United enjoyed a significant percentage boost with their 143 point demolition of Gormandale, 22.18 (15) to 1.1 (7), but still sit fourth on the ladder behind the undefeated Churchill, Yarram and Heyfield who, like the Bombers, are five and two for the season.
The luckless Tigers were unable to trouble the scorers until the final quarter when Chris Potalej kicked their only major of the match.
On the other hand, Ricky Cochrane enjoyed a day out with 10 goals. Guy Sinclair and Josh Segond nailed three each, Bill Morrison and Jye Neilson scored two each, and Michael Duncan and Peter Deane kicked one each for the Bombers.
Best for the victors were Cochrane, Tyler Mustoe, Justin Savige, Hayden Willaton, Segond and Zachary Kilgower.
Woodside v Rosedale

Faced with a must-win game to stay in touch with the top sides, Rosedale came to play, comprehensively downing Woodside, 20.10 (130) to 4.8 (32).
The Wildcats simply didn't have the personnel to reign in Rosedale's Frazar Brouns (four goals), Brock Williams, Brandon McDonald and Matt Royal, three goals apiece. They were ably assisted by Ben Jones (two), Hayden Bell, Jake Pawley, Justin Darcy and Sam Tudor in their onslaught.
Best for the Blues were Adam Diamond, Rohan Diamond, McDonald, Pawley, Williams and Royal.
Daniel Missen was scored two goals for Woodside. Singles went to Rowan Missen and Brayden Askew.
Best for the Wildcats were Daniel Missen, Rowan Missen, Thomas King, Harley Hoppner, Joshua Kennedy and Frazer Ryan.