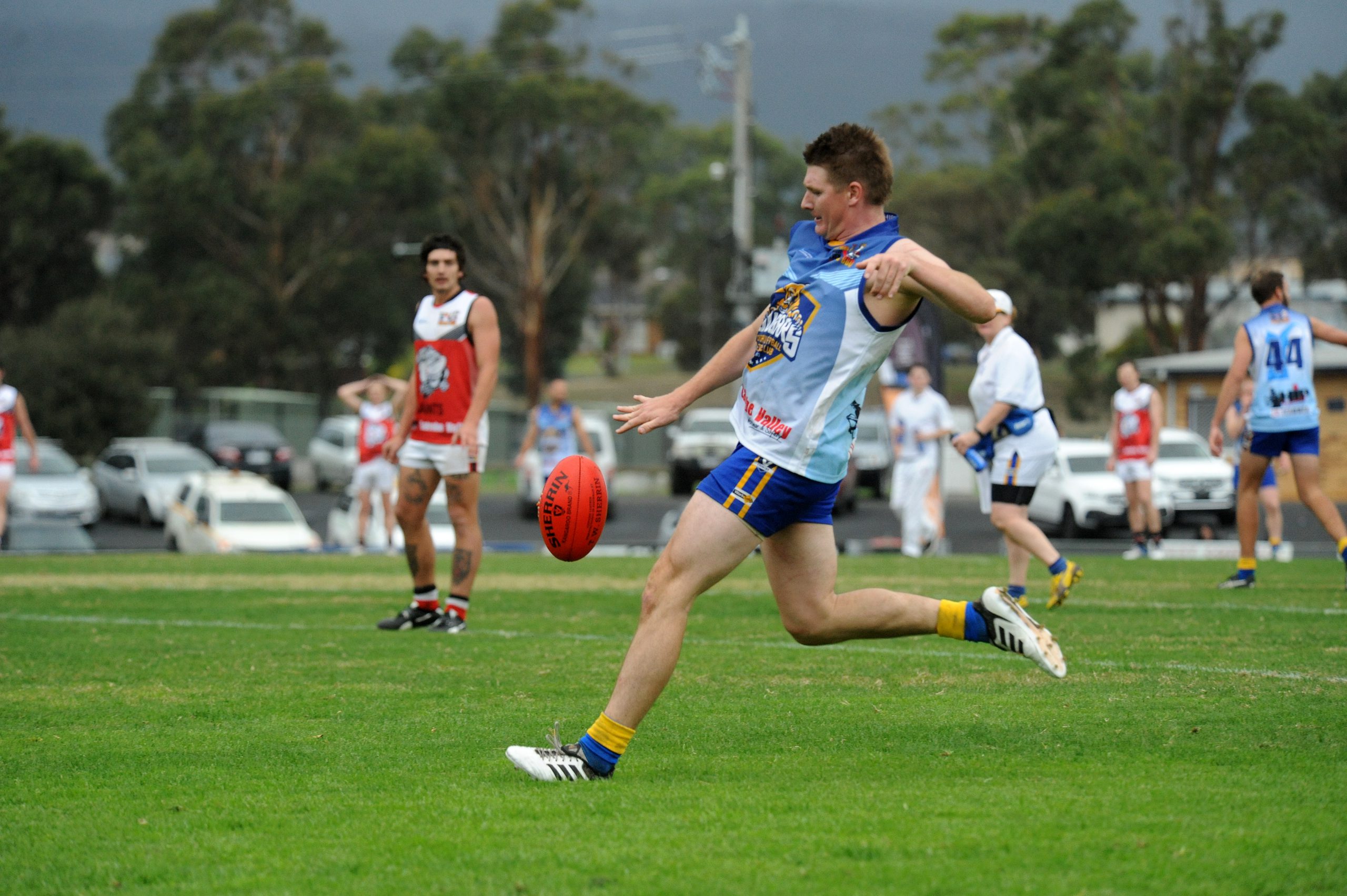 Scott Berechree
Football

North Gippsland

Round nine of the North Gippsland Football Netball League is a split round with just one game being played on Sunday.

The focus is on the top of the table clash between Churchill and Yarram.
However, with the eight other teams enjoying a weeks' break and a majority of those teams having played each other already, the break provides an opportunity for a mid-season review.
Churchill v Yarram

Each time these two sides meet it feels more and more like the Hatfields taking on the McCoys.
Such is the rivalry brewing between these two powerhouse North Gippsland clubs in Churchill and Yarram.
Apart from the sides sitting one and two on the ladder, there is also the added kicker that Yarram beat Churchill in last year's senior grand final.
All this combined with the two clubs agreeing to play each other in marquee matches, on Good Friday and the Queen's Birthday weekend, each year and the added feeling these clashes bring is easy to understand.
After taking the points in a fiercely-contested Good Friday clash at Yarram, Churchill will be keen to do the same in front of what is tipped to be a bumper home crowd this Sunday.
The club has a huge match day function planned featuring guest speakers Craig Jennings, Melbourne Football Club's assistant coach, and former Australian netballer Shelley O'Donnell.
Churchill head into the clash undefeated and two games clear on top of the ladder while Yarram boast some terrific recent form and the highest percentage in the league.
It's hard to envisage this being anything other than a cracking game.
Churchill will attempt to make several changes to their line up from last week's win with the likes of Brendan Holt, young gun Cain Iorangi and big-game performer Ben Kearns in the selection mix.
It gives Cougars' coach Chris Williams a nice problem at the selection table with reserves coach Joe Whykes, who finally found his goalkicking radar slotting 19 goals last week, also potentially in contention for a senior call up this week.
Williams said he expected a "great midfield contest" with Yarram's "Bruns, Underwood and Farley all quality players."
He said the key for Churchill would be to "match it on the inside and try to get them on the outside", claiming his own team's speed and spread as two weapons at his disposal.
Williams also suggested Jack Weston who plays off half-back for Yarram "creates a lot of drive" and stopping him would be key in ensuring a hometown victory.
Yarram coach Matt Scholz also has a few pleasant issues at the selection table.
He has to find room for a couple of regular senior players on the back of two fantastic wins over fellow finals hopefuls.
Scholz said he felt the bigger ground at Churchill wold help the home side with their "fast, spreading game" style.
While preparing for a Sunday game might be a little unusual for Yarram, it was business as usual with the team taking to the track on Tuesday night this week.
Scholz said he was hoping for fine weather as he felt it would be a great game but he did acknowledge it would be a "tough ask" for his side to come away with the points.
Mid-season review

Traralgon Tyers United
With all other sides taking a break this week below, in ladder order, is an overview on their season to date with an eye to what we might expect in the back half of the season.
Last year's big improvers still have a work-in-progress feel to them in season 2019, but under second year coach Michael Duncan the Bombers are preparing themselves for a crack at the pointy end of the year.
Despite a lack of continuity in terms of personnel, the Bombers find themselves third on the ladder, having won six of their last seven.
Their only blemish in that time was a three-point loss to Rosedale.
With Matt Stolarczyk returning to the side in recent times, if Duncan can start regularly adding the names Tim Aitken and Adam Bailey to his match day magnet board, the Bombers will have the top two sides looking over their shoulders.
When you have Ricky Cochrane and Jordan Collopy roving to the handy work of Luke Middleton, you have a side capable of pushing anyone on their day.
With the Bombers' thirds looking unlikely for premiership contention, young gun Jake Cashmore will perhaps be able to focus more on senior football now.
Rosedale

Rosedale are the quiet achievers of the North Gippsland league.
They occupy fourth spot on the ladder with twin towers Brandon McDonald and Frazar Brouns on track to kick 100 goals between them for the season.
When they do drop a game, they don't lose heavily, which suggests even after the season-ending injury to Rohan Hildebrand, the Blues have held up well defensively.
Hildebrand and Adam Diamond have been regularly in the Blues' best and will need to continue their form in the back-half of the year for Rosedale to ensure a top-five finish and to press for the all-important double chance.
With Brouns dominating up forward, it might well be time for young gun Ben Justin to get a taste of senior football and support the senior big man department.
Heyfield

New coach Rick Galea has been a breath of fresh air for Heyfield.
He has seemingly reinvigorated many of the existing Heyfield players and been able to attract several others back to the club.
Playing deep near goal has helped Shaun Humphreys hit the scoreboard and also act as a focal point for the likes of Jesse Bedggood and Charlie Driffield to work from.
Heyfield round out their first half of the season with a home ground clash against TTU.
A big win there would make them well-placed at the half-way mark where as a loss would potentially put them outside the top five.
While the Roos have a strong front half set up, offence might sell memberships but it is defence that win premierships.
As such it will likely be the effort off the back six, led by Scott Anderson and Brad Berry, that will not only determine where Heyfield sit after round nine but whether or not they return to the finals fold at season's end.
Sale City

The Bulldogs, for so long a finals regular, find themselves in unfamiliar territory coming to the half-way mark of the season.
They sit in sixth spot and their two most recent performances include disappointing 20 and seven-goal losses to fellow finals' aspirants.
While they would be expected to claim a round nine victory next week, they do have two matches against ladder leaders Churchill in the back half of the season to consider.
The off season losses of key big men Harrison Kaandorf, Chris Kelf and Stu Buckley, combined with the continued absence of Bohdi Walker with a hamstring injury, has seemingly left things a bit bare in the Bulldogs' forward line.
With Nicholas Grainger leading the way on 26 majors and Schuback having 13 himself, coach Jacob Schuback may be required to bite the bullet and spend more time forward and hope his absence in the midfield can be off set.
With a list that includes Ben Chivers, Thomas Bowman, Justin McLay and Brad McKay it would take a brave person to say the Bulldogs won't be there come finals.
Cowwarr

New coach Jeremy Jones looked to have weaved some early magic through the doors at Cowwar sitting two-two after round four.
In the wake of their upset win over reigning premiers Yarram, there was a distinct buzz about all things Cowwarr.
After copping the rough end of the stick against Woodside, when the Wildcats took advantage of a Gippsland league bye to recall some former players, the air looks to have gone out of the Saints' balloon as the half-way mark approaches.
Their first four rounds helped them average a very healthy 96 points per game, however, since then they've averaged just a shade more than 55, as sides have started to put the clamps on the likes of Shane Morgan and Nick Wozniack.
If, as the ladder suggests, we accept that the top six sides are clearly tracking better than the bottom four, Cowwarr's final round clash against Glengarry could mean they win the battle of the best of the rest.
Glengarry

Having won a reserves and thirds premiership in recent years, new coach Steve Henry, who came to Glengarry via a Traralgon coaching role, would have been hoping for a swift climb up the ladder in 2019.
Having gone 10th, ninth, seventh and 10th in the last four seasons, the Pies again find themselves at the wrong end of the ladder, albeit arguably on the rise.
The good news for Glengarry is that this year's crop of under 18s again seem to be a good one.
With the Magpies already looking to have top spot locked away, it could well be that Henry gets some senior footy into the youngsters to prepare them for the years ahead.
The loss of several senior players last season has clearly slowed the Pies' momentum, however, Henry and the Pies' faithful may yet be rewarded in the seasons to come.
Woodside

A huge off-season recruiting coup aimed to have the Wildcats on the march at the back end of 2018.
Fast forward six months, however, and not only did the boom recruit fail to arrive, but several regulars also took leave to try their luck at the higher level.
It left the club champion and first-year coach Ryan Foat with a shell of a list and not a great deal of time to add to it.
The upshot is that the Wildcats find themselves in the bottom two and there appears, this year at least, little reason to think that will change.
Woodside have shown plenty of resilience over the years and with a hard working off-field team there is no reason to think they won't be back bigger and better in season 2019.

Gormandale

In what can only be described as a horror season for the club on the field, spirits remain high at Tigerland off the park.
The Tigers have fielded sides every round in all three grades so far this season and have probably set a record of sorts in doing so. They have used 70 players in their reserves side so far this season.
Their seniors have done it tough but they did manage a respectable five goals against the top side in their most recent outing.
A win does seem unlikely based on recent form, however, a winless Gormandale welcoming Woodside, who are second-last on the ladder, out to the recreation reserve in round 18 might provide some hope of victory.