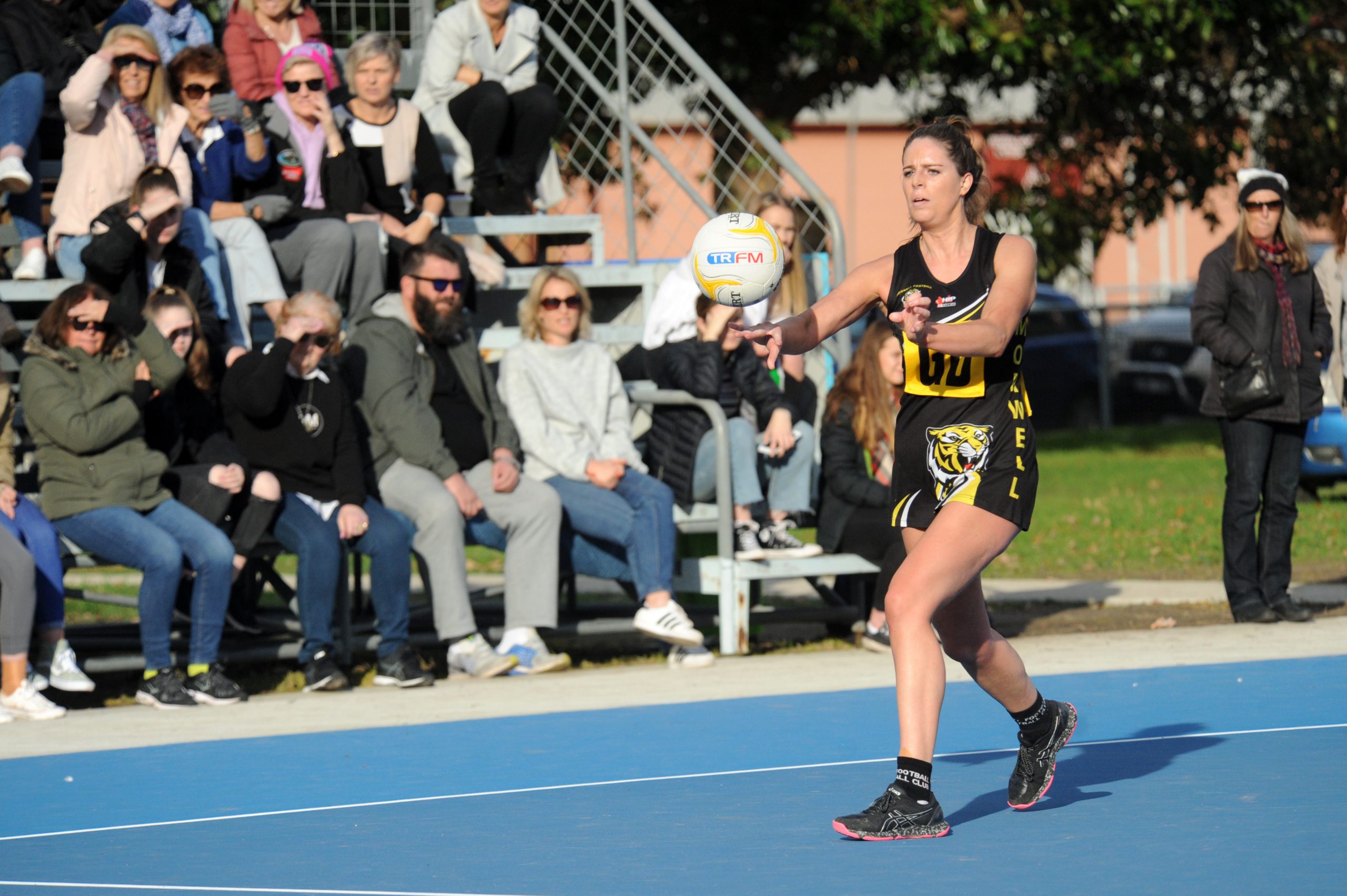 Kate Withers
NETBALL

GIPPSLAND LEAGUE
A tantalising clash is taking shape in Gippsland A grade netball action this weekend in what could well be a grand final preview between in-form sides Moe and Morwell.

The Tigers' juggernaut rolled on at the weekend with Sale the most recent victims of Morwell's undefeated run through to round 10.
Daisy Hill again led the charge for the Tigers with 28 of their 50 goals with assistance from Claire Allison.
League best and fairest Courtney Garth again gave shooters a torrid time, commanding the Morwell defence in a best on court performance.
Defending premiers Moe, in third spot with seven wins from nine rounds, haven't dropped a game since their round three loss to Traralgon.
Unhampered by the absence of premiership shooter Bella Hodgson at the weekend, the Lions continued on their merry way with a 10-goal win over Warragul on the road.
When the sides met in the opening round of the season, Morwell recorded a 25-goal win over a depleted Moe team without star shooting duo Hodgson and Georgia Moody due to representative commitments.
This time around, one of the most intriguing match ups to watch on Saturday will be between Morwell's Garth at goal defence and Moe's Moody at goal attack.
Moe and Morwell will play on Saturday at Moe Recreation Reserve from 2.15pm.
Traralgon v Drouin

Powerhouses Traralgon will head into Saturday's clash with Drouin as firm favourites after a return to characteristically dominant form at the weekend.

The Maroons put in yet another clinical performance, brushing aside Maffra by 37 goals in round nine.
Seemingly unstoppable under the ring, shooter Taylin Gourley converted a mammoth 60 of her side's 73 goals in the rout while centre Stacey O'Brien again was best on court for Traralgon.
Round nine was a welcome return to form for the prolific finalists after consecutive defeats to Warragul and Morwell in rounds seven and eight, respectively.
Drouin, sitting in seventh with three wins for the season, come into round nine on the back of a 54-48 victory over Wonthaggi.
When the sides last met in round one Traralgon were 14-goal winners.
Maffra v Leongatha

Maffra will look to exact revenge this weekend when they host Leongatha in a battle of fifth and sixth.

The round one encounter was played at Leongatha and was a down-to-the-whistle thriller with the home side clinching a one-goal victory to kick-start their season.
The Parrots were big winners in round nine over Bairnsdale, 52-29, while Maffra suffered a brutal defeat at the hands of Traralgon, 73-36.
Leongatha suffered a big loss to Morwell in round five which seemed to spur them into action and was followed by three consecutive solid performances.
The Parrots beat Drouin by seven goals the following week, drew with Sale in round seven and were narrowly edged out by defending premiers Moe in round eight.
Warragul v Wonthaggi

Fourth-placed Warragul will look to make it eight wins from 10 games this weekend when they host cellar-dwellers Wonthaggi.

Warragul were by no means disgraced against defending premiers Moe at the weekend and held there own before being outrun by 10 goals.
Wonthaggi suffered a similar fate in their round nine encounter and were edged out by Drouin, 54-48.
When the sides last met in round one Warragul got their season 2019 off to the perfect start with a 63-28 demolition of Wonthaggi.

Bairnsdale v Sale

Searching for their second win of the 2019 season, Bairnsdale will return home to host Sale in round 10.

The Redlegs and Magpies were both thoroughly outclassed in their most recent outings.
Bairnsdale were no match for Leongatha and lost by 23 goals while Sale went down by the same margin to league leaders Morwell.
Sale earned bragging rights when the sides last met in the season opener, 46-38.