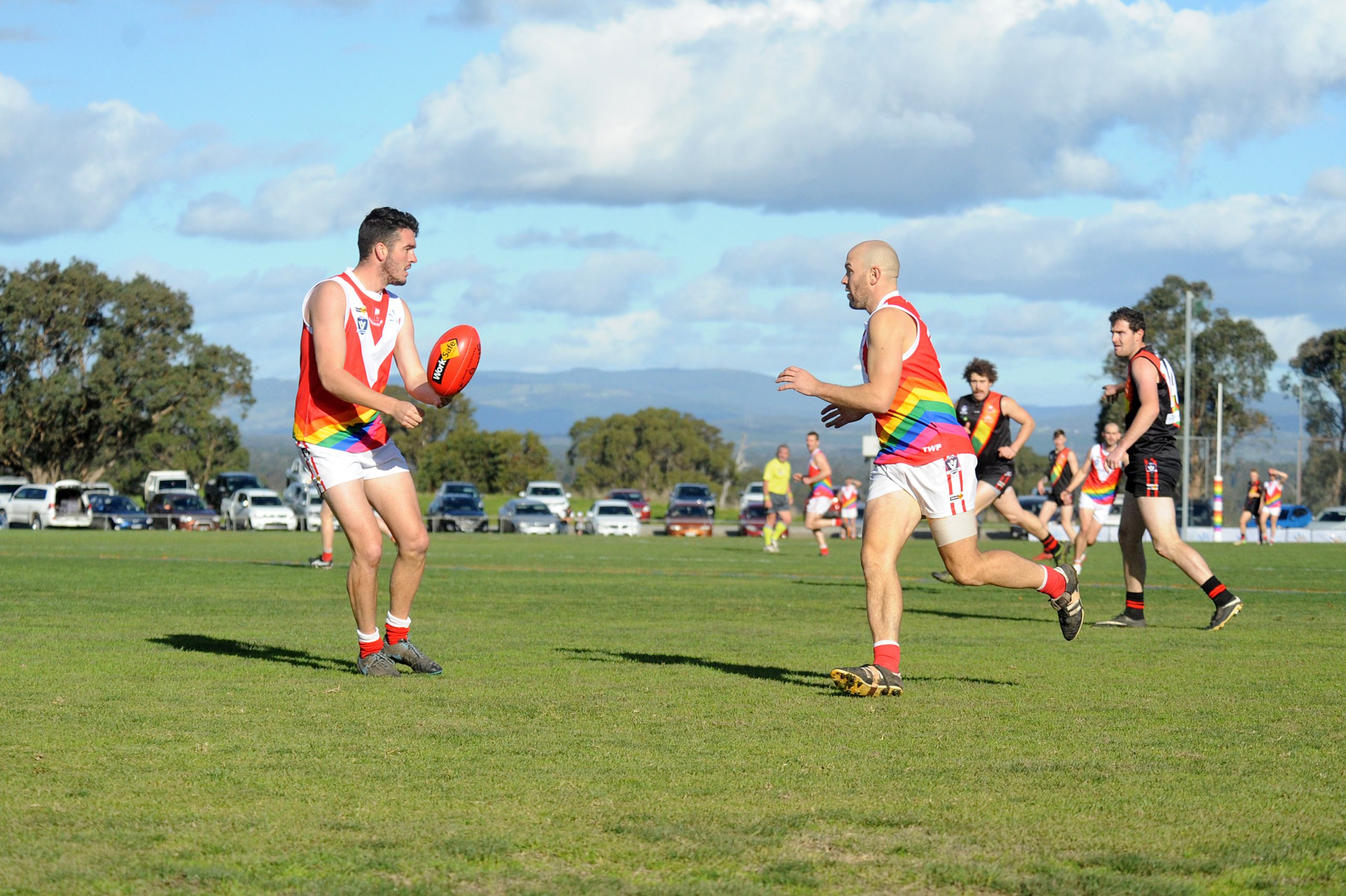 FOOTBALL

NORTH GIPPSLAND
Yarram registered a breezy win over Traralgon-Tyers United to reaffirm their standing as real contenders for back-to-back flags at the weekend, 16.15 (111) to 7.9 (51).

The Bombers went with the visitors for the best part of three quarters but were shown up in the last as the Demons hit their indomitable best and piled on nine goals to storm home with a 60-point win.
Jarryd Swift kicked four goals for Yarram in the victory while Liam Farley, Jake Mcfarland and Ben Vardy each bagged two.
Farley was named best on ground in his team's first Gippsland Pride Cup fixture, however, TTU took honours on the day across football and netball, 5-4.
Also among the best for the Demons in the win were Chris Coulthard, Chris Bruns and Louis Rodaughan.
Churchill v Sale City

Led by the ageless Brendan Holt and the return of Ben Kearns, Churchill overcame a fired-up Sale City to record an impressive win at Gaskin Park on Saturday, 14.11 (95) to 13.12 (88).

The Bulldogs managed the first two goals of the game through Brad McKay and Troy Castairs before Holt registered the Cougars' first.
This was countered immediately by City coach Jacob Schuback who was already on his way to a best on ground performance.
After another couple of strong marks the Dogs' bench had seen enough and relieved Jake Main of his role on Holt.
As much as replacement Brad Fleay tried, Holt was instrumental in a second half comeback that had the home side storm home from as much as five goals down to win by seven points.
The third quarter kicked off under a cloud of confusion as umpires retrospectively removed Bulldog Kody Richards for the game and Churchill's Kurt Holt for 15 minutes after an incident was missed by all three central umpires but picked up by an eagle-eyed boundary umpire.
It seemed Kurt Holt was the victim of mistaken identity, however, as it was teammate Luke Brereton who was involved in the tangle with Richards.
The third quarter was a real arm wrestle but when Cougar Leigh McDonald reduced the margin to two goals coming into the last break it was game on.
City moved Justin Mclay behind the ball to stem the tide but lost his drive through the middle as a result.
City coach Schuback extended his team's lead to 20 points to start the last term and a Bulldog triumph looked assured.
Enter Cougar forward Ben Kearns who slammed home his fourth and fifth goals for the match to spark the home side into action with five of the game's last six majors to grab the win.
Heyfield v Rosedale

A five-goal haul to Brandon Mcdonald helped Rosedale brush aside Heyfield at Gordon Street Reserve on Saturday, 16.8 (104) to 9.8 (62).

A slender four-point first-quarter lead ballooned to 29 points by half-time and 35 points by three-quarter-time.
Three straight goals in the final term helped the dead-eye Blues run out 42-point winners and cement third spot on the North Gippsland ladder, a win clear of TTU.
Mcdonald was assisted by goals from Brad Scott (two) and Kaleb Watson (two).
Among the best for Rosedale in the win were Mcdonald, Scott, Joel Bristow, Rohan Diamond and Tom Anderson.
Cowwarr v Glengarry

Cowwarr were big winners in round 10, holding a luckless Glengarry side to just two goals to three-quarter-time in a dominant performance on Saturday, 15.16 (106) to 8.7 (55).

The Saints set the tone early, adding four opening goals to lead by 18 points at the first change before piling on the pressure with another six in the second term while holding the Magpies to two goals to earn a 55-point buffer.
The margin was increased to 81 points at the last change before a late resurgence from Glengarry helped them add six last-quarter goals.
Shane Morgan (five goals) and Pat Tainsh (four goals) ran rampant for Cowwarr in the win while Vincent Johnson was the other multiple scorer with two.
Among the best for the Saints in the win were Siaosi Lay-Blake, Jack Casson, Andrew Mclean and Nick Szabatura.
Woodside v Gormandale

Woodside cruised home to a 105-point victory over a winless Gormandale side on Saturday, 19.15 (129) to 3.6 (24).

Ryan Foat enjoyed the spoils for the Wildcats and finished with seven goals, Izayah Speer kicked four, Gary Jones three, Daniel Missen two and singles went to Sam Fulton, Thomas King and Jeremy Morgan.
For Gormandale, Josh Woods kicked two goals.