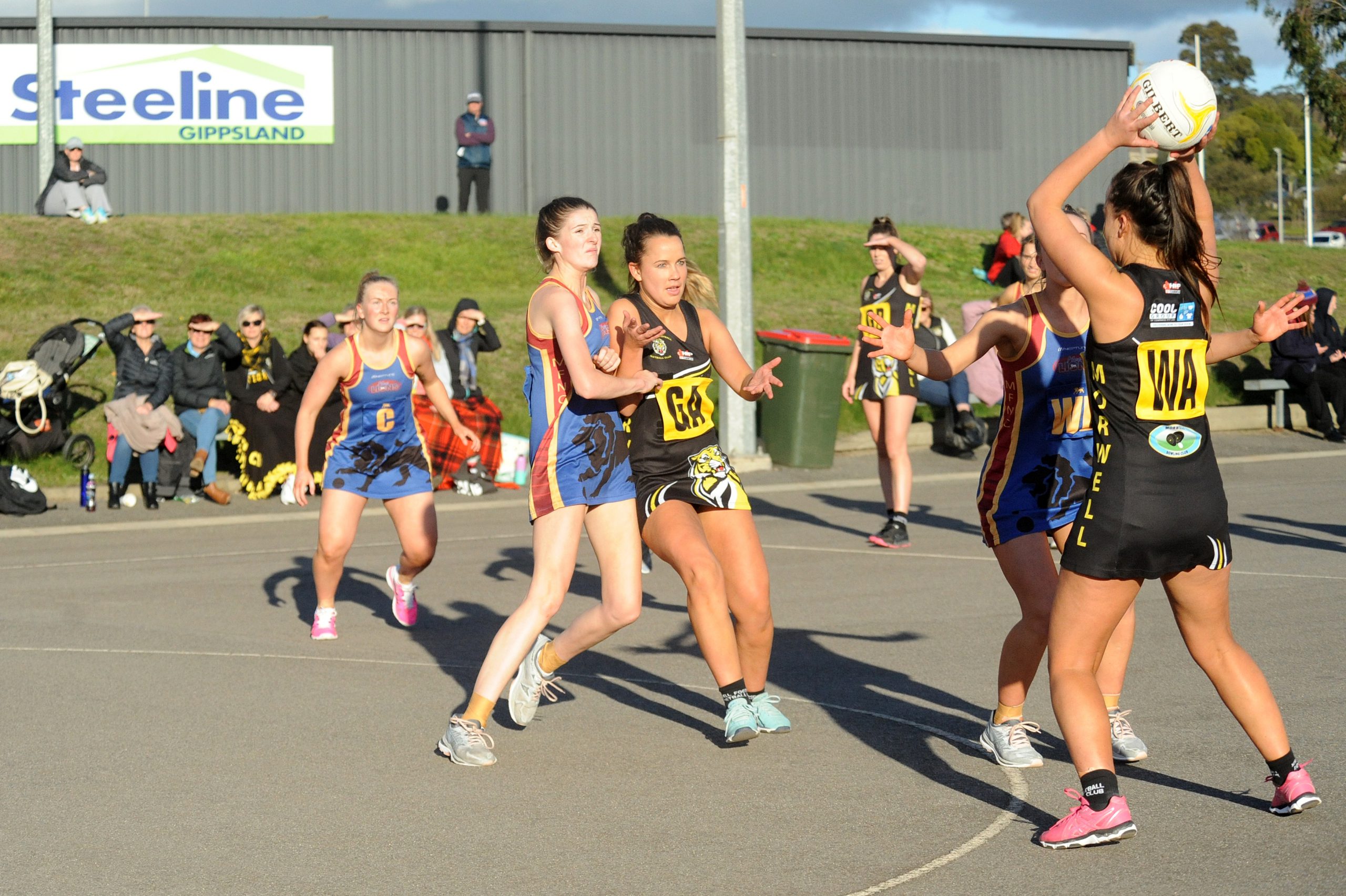 Kate Withers
NETBALL

GIPPSLAND LEAGUE

One of the most enthralling battles to-date in Gippsland league A grade netball action took place in round 10 at the weekend in what could well have been a preview of the 2019 decider.

Ladder leaders Morwell travelled to take on defending premiers Moe on Saturday in front of a vocal crowd at the Lion den.
In a tense and physical encounter, the Tigers teamed home in the final quarter to clinch a two-goal win, 51-49.
Georgia Moody and Bella Hodgson again shared the load in the goal circle for the Lions and went head-to-head with Morwell defensive duo
At the other end, Moe defenders Shannon Freeman and Carly Mullen-Bianconi held their own against experienced goaler Claire Allison and young gun Daisy Hill – who shot 33 of her side's goals – in a particularly heated final term tussle.
Another interesting match-up played out in the mid-court between Tigers coach Rachel Tatterson at wing attack and Lion cub Charlize Bird and wing-defence.
Morwell travel to take on Wonthaggi this weekend while Moe will enjoy a week's respite before facing Drouin on July 6.
Maffra v Leongatha

In a tussle for fifth spot Leongatha emerged victorious over Maffra at the weekend in a 20-goal drubbing, 48-28.
The Parrots move six points clear with the win after splitting the points with Sale in round seven.
Maffra will hit the road to take on Bairnsdale this weekend in round 11 action while Leongatha are also away to Traralgon.
Traralgon v Drouin

Drouin made the dreaded trip east to face powerhouses Traralgon in round 10 of Gippsland league netball action at the weekend and were no match for the Maroons, going down 85-36.

There was a new-look goal circle with Ramayer Gourley swinging from defence to join sister Taylin Gourley in the ring to form an irrepressible goaling duo that proved too much for the Drouin defence to handle.
Taylin was in typically dominant form and converted 52 of the Maroons' goals for the day while Ramayer shot 21 with intermittent relief from Saskia Eenjes (six goals) and Maddison Stockdale (six goals).
Among the best for Traralgon in the win were the Gourley sisters and mid-court machine Stacey O'Brien while Stacie Gardiner again put in a leading performance for Drouin.
The Maroons sit in second spot on the A grade ladder with eight wins, matched with Warragul in third but two games off the pace of undefeated ladder leaders Morwell.
Traralgon take on Leongatha this weekend while Drouin will have the week off before taking on defending premiers Moe on July 6.

Warragul v Wonthaggi Power

Warragul continued their dominant run towards the post-season at the weekend with a clinical 25-goal win over Wonthaggi on Saturday.

Young gun Myah Healey was in damaging form in the goal circle and converted 49 of her side's 63 goals while Jaime Rollinson provided able support and shot the remaining 14 goals.
After finishing fifth in season 2018, the Gulls have made an early dash to stand as one of the favourites this year and sit in third spot with eight wins, matched with Moe, and have dropped just two games – to Morwell in round six and reigning premiers Moe in round nine.
Wonthaggi, at the other end of the table, sit in last spot and have managed just two wins for the season to date.
The task doesn't get any easier for the Power with ladder leaders and hot premiership favourites Morwell this weekend while Warragul travel to take on Sale.