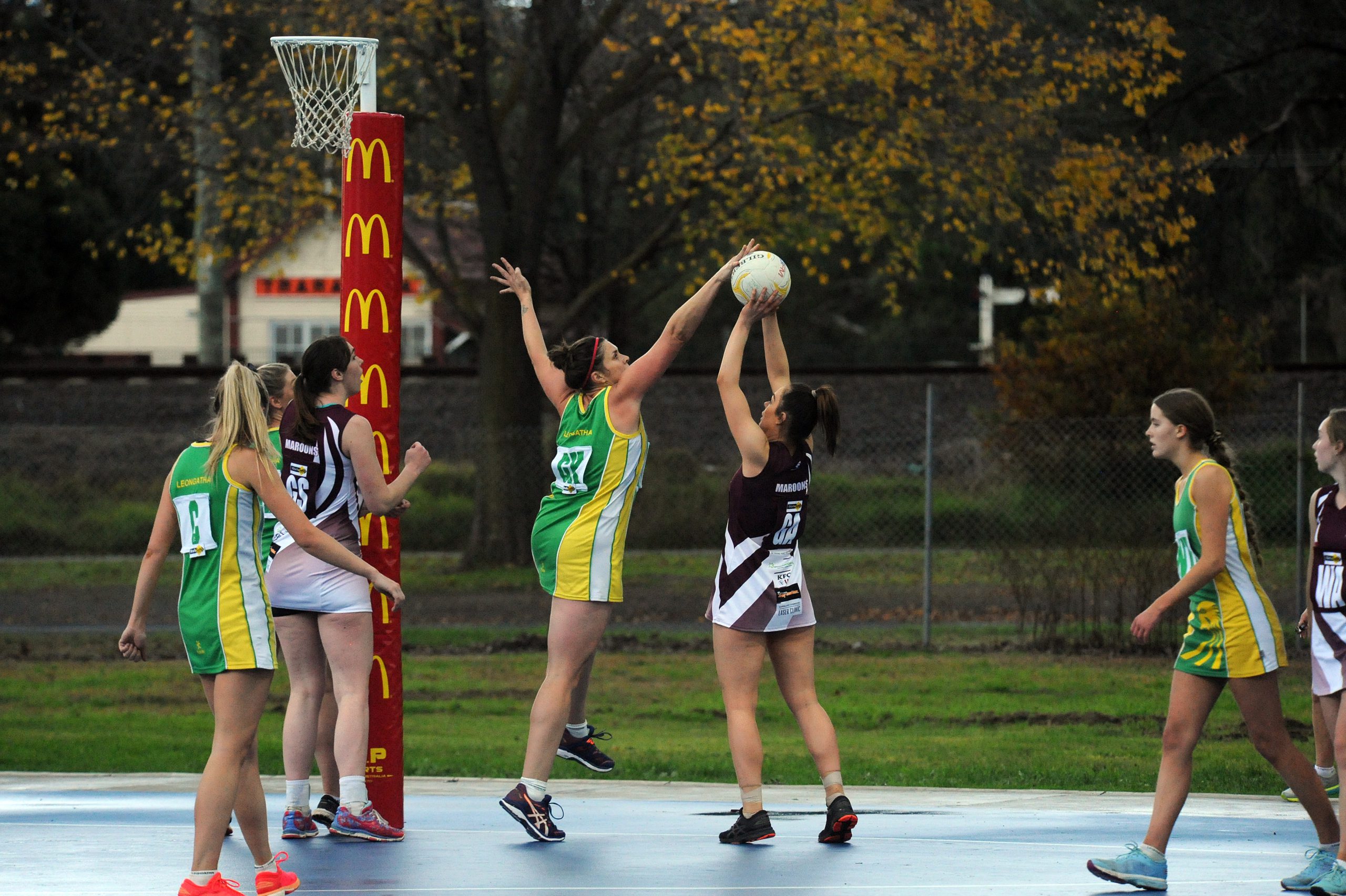 Kate Withers
NETBALL

GIPPSLAND LEAGUE

Powerhouses Traralgon were presented with a somewhat unexpected challenge at the weekend and were pushed to the limit by fifth-placed Leongatha before emerging victorious by eight goals.

Star shooter Taylin Gourley again proved the difference, converting 34 of her side's 52 goals with assistance from Maddison Stockdale (18 goals).
Among the best for the Maroons in the win were seasoned mid-courters Stacey O'Brien and Kate French, as well as Stockdale while stalwart Nicola Marriott was in the best for Leongatha.
The Maroons hang onto second spot on the Gippsland league A grade ladder with nine wins, two off the pace of ladder leaders Morwell, while Leongatha maintain a spot in the top five, two points ahead of Maffra thanks to their draw with Sale in round seven.
Morwell v Wonthaggi

A Daisy Hill-led Morwell side continued its incredible run of dominance on Saturday, making light work of Wonthaggi to record their 11th win from as many games to remain undefeated atop the A grade ladder.

Hill was unstoppable under the ring for the Tigers, converting 42 of her side's 58 goals in their 41-goal drubbing of the Power.
Claire Allison and Lexi Bowe, with eight goals each, provided able support.
Wonthaggi experimented with several goalers throughout the game in attempt to bridge the ever-expanding gap with Ellie Bates and Sophie Bolam both having turns in the ring.
Tanya Budge was again a linchpin in defence and was named best on court alongside fellow defender Courtney Garth.
Sale v Warragul

Warragul maintained its comfortable two-game grip on third spot on the A grade ladder at the weekend with a win over Sale on the road, 47-31.

Myah Healey was the main source of concern for the Magpie defenders, using her height to advantage to score 29 of Warragul's 47 goals with assistance from Jaime Rollinson (18 goals).
For Sale, Hayley Castle did most of the legwork in goals and finished with 18 while Livinia Ronchi scored four and Charlote Ronchi four.
Best on court for the Gulls in the win were Mia McGarrity, Mackenzie Minichiello and Christie Hillberf.
For Sale, Kristy Glover, Layla Simmons and Tori Dessent enjoyed standout games.
The Magpies remain in eighth spot on the ladder with two wins and seven losses to date.
Bairnsdale v Maffra

Maffra bounced back from their 20-goal defeat to Leongatha in round 10 and returned to the winner's list with an impressive victory over Bairnsdale on the road, 63-42.

Abbey Pleydell and Faith Biddle patrolled the goal circle with aplomb for the Eagles, shooting 35 and 22 of their side's goals, respectively.
Former league best and fairest Montana Holmes was typically dominant through the mid-court for Maffra and was among the best on court, along with Emma Allman and Biddle.
For Bairnsdale, Sally Deller finished with 28 goals while Michaela O'Connor was among the best on court.
Maffra are just two points outside the five, behind fifth-placed Leongatha while Bairnsdale sit in ninth with one win to their name.
Round 12 preview

Four games will be played in the A grade competition this weekend as defending premiers Moe hit the road to take on Drouin, Warragul will host Leongatha and Bairnsdale will take on Sale.

The Lions will be ready and raring to go after a two-goal defeat at the hands of ladder leaders Morwell a fortnight ago.
Drouin were the walking wounded after their last outing against Traralgon in round 10, going down by a mammoth 49 goals.
Warragul v Leongatha

It was a low-scoring match when Leongatha and Warragul met in round four and the Gulls pulled away to record a tight two-goal win, 26-24.
Warragul, however, were without gun goaler Myah Healey in the earlier season clash and her presence in the goal circle this time around will likely draw the bulk of the Parrots' defensive focus.
Maffra v Wonthaggi

A decided mismatch is taking shape this weekend with cellar-dwellers Wonthaggi traveling to take on Maffra.
The Power had one of their best performances for the year against the Eagles in the earlier round six clash and came agonisingly close to recording a victory before being edged out, 42-38.
Bairnsdale v Sale

Bairnsdale and Sale will face off for the first time this weekend on Sunday.

In ninth and eighth position on the ladder, respectively, finals are out of reach for both sides but no love will be lost this weekend.