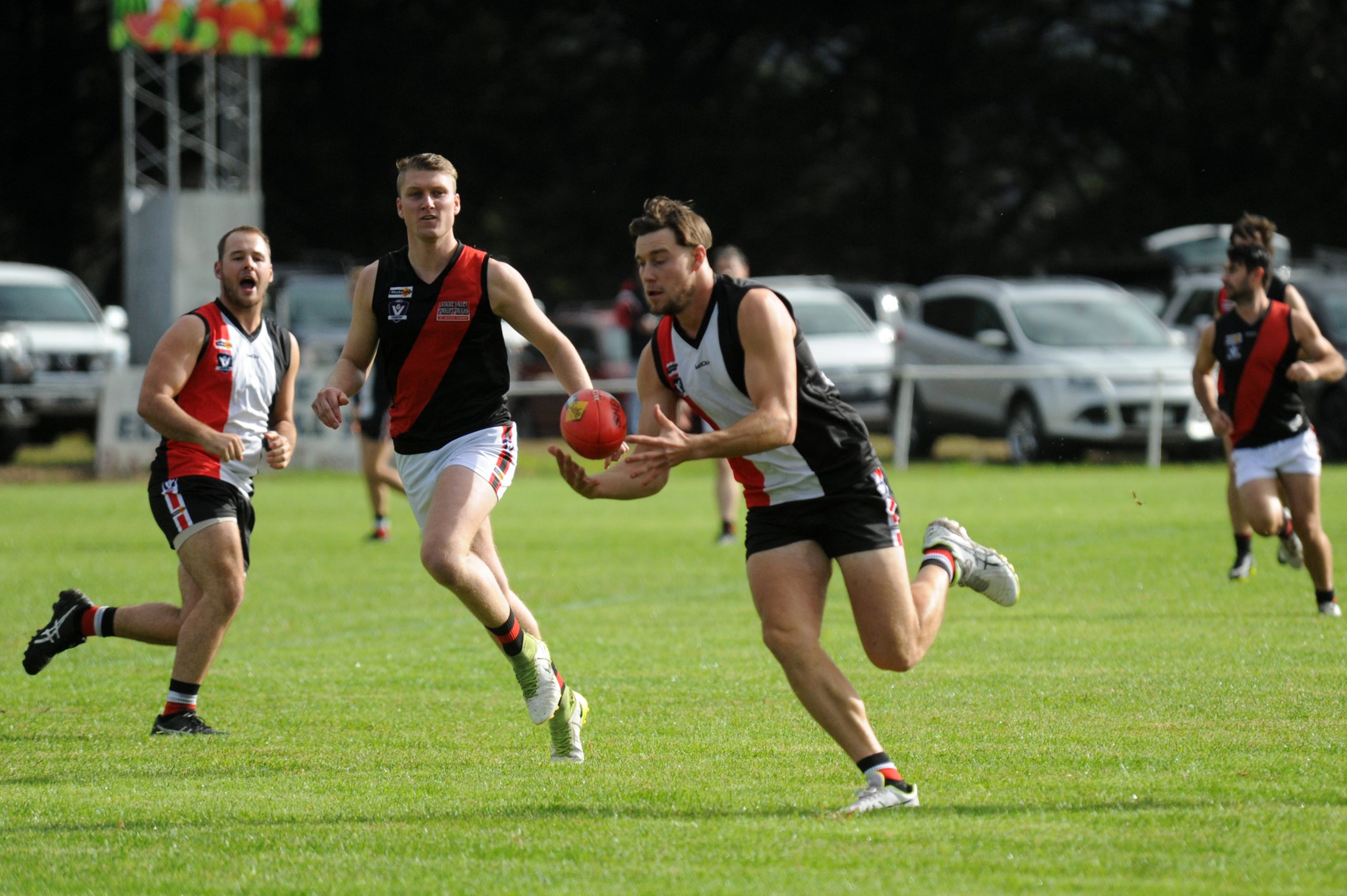 Scott Berechree
FOOTBALL

NORTH GIPPSLAND

This week's round 12 action in the North Gippsland league promises to be an exciting one.

Four of the five games have finals' ramifications and several could determine the finals' fate of participants.
Top-of-the-table Churchill take on fourth-placed Heyfield and third-placed Rosedale welcome fifth-placed Sale City to town yet, somewhat curiously, almost as much interest centres on the battle between seventh-placed Cowwarr and second-placed Yarram.
The Saints made the trek to Yarram back in round three, returning home with the four points in what remains the biggest upset result of the season so far.
They have the home ground advantage this time around and, coming off a win over Sale City, Saturday looms as a big day out Cowwarr way.
Cowwarr v Yarram

A confident Cowwarr on their home deck in the midst of winter is close to most teams' worst nightmare in the NGFNL.
This scenario is exactly what Yarram are confronted with this week and their coach Matt Scholz is under no illusions about the challenge his side faces.
Scholz suggested it would take the Demons' "best footy to get the four points."
He added that in Yarram's round three defeat at the hands of Cowwarr his side was "outplayed in the contested footy and spread from stoppages."
Given this fact, the return last week of Dan Vardy from an overseas trip and the hard-nosed Jesse Field, who has recovered from a nasty leg injury sustained in round two, was timely.
Cowwarr, however, won't have to worry about several of Yarram's first choice players this week with the likes of Jack Weston, Ben Vardy, Jarryd Swift and Trek Davies all unavailable.
The loss of Davies and Weston from the strong Yarram defensive unit will be of real concern for Scholz with Saints Shane Morgan, Dale Murphy and Nick Wozniack all capable of kicking a bag.
Heyfield v Churchill

Ladder leaders Churchill gave finals contenders Traralgon-Tyers United a huge reality check last week and will be keen to do the same to fellow finals aspirants Heyfield when they hit the road on Saturday.
Heyfield are coming off a confidence-boosting 140-point demolition of Glengarry but face a much sterner test this week.
Heyfield coach Rick Galea has made no secret of his desire to get Heyfield back into the post-season action.
"If we want to play finals and be competitive in finals we need to match it with sides like Churchill," Galea said.
Galea also believes his defensive unit comprising Brayden Woodland, Bradley Berry and Scott Anderson are good match-ups for the likes of the Cougars Ben Kearns, Blake Slater and Brendan Holt.
Galea also hinted that Churchill defender Jordan Fenech might attract a defensive-minded forward with Fenech's "run and drive in the back third" being something the Roos would need to stop.
Woodside v TTU

Traralgon Tyers United suffered a dirty day on the footy field last week against Churchill.
The Bombers' senior side slipped from the top five on the back of their loss but with several of the sides above them playing each other this round the Bombers could well find themselves back where they feel they belong come Saturday afternoon.
Woodside have struggled to score heavily this year and their lack of top-end talent is likely to be exposed again this week.
Tyers are highly likely to bounce back to the winner's stall this week and will want to recoup some of the 20-plus percentage points they gave up last week.
Rosedale v Sale City

Pressure is mounting for Sale City who will make the trip to Rosedale this weekend.
The Bulldogs have dropped their last two matches and a third straight loss would see them fall out of the top five again.
Two weeks back the Dogs nearly pinched an away win over Churchill but they failed to back that performance up the week after when outpointed by a Cowwarr side that led at every change on their way to an upset win.
Rosedale are coming off a massive win and will look to take that high-scoring, free-flowing approach into this week's game.
With at least three Rosedale forwards capable of kicking a bag it looms as a tough day at the office for the Dogs' defensive unit.
City's Bohdi Walker, Nick Grainger and Jacob Schuback will need to manufacture north of eight goals between them to kick a winning score.
Glengarry v Gormandale

Glengarry welcome Gormy to town this week in a match that should see the Pies return to the winner's circle for just the second time since these teams met in round three.
That clash saw the Pies rack up a season high 28.26 (194) but it has been a tough grind for them since.
In fact the only team to do it tougher since then was their victim that day and their opponents Saturday.