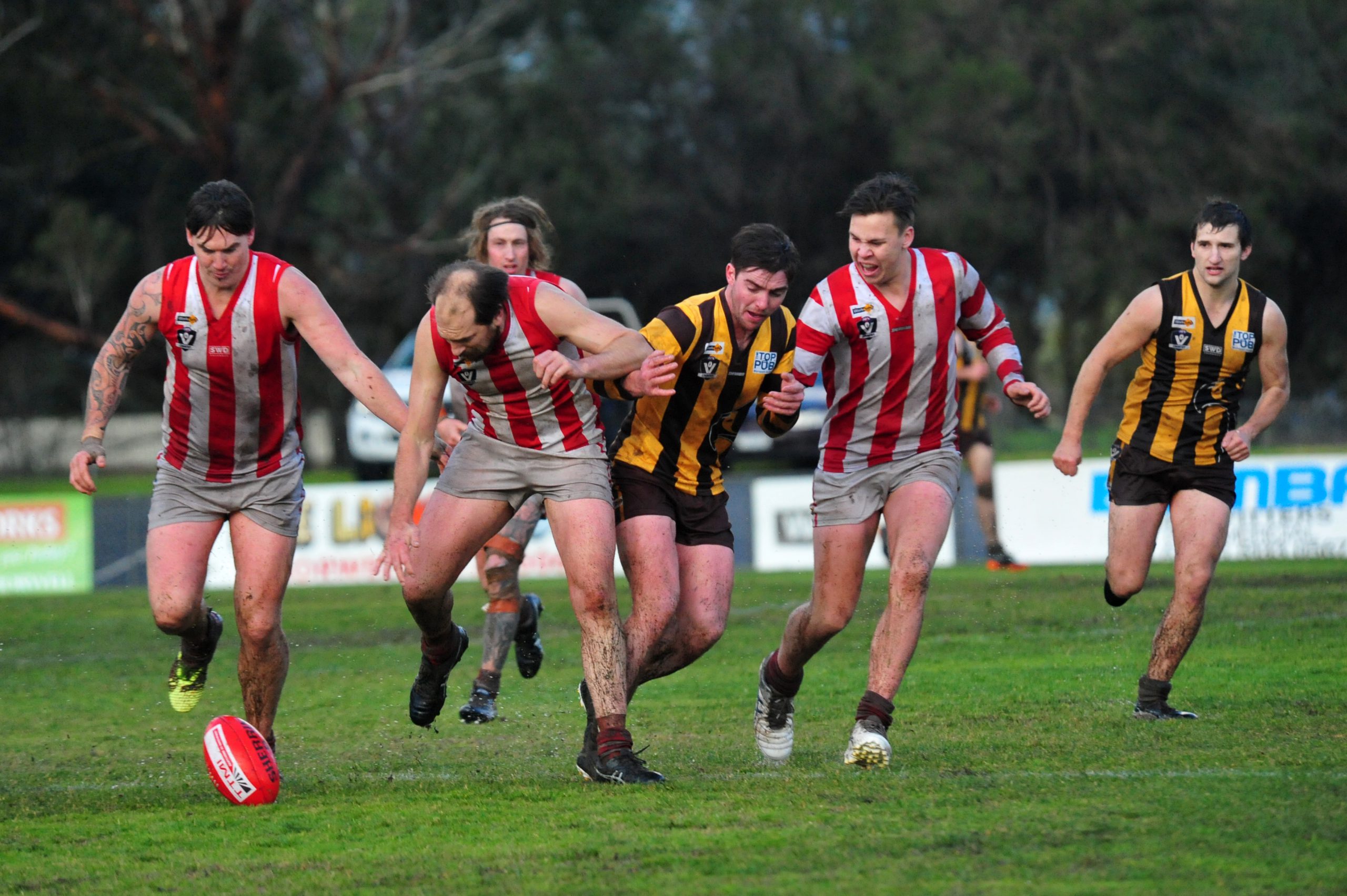 FOOTBALL

MID GIPPSLAND
In typical winter conditions, Morwell East handled it best in their 8.6 (54) to 3.8 (26) win over Trafalgar on Saturday.

The pressure of the weather was just another hurdle for the Bloods as their search for the corridor on the Hawks' home ground was thwarted more times than not.
The reigning premiers battled to find a way forward against a team focused on maintaining their top-three position on the MGFL ladder.
The Hawks' quarter-time lead of 14 points courtesy of a strong wind was etched back to four points by the major break.
The pressure was building on Trafalgar coach Clint Einsiedel with the experienced coach aware of the enormity of the situation.
Morwell East started to showcase what they are capable of, even in the ridiculously bad conditions, lifting the bar and leaving Trafalgar in their wake by the final break with a 17-point lead.
In the final 30 minutes it was all about opportunity, and the home side made the most of every one of theirs by adding three straight goals from three chances.
"We knew it was going to be a grind and Trafalgar were never going to go away," Hawks coach Devon Soutar said.
"A win on days like that can really galvanise and that's exactly what happened. I challenged the group regarding our strategy and our trademarks all day and they responded in spades."
Thorpdale v YYN

Inaccuracy and the wintry conditions may have saved Thorpdale from a far greater defeat than the one they suffered on Saturday, going down to Yallourn-Yallourn North by more than 100 points, 18.20 (128) to 2.1 (13).
The inaccuracy wasn't obvious at the first break, the unbeaten Bombers on four goals and two behinds to the home side's one goal straight.
However, kicking was turned on its head thereafter as the Bombers added three goals and a massive 13 points, holding a lead of just over seven goals that was made up of three straight kicks and 15 inaccurate ones.
After half-time YYN added another five goals and kept Thorpdale to a solitary point.
The Blues continued to battle as best they could, as they have done for most of the season but remain a long way from where they need to be.
"Although extremely undermanned, our effort was very much improved from last week. Running with no bench from half-time, the boys fought the game out against the league leaders," Thorpdale coach Ray Pickering said.
It was that effort that even Bombers coach Barrie Burnett was impressed by.
"It was a tough day to play for both sides but I was happy with the way our boys played," Burnett said.
"We probably overused it early but once we found the right mix in those conditions we did what we set out to do."
Hill End v Newborough

Hill End bounced back from their disappointment of last week's loss by building on an impressive first 30 minutes to comfortably account for Newborough, 11.10 (76) to 4.2 (26).
The first quarter all but put the game to bed for Hill End with their attack on the ball and attack on the goals unable to be stopped by Newborough as the hosts managed five goals and five behinds while keeping the visitors scoreless.
Key forward Chase Saunders managed another five majors to keep his second spot on the league leading goal kickers list, while his side kept the dream alive of securing a top-three spot in the next month of matches.
"They had the scoring end in the first quarter and took full advantage of it by blowing us out of the water with a six-goal lead at quarter-time," Newborough coach Dean Caldow said.
"Our guys weren't willing to attack the footy and were behind in the contest early on, the damage was done and in appalling conditions it's hard to play up footy."
Boolarra v Mirboo North

It wasn't easy for the Tigers but it was a win nonetheless when Mirboo North did what they needed to do to put away Boolarra, 7.9 (51) to 3.4 (22).
The Demons were surprise five-point quarter-time leaders over a top-three side in Mirboo North.
"[I was] proud of the boys and the way they responded after last week's game, considering we had to make six forced changes Thursday night, but both teams had some good patches of play in terrible conditions," Demons coach Tony Giardina said.
Next week the second-placed Tigers take on the third-placed Hawks in a match that will be as much a game of chess as it is a fight for points to remain in the league's top three spots.
"They had a pretty good first quarter and led at quarter-time … they had the scoring end but they made the most of their opportunities where we wasted a few," Mirboo North coach Josh Taylor said.
"We are starting to see a few guys filter back from injury which is pleasing and we had no injuries on the weekend for the first time in six weeks … we're quietly building towards finals."