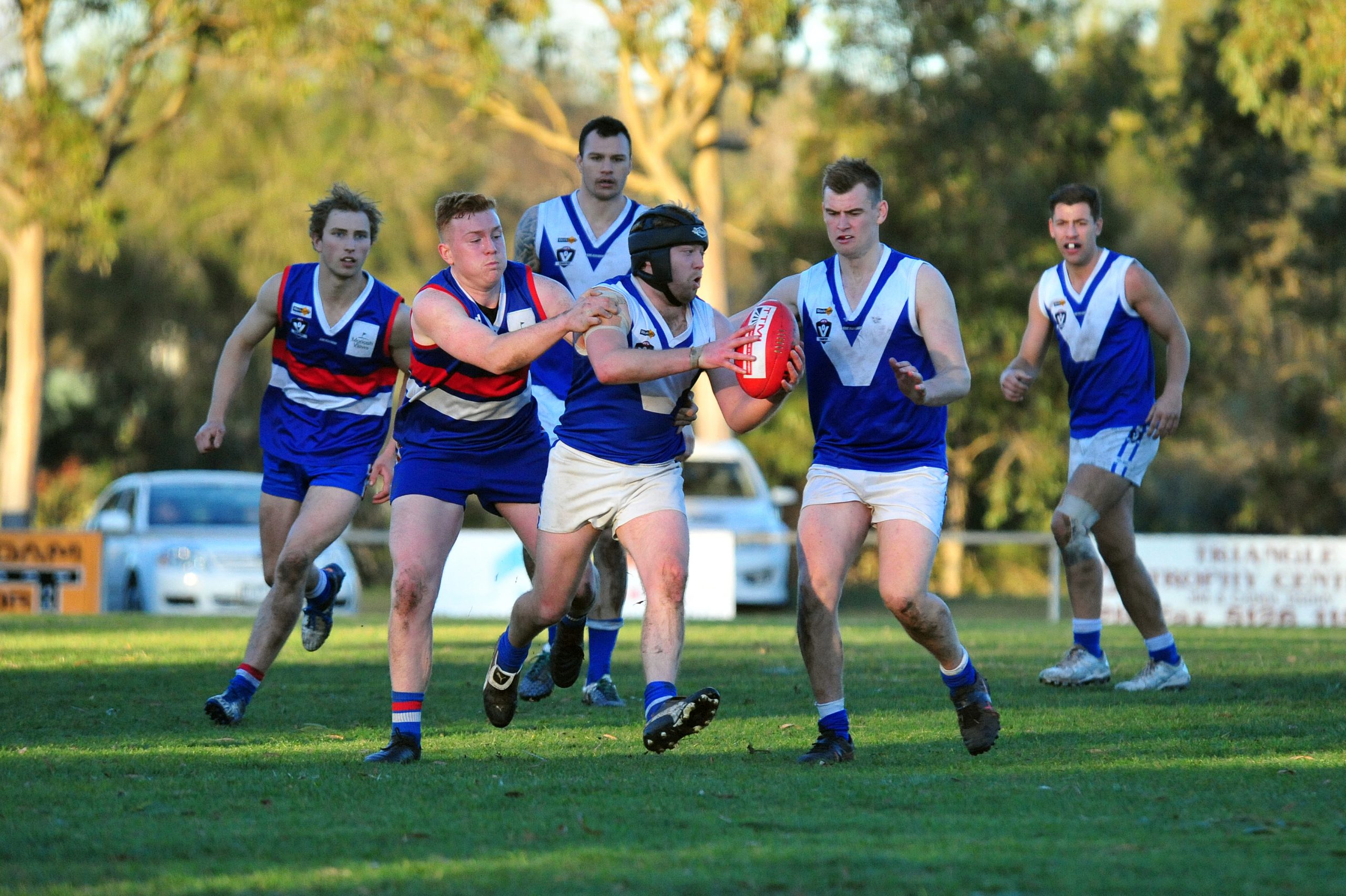 FOOTBALL

MID GIPPSLAND

It was a reward for effort for Newborough who notched up their second victory of the year with a pleasing-four quarter performance over Thorpdale on Saturday, 15.12 (102) to 5.8 (38).

The Bulldogs didn't have it all their way for the first 30 minutes and it was obvious that Thorpdale were up for the fight.

Only inaccurate kicking allowed Newborough to hold an eight-point lead courtesy of their three straight goals after the Blues managed just the single goal from five attempts.
The chance of applying some scoreboard pressure was lost for Thorpdale and the Bulldogs certainly made the most of it.
"We had nine different players from the last time we played Thorpdale," Newborough coach Dean Caldow said.
"We have been extremely competitive for the past six weeks without winning, so it was nice for the players to get some reward for their hard work.
"Our focus is to continue to make improvements and maybe get a scalp of a team above us."
There still needs to be further improvement for that to happen but the Bulldogs did display the fight and effort required to pull off an against-the-odds win.

Mirboo North v Morwell East

Morwell East raised their hand as a serious contender in the 2019 premiership race when they got the better of second-placed Mirboo North, 12.7 (70) to 9.13 (67).
Away from home and on the tricky Tigers' turf, the Hawks made their intentions very clear early in the clash when they matched their opponents in most areas.
The visitors led the way at the first break courtesy of some more accurate conversions.
Morwell East's confidence was well and truly reflected in the second term when they opened up a quality side, keeping Mirboo North goalless on their way to extending their quarter-time lead of just four points to an impressive 25 points at the main break.
Mirboo North closed the margin in the final 30 minutes courtesy of a five-goal quarter, but it was all too little and all too late.
"We set ourselves for this one. We got the game on our terms early and were able to maintain a high level for a big chunk of time," Hawks coach Devon Soutar said.
"They closed the gap as good sides do but to our credit the boys dug deep and were super late … our method stacks up."
In defeat, Mirboo North coach Josh Taylor said the Hawks "deserved to win".
"We got in front in the last quarter and almost jagged one of the great robberies," Taylor said.
"We had opportunities and didn't take them. I'm disappointed that we have now opened up the door for a top-three spot and have put pressure on ourselves."
The result means three sides are now fighting for the double chance with three rounds to go and just one game separating Mirboo North, Morwell East and Hill End.
Yinnar v Hill End

Hill End continued their dominance over Yinnar, setting up their win with a fast first quarter and maintaining the pressure for the full four quarters, 12.14 (86) to 8.9 (57).
In their first round clash against the Magpies, Hill End announced their arrival as one of the league's biggest improvers for 2019.
The Rovers did as they did first time around, jumping out to a nice lead early and maintaining a five-goal lead for most of the day.
"We had them on the ropes early with some brilliant clearance work, run and carry, our ball movement and speed of the game was good and hard for Yinnar to deal with," Hill End coach Mike Santo said.
Yinnar have had to grapple with poor patches of play for most of this season, able to match it with any side in the competition for long periods but struggling to do it for the full four quarters.
It is a problem that coach Kane Grinstead-Jones is aware of and one he has addressed with his players.
Yallourn-Yallourn North v Boolarra

It may not have been their prettiest football of the year but it was better than average for Yallourn-Yallourn North who defeated Boolarra, 28.19 (187) to 1.1 (7).
The performance of their two key forwards was the feature of the home side's victory.
Keenan Hughes added another nine goals to his tally bringing his total to 70 for the season while Dean Macdonald grabbed himself seven, making it 56 for the season.
The duo's combined goal total is more than three clubs have managed for the entire season.
Poor kicking marred the top side's efforts early, their two goals from 10 attempts an early concern and an ongoing problem for the Bombers for most of the year.
From quarter-time Barrie Burnett's men certainly changed things around, kicking eight goals in the second and third quarters before piling on 10 goals in an impressive final 30 minutes.
What should be highlighted is that Boolarra could only manage the single goal and were kept company by a solitary point, showing the Bombers' defence is just as much a strength as is its ability to find a way to goals.
"I was pleased with the result but we didn't stick to our structures the first half and wasted a lot of effort," Bombers coach Barrie Burnett said.
"The second half we listened and played team footy and got the rewards."