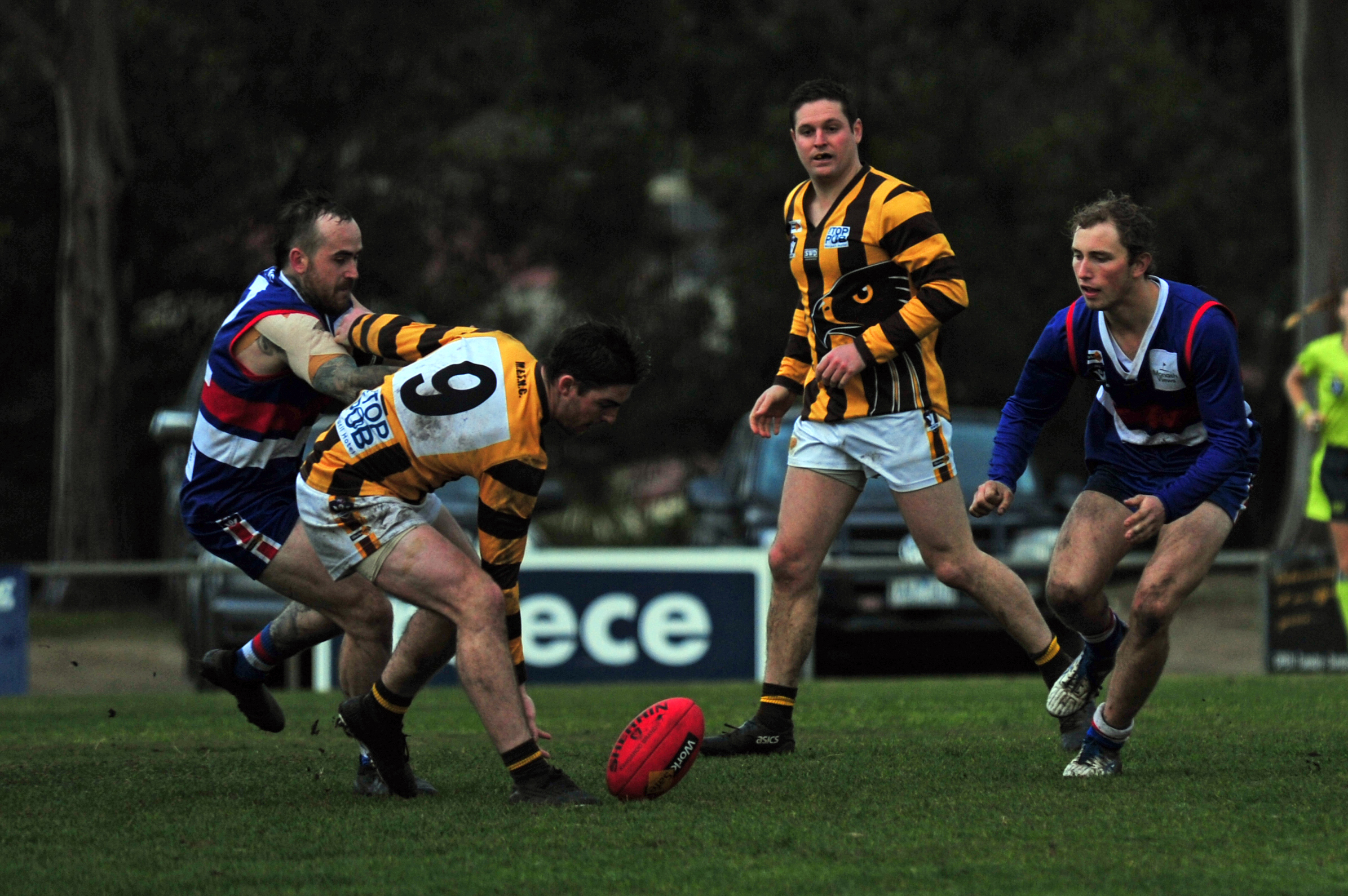 FOOTBALL

MID GIPPSLAND
It took Morwell East a little time to shake off a determined Newborough side but when they did, they won easily, 13.13 (91) to 4.9 (39).

With the slimmest of chances that a top three spot might show its head for the Hawks, the fourth-placed visitors were ready to stamp their authority on the game early.
The Bulldogs had prepared for the contest and dreamt of an unlikely win and, for the first hour, it appeared there was a chance that it may in fact may happen with just five points separating the sides at half-time.
The Hawks were desperate to run out the game with power and confidence after their last quarter fade-out against Yallourn-Yallourn North last week.
The Bulldogs fell short but gave the Hawks a contest they needed and half a scare they didn't expect which won't hurt as they get closer to finals football.
"Up until [half-time] it was a winnable game, even at three-quarter-time we were just 22 points behind but the last quarter was the disappointing part of the game," Newborough coach Dean Caldow said.
"We were clearly out-bodied and when we challenged, they always had a response."
"They are preparing for finals and we are not and that probably showed too, but we have decreased all of our losing margins in the second part of the year [and] we have had many players on the injury list and unavailable but have remained competitive."
YYN v Trafalgar

It was workman-like but effective as Yallourn-Yallourn North accounted for Trafalgar, 13.6 (84) to 2.7 (19).
It was evident very early on that the Bombers wouldn't be the Bloods' bunny as they quickly assumed control of the game and turned an 11-point quarter-time lead to a match-winning eight-goal margin by half-time.
"It was a very scrappy game in poor conditions," Bombers coach Barrie Burnett said.
"We did what we had to but we will need to lift in intensity and effort in the coming weeks.
"The backline is doing really well as a group no matter [what] we have been running through there and we are looking forward to stronger opposition this week."
That opposition will come in the form of Mirboo North, a perfect lead-up game to the finals.
For Trafalgar the end is near, and the season hasn't delivered anything close to what was hoped but coach Clint Einsiedel remained positive about his team's efforts.
"I was pleased with our application again. We got really good numbers in contested footy and tackle count," Einsiedel said.
"We had trouble scoring with a lack of fire power up forward [and] Yallourn-Yallourn North were just a little cleaner and probably kicked six goals in 10 minutes which killed the contest."
Yinnar v Boolarra

Yinnar won the match in a fashion that indicated they may be hitting form at the right time of the year with a dominant victory over Boolarra, 20.29 (149) to 6.4 (40).
It was only inaccuracy that put a blemish on the Magpies' first quarter performance with just four goals from 13 shots at at the first break.
At half-time they had straightened themselves up and put the Demons away, adding another nine goals and holding a better than 10-goal lead.
"We had a good first quarter, missed opportunities and Yinnar made us pay," Demons coach Tony Giardina said.
"In the second and third quarters they actually made us look silly.
"I'm still proud of the boys as we had seven players having to double up. We've had so many injuries to senior guys which really hurts the club when you're at the end of the ladder."
The Demons might be at the wrong end but they have battled manfully for most of the season while Yinnar have had their share of issues as well.
However, it seems their best might actually shine through under the spotlight of finals which doesn't bode well for their likely opponents Morwell East.
Hill End v Thorpdale

Hill End proved they have the killer instinct required for finals, showing no mercy for Thorpdale in a devastating 28.15 (183) to 2.7 (19) win.
The Rovers have, in many ways, been the story of the 2019 season.
Their rise from cellar-dwellers to premiership contenders has been nothing short of extraordinary, however, how they cut through a bottom side would show whether they have also developed a tough edge, crucial to any finals team.
That question was answered inside 30 minutes with the home side bouncing out of the blocks to a better than eight-goal lead at quarter-time.
That impressive first quarter was backed up with another in the second term, the Rovers adding a further nine goals and keeping the Blues to just the one goal at half-time.
Another 10 goals were added to the tally by the end of the game, which in itself is still impressive given it was well and truly won, but it also proved the Rovers are ready for their first taste of finals footy in more than a decade.
"It was a solid win for the boys as we try and fine tune a few things before finals and an 18-goal first half set up the win and was highlighted by some high skill level and brilliant passages of team footy," Hill End coach Mike Santo said.