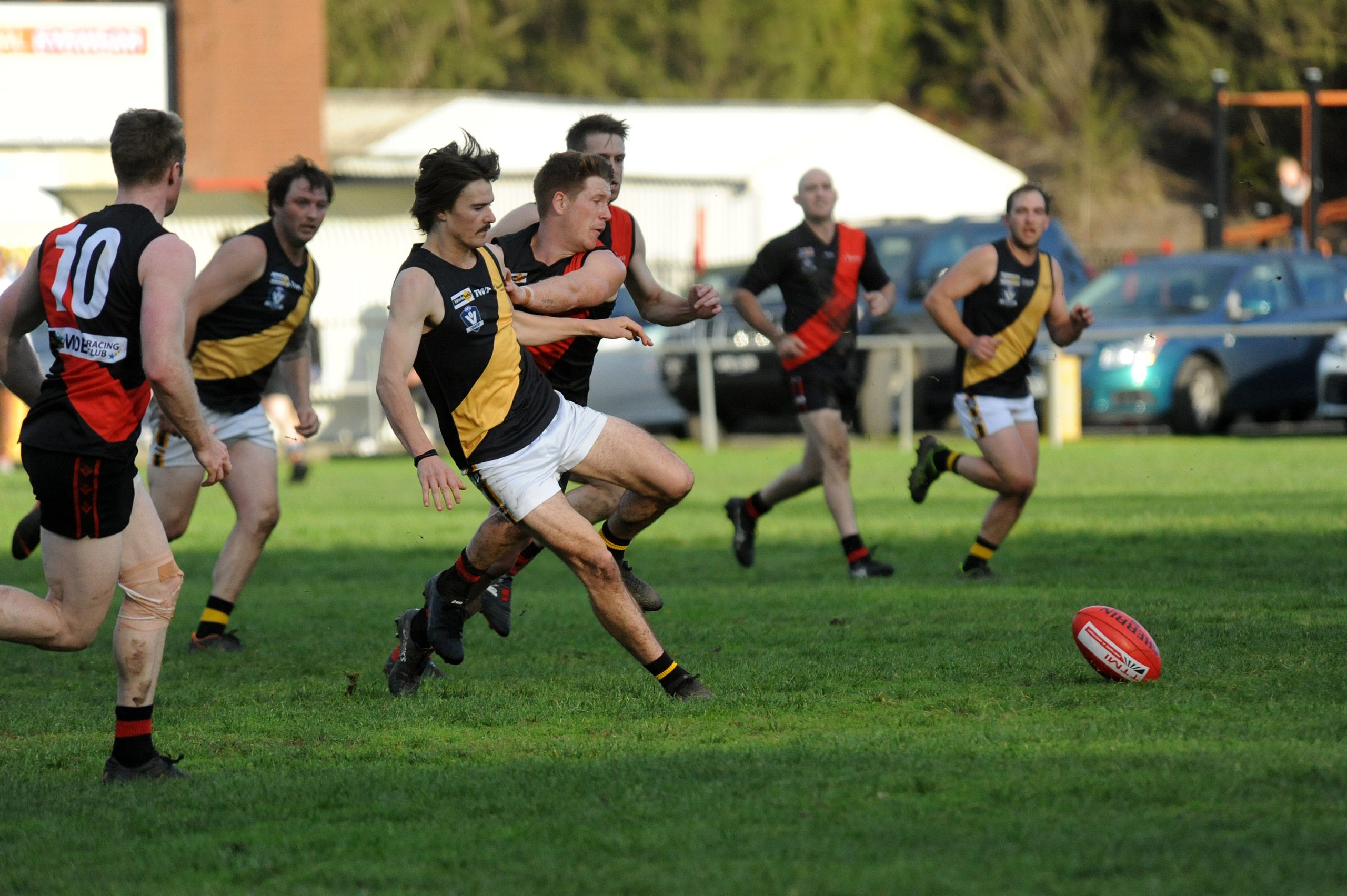 FOOTBALL

MID GIPPSLAND
This clash between Mirboo North and Yallourn-Yallourn North looms as an intriguing encounter.

While the result will not affect the first week of finals, these two top-placed teams in the MGFL are more than likely to cross paths in just a few weeks time.
The two teams will likely spend the first 30 minutes hitting the contest reasonably hard with a view of showing what each is capable of should they meet in the post-season.
By half-time Tigers coach Josh Taylor might even trial a few new faces in new positions as he looks ahead to counter the delivery to the Bomber forwards.
Keenan Hughes and Dean MacDonald grab a lot of headlines with their impressive goal kicking, and rightly so given they have kicked 78 and 67, respectively, but equally impressive is the delivery from not only the YYN midfield but also those behind them in defence who are constantly overlapping and applying both pressure to opposition and disposal to the forward 50.
It seems simple to suggest you stop the supply and you will limit the opportunities but it's far from simple against a side that is jam-packed with talent.
In their first clash of the season the Bombers dominated, with 24 scoring shots to the Tigers' 12 on their way to a comfortable six-goal victory.
One thing is certain and that is that both coaches will want to get through the game unscathed and injury-free.
Trafalgar v Newborough

This clash will be the full stop in what has been a frustrating year for both coaches.
Newborough's Dean Caldow answered the call of the club to take the reins of the senior squad and lead them into a season where the talent at his disposal was limited.
The experienced campaigner, who hates to lose, has shown patience and given guidance as he developed a team he hopes will be much-improved for 2020.
A sprinkling of wins coupled with patches of good play and even some heartening losses have reinforced his belief that they are at least on the right path.
For Trafalgar's Clint Einsiedel the frustration is of a different nature. His team entered the season as reigning premiers but they never really got going.
The structure in general terms has stayed, but the talent has diminished and the attention to detail by players at times has waned.
Both coaches will be wanting to finish the year with a win but the four premiership points won't come easily as there appears to be very little between the two, even with their contrasting styles.
A win for the Bulldogs might even make their season a pass mark while a win for the Bloods will be a reward for the home side's dedicated supporters.
Morwell East v Yinnar

With both these sides currently sitting in fourth and fifth spots, respectively, it's almost certain – barring Boolarra beating Hill End – that they will also clash next week in an elimination final.
It was Yinnar that happened to be in front when the final siren sounded in their round nine clash against the Hawks, winning on that occasion by just six points, however, it's fair to say that both clubs have improved significantly since that time.
Morwell East ran out last week's game well against Newborough after failing to do so the week earlier against Yallourn-Yallourn North. Coach Devon Soutar would want to see a four-quarter effort again.
Just as importantly he will cast a careful eye over this week's opponents with a view to exposing any weaknesses the following week.
While Soutar looks on the from the sidelines planning his team's next move, Yinnar coach Kane Grinstead-Jones will be in the middle of the action trying to have an impact with a playing performance.
It's likely both would gladly give up a win this week if it meant they could claim a victory in the first week of finals in a match that will eliminate the loser.

Boolarra v Hill End

Hill End will likely claim second spot on the MGFL ladder after this week's win over Boolarra, a feat that shouldn't be quickly glossed over given the enormity of the achievement.
The Rovers have managed to build a team supported by a club that identified what they needed at the end of 2018.
They then put the pieces together to form an impressive outfit capable of threatening for the premiership just one year after being regarded as an easy beats.
Mike Santo, as enthusiastic as he is, has managed to pass that excitement onto his team in the way they play, and the way they play is as exciting as any other team in the competition.
The Rovers play with spontaneity and instinct and can be difficult to defend because the game plan isn't as structured as most which, in simple terms, means the Rovers don't know what they are going to do from play to play and neither do their opposition.
They have a general game plan and a more specific understanding around stoppages, but it's when they have some room to move that they are at their most impressive.
Boolarra will have their time but it won't be this week, but they have done enough this year to suggest better times are ahead.
Hill End have proven it can be done in the space of 12 months and it won't be easy, however, the opportunity to play for a premiership after 15 years is theirs for the taking .