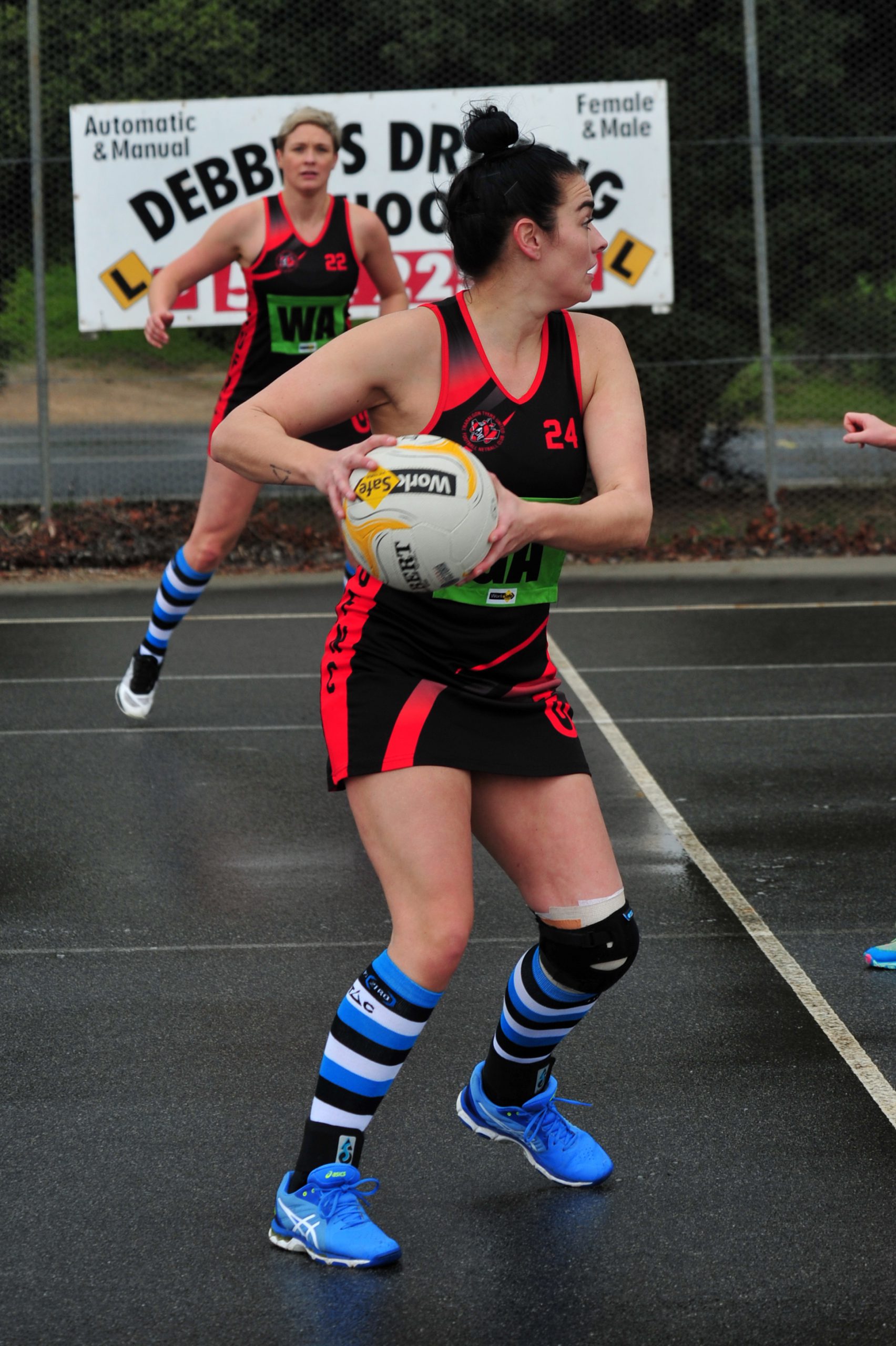 Bryce Eishold
NETBALL

NORTH GIPPSLAND

Two rounds remain in the North Gippsland league with the top order unlikely to change much before the first week of finals.

Rosedale will most likely claim the minor premiership, however, the Blues have been under fire in recent weeks from Woodside who have narrowed the margin to just four points.
Glengarry sit in third place, two points ahead of Sale City and Yarram, who sit fourth and fifth, respectively, equal on points.
Cowwarr and Heyfield sit sixth and seventh and six points behind Sale City and Yarram.
The Saints and Roos will be presented a chance to sneak into the top five, however, with Cowwarr taking on first-placed Blues, and Heyfield taking on fifth-placed Yarram, both teams will have a battle on their hands.
Yarram head into the clash against Heyfield after a narrow two-goal win against Sale City, while the Roos drew with Cowwarr in round 10.
Demons A grade coach Stacee Staley credited her side's solid shooting and defensive pressure which helped them across the line.
"Chloe Finn and Sammy King had a solid game in goals. Once again Taylah Buckley played an amazing attacking and defensive game in the centre court," Staley said.
"We're very happy with our progress at the moment and we're hoping for another couple of wins to secure our place in finals."
The last time the Demons took on Heyfield, they lost by a goal in the last seconds of the final quarter.
With the potential re-introduction of some quality players including Taylah Buckley, Tavia Field and Madison Roberts, Yarram will be well prepared to take on the Roos at Heyfield.
Cowwarr v Rosedale

In another game which is unlikely to impact the top order of the A grade ladder, in-form Rosedale will head to Cowwarr to take on the Saints on Saturday.
Cowwarr drew with Heyfield in round 16 and will be hoping for a respectable result if they are to keep their finals hopes alive.
If the Saints are unable to win the clash on Saturday, their chances of playing finals netball will be all but gone.
Blues A grade coach Staci Scott said she was disappointed with the loss against second-placed Woodside at the weekend, but took a number of positives out of the seven-goal touch up.
"Lacking rotation with no A grade players on the bench and suffering an injury to midcourter Sarah Mayman part way through the second quarter made for a challenging situation," Scott said.
"But it was great to see the team fight their way through each ball and patiently adjust to the defensive pressure of Woodside.
"In many ways a loss can very much be a positive. As a coach/player, you can learn a lot more from a loss than a win at times if you are willing to critically reflect."
The side also lacked premiership defender Tayler Brouns and league best and fairest Carly Johnston, two players who have been critical in Rosedale's success this year.
"Reflecting on the game as a team, we took away a number of key things that we will work on and a few further adjustments we can make to improve the quality of our game," Scott said.
Cowwarr head into Saturday's clash after a draw with Heyfield and will have to win Saturday's game if they are to keep their finals dream alive.
Woodside v Glengarry

Woodside have emerged as genuine flag contenders after knocking off ladder leaders Rosedale in a seven-goal win at the weekend.
The win has bolstered the Wildcats' position on the North Gippsland A grade ladder to trail the Blues by just four points in second spot.
This weekend Woodside return home to take on Glengarry who head into the game after a four-goal win against eighth-placed Churchill.
"With Aimee Rothnie and Rachel Kemna out due to injury and work, we had to shuffle around the team to find the strongest combinations," Magpies A grade coach Emily Whitty said.
"Kayla Muller was best on court in the win whilst Tiffany Boatman was fantastic in defence against tough opponents."
While the Magpies sit third, Woodside will be one of Glengarry's biggest challenges this season.
Woodside A grade coach Carly Foat said a "strong, controlled team performance" helped her side claim the win against Rosedale at the weekend.
"I was proud of the way my team adapted and persevered. Best on court went to Andrea Elliott in goals, who wasn't feeling 100 per cent but dug deep," Foat said.
The Wildcats will need to bring their A game to the side if they are to maintain pressure on first-place Rosedale, and prevent the Magpies from taking the spotlight.
TTU v Sale City

Traralgon Tyers-United registered their fourth win of the season in round 16 with a 20-goal win against cellar-dwellers Gormandale.
The Bombers return home to host Sale City in round 17 in a game that is likely to go the way of the Bulldogs.
Sale City head into the game after a two-goal loss to Yarram.
The Bulldogs sit fourth on the ladder and an easy win against TTU will ensure their maintain their spot for finals action.
Churchill v Gormandale

Gormandale have exhausted their resources and chances of a win in season 2019 after a 20-goal loss to the Bombers on home turf.
The Tigers head to Churchill in round 17 to take on the Cougars who sit eighth on the A grade ladder.
It's unlikely Gormandale will have the firepower to claim their first win of the season on Saturday.
But while they will claim the wooden spoon for the season, the Tigers have one more realistic chance to claim a win this season.