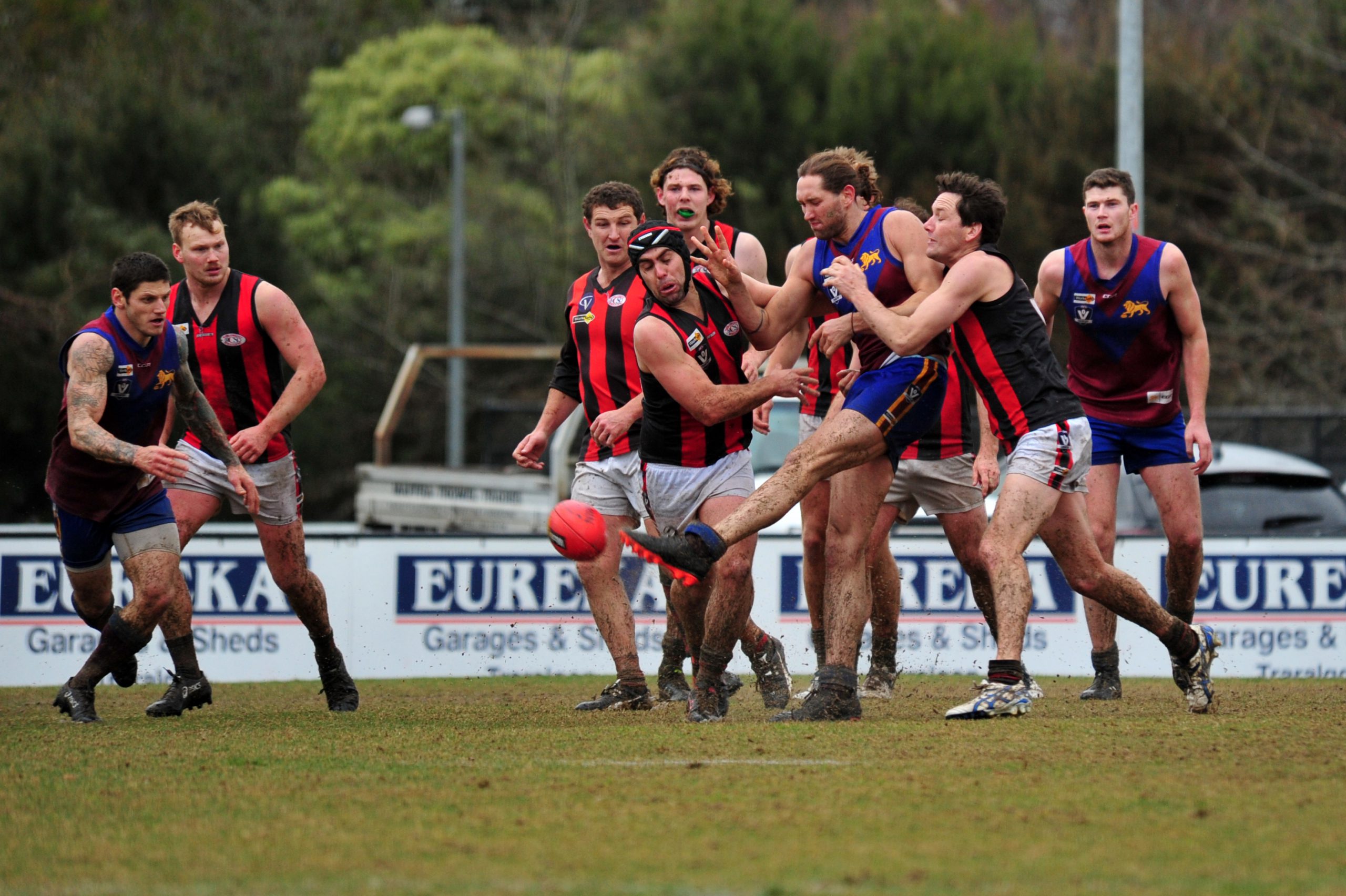 Kate Withers
FOOTBALL

GIPPSLAND LEAGUE

Contenders for the 2019 Gippsland league senior premiership have been decided but just who will finish top three and earn an all-important second chance is yet to be decided.

In what promises to be an intriguing end to the home and away season, spots one through four are up in the air ahead of this weekend's final round.
Maffra have the luxury of a game's breathing room from Leongatha, Sale and Moe, all on 12 wins, and a young Traralgon side are unlikely to dislodge the Eagles from top spot this weekend.
On the back of a stunning 114-point win over big-improvers Drouin in round 17, the Eagles, along with defending premiers Leongatha, will hit the post-season in the most dominant form of any of the fancies.
Jack Johnstone's bag of seven goals and Daniel Bedggood and Tom Jolly combining for eight majors should be enough to give the Maroons' backs nightmares leading up to Saturday.
Midfielder Ed Carr, in a standout season, was also in scintillating form and has been among the best for the Eagles in no less than 11 games this season.
Bairnsdale v Leongatha

Leongatha's demolition of Moe by more than 100 points well and truly silenced any doubts the Parrots were capable of making it three flags in a row in 2019.

Their 23 goals, spread between Cade
Maskell (six), Chris Dunne (five), Jackson Harry (four) and Nick Nagel (three), was their biggest score for the season and came at an opportune time against a classy opponent.
The Parrots are second on the ladder, matched with Sale and Moe, but have about 14 percentage points up their sleeve to play with.
With a string of seven wins leading into their final round match-up with Bairnsdale, the defending premiers are unbackable favourites.
When they last met the Redlegs in round nine a plethora of goal kickers led them to a 62-point win.
Morwell v Sale

Despite back-to-back losses in the last fortnight Sale are still hanging on to a top-three finish ahead of their last season proper outing against Morwell this weekend.

They came within 13 points of Leongatha in round 16 but were upset by a lowly Wonthaggi side by three goals on Saturday.
Thanks to an eight-game winning streak in the first half of the season the Magpies have allowed themselves some room to drop off.
One more misstep this weekend, however, could well mean they fall to fourth and lose the doubles chance.
The Tigers were surprise leaders until half-time when they hosted Sale in round nine but the class of Brad Dessent and Jarrod Freeman, who each kicked three goals, got the Magpies over the line in the back half.
With so much on the line this weekend, however, Morwell will be hard-pressed to thwart the top-three hopes of the visitors.
Moe v Warragul

In another game that will impact the makeup of the top four, Moe, on the back of a hiding from Leongatha, will look to get back on the board and into the top three against Warragul this weekend.

A gaping four-game lead from Drouin in fifth spot on the ladder means the Lions are certain starters for finals but their quest for third spot will be reliant on a few things.
They will need to put away the Gulls on Saturday and count on the unlikely event of either Leongatha or Sale to dropping their games to Bairnsdale and Morwell, respectively.
Usuall goal kickers James Blaser and Dylan Farrell both failed to find the scoreboard against the defending premiers at the weekend while the backline struggled to contain the prolific Parrot forwards.
With much less fire power to contend with this weekend Moe should be walk-up starters for a win on Saturday.
Drouin v Wonthaggi

With fifth spot and a finals berth already sewn up, Drouin's final round encounter with Wonthaggi this weekend is a mere formality.

The Hawks won't move from fifth – four games off the pace of the top three and two ahead of the bottom five – and will relish a run on home turf before a likely clash with Moe in the elimination final.
The home side, the undisputed most-improved outfit of the season, walk into the final round licking their wounds, however, after a 114-point drubbing at the hands of Maffra.
They were pushed by Wonthaggi when they last met in round nine with just two points in the contest at half-time.