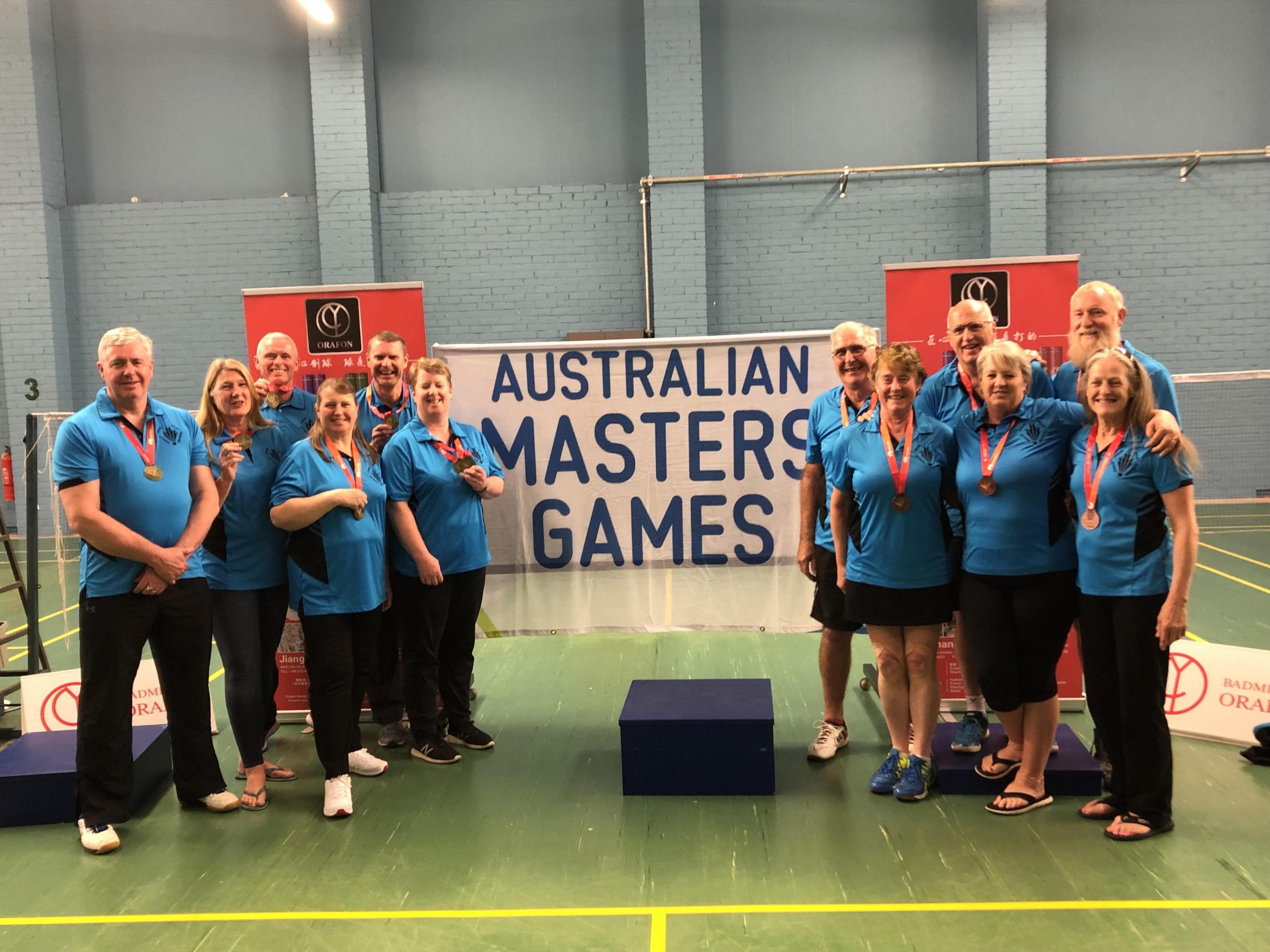 In early October, a valiant contingent of players from the Latrobe Valley Badminton Association Veterans group travelled to Adelaide to compete and have some fun at the Australian Masters Games.

It was a successful trip with an excellent holiday house allowing members to stay and socialise.
Action on the court was well organised and plentiful with the team able to secure a haul of medals to bring back to the Latrobe Valley.
The 17th Australian Masters Games was a great opportunity for players of a certain age, over 35 in the case of badminton, to participate in a range of sporting events – 45 to be precise. Badminton was very well subscribed this year with over 350 players from around Australia as well as overseas.
In the teams event, the Latrobe Valley contingent entered a Division 3 over-45s team and a Division 3 over-55s team bringing home gold and bronze medals respectively.
This is the third major Games for the Latrobe Valley Badminton Veterans having competed at the AMG in Geelong in 2013 and the World Masters Games in New Zealand in 2017. The group are hoping to extend their horizons and compete in the next World Masters Games in Kansai, Japan in May 2021. With Takasago, the Latrobe City sister city in Japan only a couple of hours away from the Games venue, the group are also hoping to participate in some cultural exchange activities and hopefully reciprocate for Japanese visitors in the future.
Badminton is played at many local venues across the Valley and anyone interested in participating at any age or skill level can contact the secretary of the Latrobe Valley Badminton Association, Chris Tickle, on 0438 130 033 and he will direct you to the nearest sessions for your age and skill level.
Medalists:
Men's doubles 45: Wayne Millett and John Feltham (gold), Greg Wiggins and Alan Pump (bronze)
Men's doubles 55: Greg Wiggins and Alan Pump (gold)
Men's singles 55/65: Peter Brimblecombe (bronze)
Women's singles 55 Division 2: Maxine Andrews (bronze)
Mixed doubles 45: John Feltham and Pauline Somerville (gold), Wayne and Tracey Millett (silver)