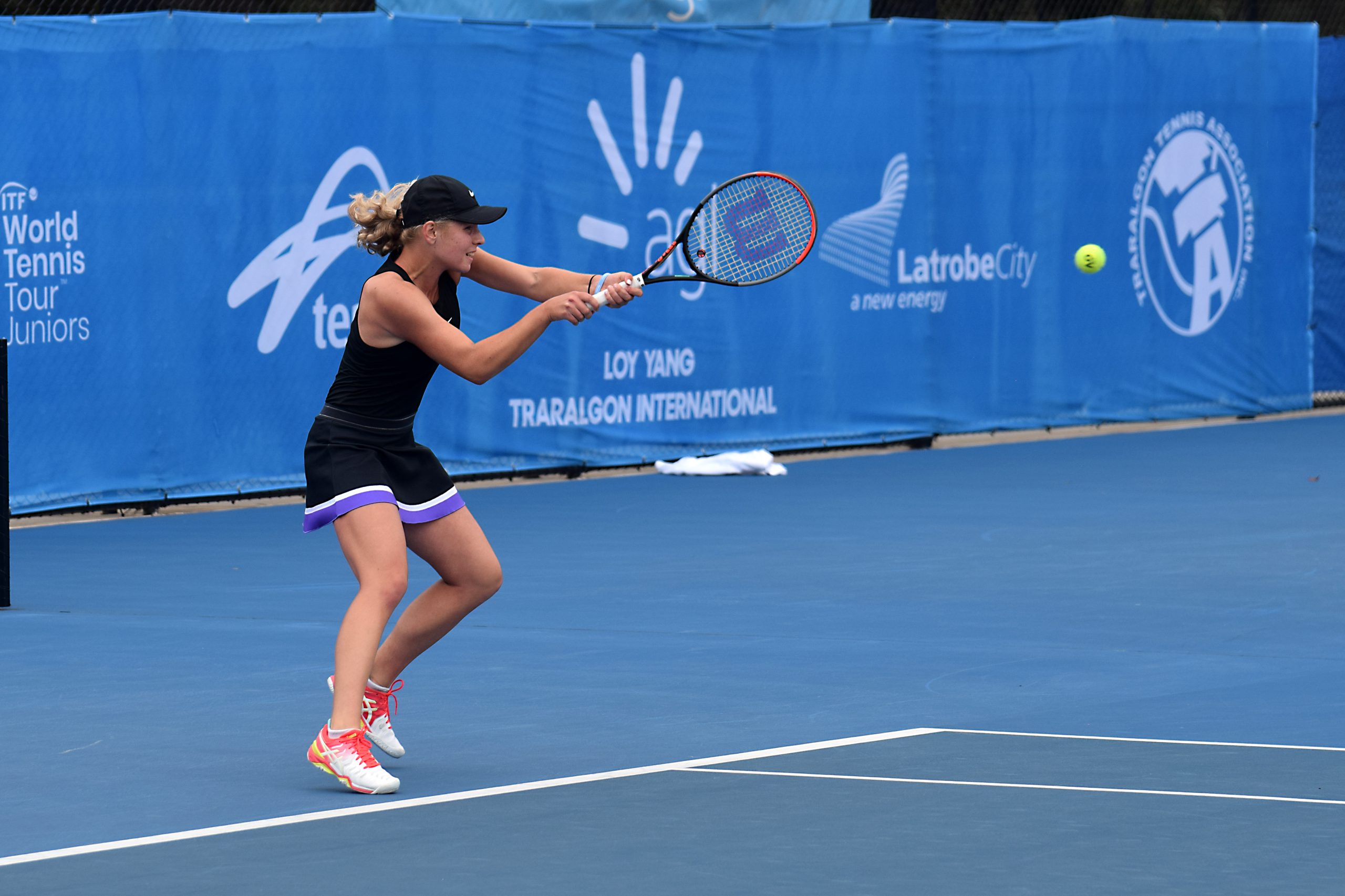 Dylan Arvela
The 2020 AGL Loy Yang Traralgon Junior International passed its halfway point over the weekend with just two Australians still in the singles mix.

Junior boys' World No. 92 Philip Sekulic is through to the quarter-finals after picking up a wildcard into the boys' singles main draw.
Sekulic, 16, beat Pole Mikolaj Lorens first up before getting past Frenchman Max Westphal in round two.
Sekulic overcame Biagio Gramaticopolo of Italy 6-2 6-2 to set up a final eight match-up with another Italian in Matteo Gigante.
James McCabe is also still in the hunt with his match with Alexander Bernard poised at 6-3 3-6 3-2 when rain halted proceedings on Sunday.
If the New South Welshman can go on with the job, he will meet fourth seed Arthur Cazaux of France in the quarter-finals.
Chen Dong was the highest-ranked Australian, but he fell out at the second round, losing 1-6 1-6 to Serbian 14th seed Hamad Medjedovic.
Frenchman Harold Mayot was set to be top seed before pulling out of the event, with the mantle taken by American Martin Damm.
Damm got through the first two rounds in straight sets before 16th seed Timo Legout of France got the better of him 6-7 4-6 in a hotly-contested round three match.
Second seed Shunsuke Mitsui of Japan was stunned 6-0 3-6 3-6 by Gramaticopolo in the first round while Swiss Jeffrey von der Schulenburg (third seed), Cazaux and Leandro Riedi (fifth seed), also from Switzerland, are still in contention.
In the girls' singles main draw, the last two local chances fell in the third round.
Aussie wildcard Mia Repac beat South Korean Yeon Woo Ku over three sets in the first round before downing Erika Matsuda of Japan 6-4 6-3.
The 15-year-old from Wollongong went up against Spaniard Ane Mintegi del Olmo in the third round where she managed to test the junior World No.22 before succumbing 5-7 3-6.
Natasha Russell was the other Aussie to bow out in the third round.
The South Australian received a wildcard into the Traralgon International after her exploits in the Schnitz Summer International Gold AMT event where she made the final.
Russell overcame American India Houghton 7-5 6-3 first up before beating Canadian Melodie Collard in the second round.
Her run came to an end at the hands of Linda Noskova of the Czech Republic, who prevailed 6-2 0-6 6-4.
Australia's highest-ranked player in the girls' draw Talia Gibson didn't have any luck, going out to American 16th seed Savannah Broadus 6-7 5-7 in the first round.
Girls' top seed Elsa Jacquemot is into the final eight with the Frenchwoman yet to drop a set through her opening three matches.
Alexandra Eala of the Philippines is the only other player of the top five seeds to still be in the tournament.
She will take on Russian Polina Kudermetova in the quarter-finals.
There are two more Australians flying the flag with Casey Hoole and Cooper White through to the second round of the boys' doubles.
The duo overcame another compatriot Matthew Bosanic and Uruguayan Francisco Llanes 7-6 6-7 10-5 in the first round and are yet to find out who they will take on round two. The tournament has not been without its drawbacks with rain a nagging hindrance throughout recent days and smoke haze forcing the abandonment of the opening day last Wednesday.
Delays have led to players playing twice and even three times a day, however, Traralgon Tennis Association manager Susie Grumley said the players are pushing through.
"We had a massive day on Saturday," she explained.
"We needed to get through 96 matches and we got through 94 so we have nearly got back on track."
"The players have been fantastic, they haven't complained. They just get back out there and get on with it."
Traralgon teenager Eliza Dunbar made her debut in the tournament, taking on Chinese Taipei's Kuan Yi Lee in the first round of qualifying.
Dunbar couldn't match it with Lee, who is three years her senior, going down 1-6 1-6.
A similar fate came for Trafalgar's Alan Valenzuela in boys' qualifying where he lost out to Llanes 1-6 1-6.
Grumley said the two local players did themselves proud and will be better for the experience in the years ahead.
"They were both fantastic," Grumley said.
"Keep in mind Eliza is 14 and Alan is 16, both were competitive and conducted themselves beautifully. They are a credit to their families and their clubs.
"It's a wonderful experience for them and it will give them the confidence to keep going, work hard and hopefully win a couple of games (in this tournament) next year."
The tournament is set to conclude on Wednesday afternoon with the boys' and girls' singles finals scheduled for 5pm.
Entry into the venue is free.