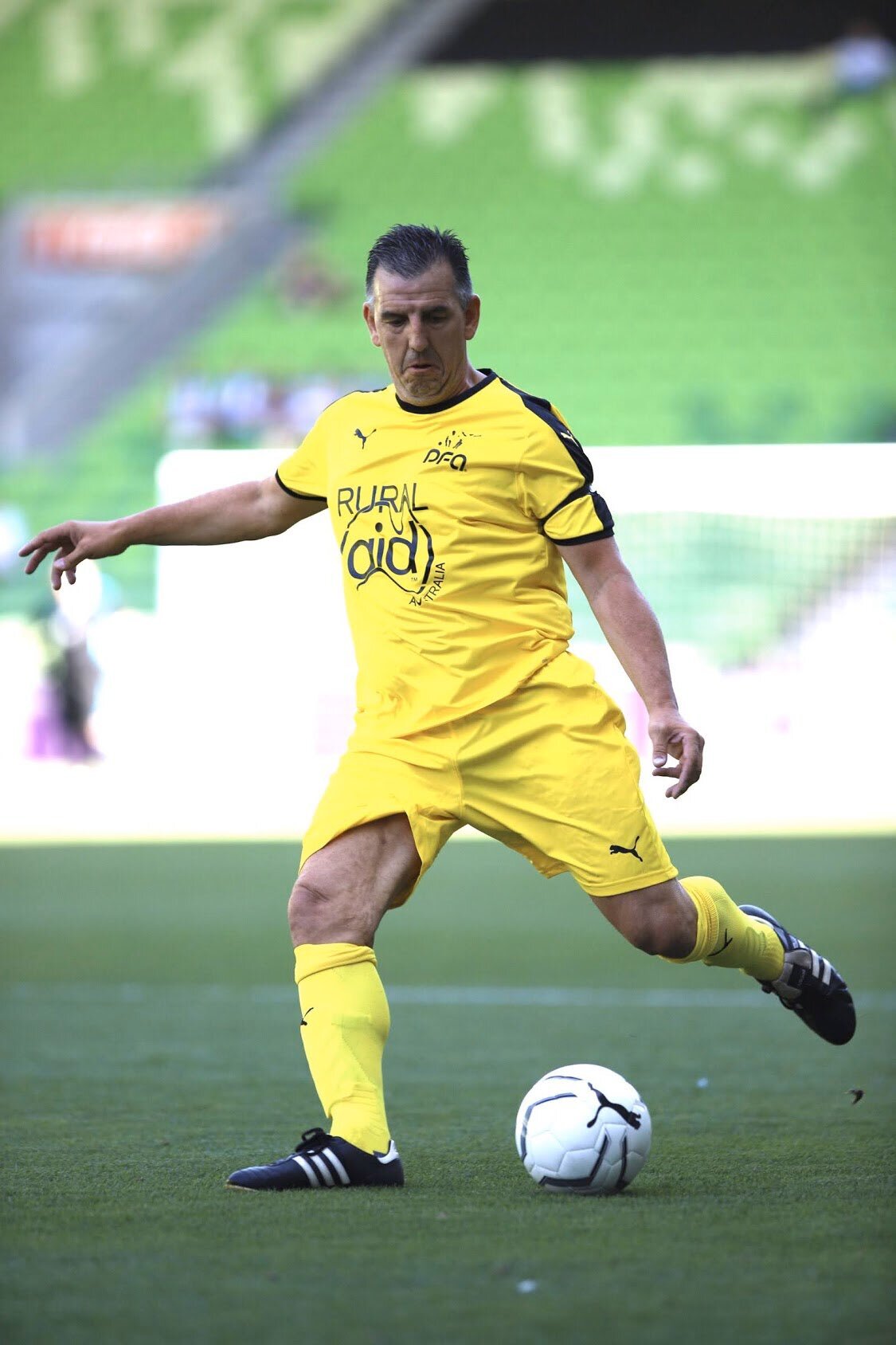 Dylan Arvela
Former Gippsland Falcons stalwart Manny Gelagotis pulled his boots back on for a worthy cause last weekend.

Gelagotis turned out for Team La Paglia for a one-off charity game against Team Foster with the match organised by the PFA intended to raise funds and awareness for Rural Aid and the bushfire recovery effort.
"It was a sensational day," Gelagotis told The Express.
"It was really enjoyable, it brought back a lot of memories and it was obviously for a great cause.
"There were half-a-dozen players (involved in the match) that I caught in their careers, I am not too heavily involved (in soccer) anymore, but I am still active and it was good to get out there with some quality players, both male and female."
Team La Paglia featured a host of former Australian internationals including Mark Bresciano, Sasa Ognenovski, Josip Skoko and Melissa Barbieri as well as Hollywood actor Anthony La Paglia, who donned the gloves.
They went up against an equally star-studded side featuring former Socceroos captains Craig Foster and Alan Davidson and AFL Hall of Famer Brad Johnson.
Soccer media figures including Fox Sports' Simon Hill and the Herald Sun's David Davutovic also played in the game.
In the end, Team La Paglia won the match 7-2 with Ognenovski netting a double while Skoko, Bresciano, Barbieri, Davutovic and comedian Ed Kavalee also found the back of the net.
At the other end, former Falcon and Melbourne Victory star Archie Thompson scored, as did Manchester City legend Paul Dickov.
"From a football perspective, there were massive names (on show) and to and to play alongside Bresciano, Skoko, Ognenovski and alike was superb and they can still play," he said.
"There was so much quality from different eras (involved), it was amazing. The likes of Alan Davidson, who was a bit before my time, he's an outstanding player, and international great.
"(Hill and Davutovic) were terrific, they were both very good actually.
"David scored the opener with a terrific finished and he didn't mind telling us about it afterwards.
"To reconnect with these players and celebs was fantastic."
Gelagotis, who played more than 100 National Soccer League matches, said it was a great to run out on to AAMI Park.
"I have been to AAMI to watch games in the past and I remember playing at Olympic Park just next to it," Gelagotis said.
"Hindmarsh (Stadium in Adelaide) was one of the best (grounds I played at) and it is still right up there with what we played on (on Saturday)."
Gelagotis, and Gelagotis Racing which is headed by his brother Peter, have thrown their support behind a number of initiatives including the Pancare Foundation and the National Jockeys Trust T20) cricket match.
"At the moment I am working out of our Caufield stable," he explained.
"Fortunately I am in the circles where as a familiy business we can support charities and community events in Gippsland or Melbourne.
"Archie played in the cricket match and he was pivotal in getting me a guernsey (on Saturday) and thankfully I didn't let him down."
The players were also wearing black armbands, which was in respect of the bushfire victims, but also in memory of Pandora Hutchinson, the mother of Morwell export and Central Coast Mariners icon John Hutchinson, who passed away on Friday.