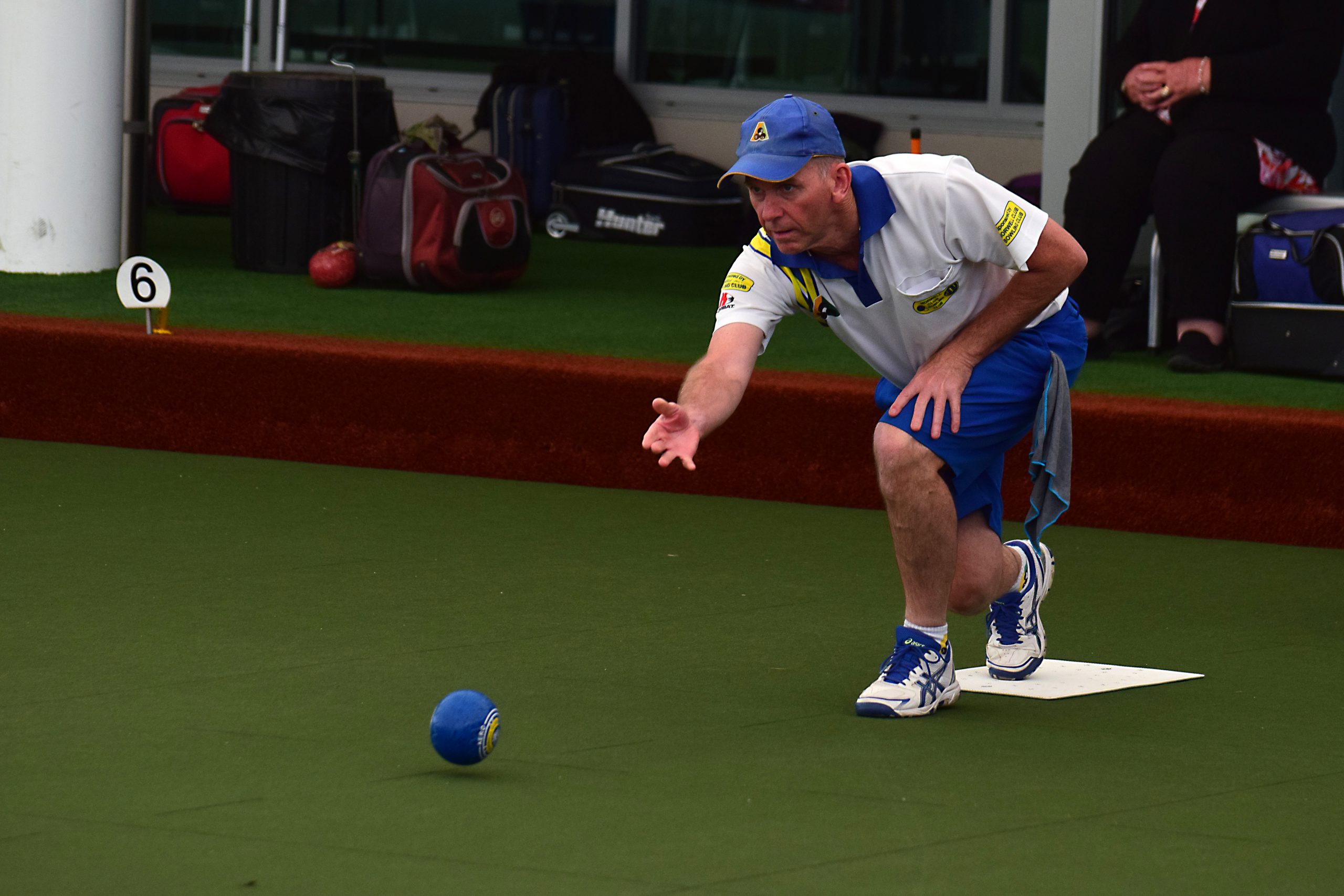 Michael Holroyd
Newborough 18-106 defeated Traralgon RSL 2-81

Newborough were denied a win against Traralgon the previous week due to a torrential downpour and they were keen to defeat Traralgon RSL following a big loss to RSL earlier in the season at Newborough.
The green at RSL was running well and luck was with Newborough as George Lambos bowled a wild off target bowl, which ricocheted not once, but twice off other bowls before hitting the jack and turning a four-shot deficit into four shots for Newborough.
The in effect eight-shot turnaround increased as skipper Alan Grubb drew another shot for five as he went on to win 34-18 over Beau Williamson.
Luck stayed with Lambos as he played another wayward shot later in the game to change the result in favour of Newborough.
Paul Sherman had a good 27-23 victory over Morice Gardiner, who earlier in the year with Williamson and Dave Hodson help propel RSL to a big upset win.
Nosha Michaels defeated Hodson this time around, with the only RSL winner being the rink of Rick Lukey, Maurice Sutcliffe, Gary Appleyard and Kathy Smiles, who defeated Kevin Lovett 22 – 19 in a tight contest.
Traralgon 20-119 defeated Drouin 0-55

After their escape against Newborough last round due to the weather Traralgon were fired up to inflict maximum damage to Drouin.
Prior to the match, Drouin were looking for an upset win and a chance of sneaking into the four if Longwarry lost to Trafalgar.
Traralgon made two changes to their team with Rosie Lorenz coming into Wayne Lynch's rink, who defeated Toby Wallace 33-12.
Kirst Van Den Hoff came into Ian Kirkup's rink, who defeated the strong Drouin rink of Dale Hendrick, John Leighton, Maureen Leighton and Bob Cole 24-16 in the closest result of the day.
Matt Ferrari and James Scullin completed the clean sweep with 33-13 and 29-14 wins respectively over Mick Fleming and Les Firth as Drouin fell to seventh place on the ladder.
Trafalgar 20-113 defeated Longwarry 0-68

Trafalgar have been unfortunate with unfavourable results during the season due to washouts forcing them out of finals contention.
Playing fourth team Longwarry, they had one of their stronger teams for the season and had a clean sweep winning all four rinks.
Scott Jones defeated Barry White 31-12, Paul Dawson defeated John McCarthy 32-17, Tommy Lodge defeated Trevor Eastwell 28-20 and Ian Miles won 22-19 in the closest match of the day over Russell White.
Morwell Club 20-108 defeated Morwell 0-81

Morwell confidently travelled to crosstown rivals Morwell Club in search of the elusive victory that would get them off of the bottom of the ladder and swap places with their opponents.
Gerry Van Duin came in to Keith Gadsby's rink to provide added experience, however, this was to no avail as Morwell Club found form, something that had been elusive since the Christmas break.
Morwell Club won all four rinks.
Brett Harle defeated Shashi Bhatti 34-24, Lee McKenzie defeated Laurie Melhuish 26-19, David Stevens defeated Keith Gadsby 23-18 in a tight match and John Millier completed the sweep with a 25-20 victory over David Cook.
Morwell Club with this win rose to sixth on the ladder while Morwell will be hoping for Traralgon (2) to win Division 2 to stop them going down to the second-tier next season.
Other divisions

In Division 2, Moe thrashed relegation bound Traralgon (3) while fourth-placed Traralgon (2) upset second-placed Warragul, who were very confident following their good win over Moe last week.
In Division 3, Warragul (2) lost the double chance following their defeat at Yinnar on a windswept green as Morwell (2) defeated fourth-placed Traralgon RSL (2) to move in to second place on the ladder.
Moe (2) had a large 74-shot victory over Trafalgar (2) to consign them to relegation.
In Division 4, top team Traralgon (4) easily defeated fourth-placed Drouin (3) and in the closest match the away team Yarragon snatched a narrow one-shot victory over a luckless Neerim District.
In Division 5, fourth placed Newborough (4) defeated second-placed Morwell Club (2) to retain their place in the four as did Newborough (5) in Division 6 as they defeated Traralgon (6) to retain their place in the four.
This weekend

In Division 1, Traralgon plays Newborough with very little separating these two teams when they have played this year and in the minor semi-final Traralgon RSL plays Longwarry with each side coming back from a loss this week.

In Division 2, Moe plays Warragul after a shock loss at Moe last round and a washout earlier in the season. Moe is keen to get back in to Division 1 and will be looking to go through to the grand final. In the minor semi final Garfield plays Traralgon (2)
In Division 3, Thorpdale plays Morwell (2) and will be seeking to maintain their strong form after winning Division four last year and Warragul (2) plays Traralgon (20 in the minor semi-final.
In Division 4, Traralgon (4) and Newborough (3) have been competitive all year and will do battle again.
In the minor final Garfield (2) plays Drouin (3).
In Division 5, Morwell (3) plays Morwell Club (2) after both had losses at the weekend. In the minor final Traralgon (5) plays Newborough (4).
In Division 6, Churchill plays Longwarry (2) and in the minor final Newborough (5) plays Morwell Club (3).

Finals venues

DIVISION 1

Traralgon v Newborough at Morwell
Traralgon RSL v Longwarry at Traralgon Indoor
DIVISION 2

Moe v Warragul at Traralgon Indoor
Garfield v Traralgon (2) at Morwell
DIVISION 3

Thorpdale v Morwell (2) at Traralgon
Warragul (2) v Traralgon RSL (2) at Traralgon
DIVISION 4

Traralgon (4) v Newborough (3) at Trafalgar
Garfield (2) v Drouin (3) at Warragul
DIVISION 5

Morwell (3) v Morwell Club (2) at Moe
Traralgon (5) v Newborough (4) at Moe

DIVISION 6

Churchill v Longwarry (2) at Yallourn North
Newborough (5) v Morwell Club (3) at Yallourn North