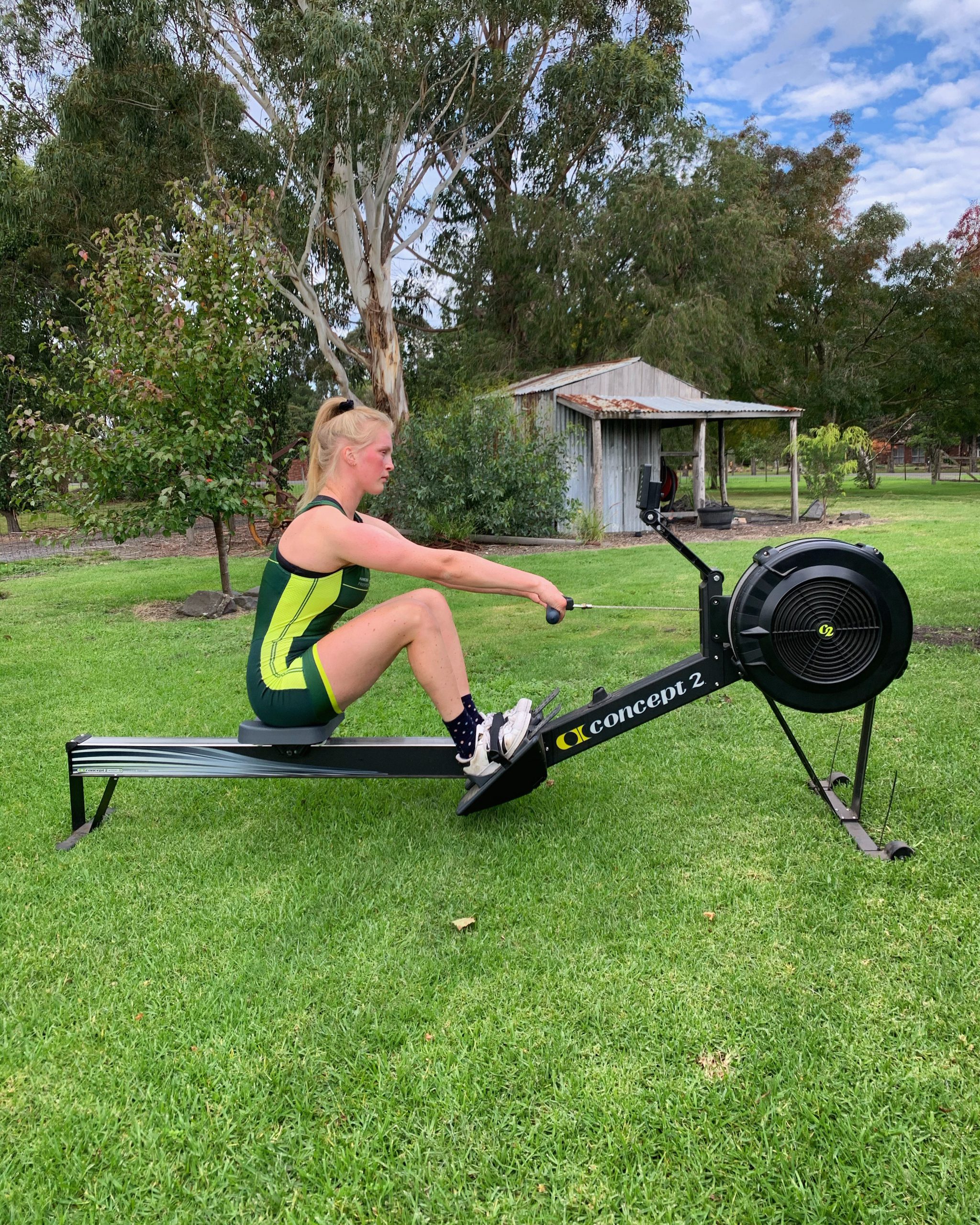 Gregor Mactaggart
NORMALLY there is plenty of water close by when Alex Vuillermin trains.

But due to the restrictions in place to stop the spread of coronavirus, the Morwell para-rower has been confined to dry land.
For the 20-year-old that has meant a return to the family farm and setting up her ergo (rowing machine), resulting in a change of backdrop from the Melbourne skyline to lush green paddocks.
"It has definitely been a nice change of scenery to train from home on the farm," Vuillermin told The Express.

"I'm loving being back home with mum and dad.
"Normally I'm based in Melbourne as a full scholarship holder at the Victorian Institute of Sport, but we've all been sent to our home environments."

"I've been training a lot on the ergo, as well as the watt bike and also doing road cycling, which ensures we're keeping up our cardio and fitness."

Vuillermin said the VIS has catered for all their athletes during this time of isolation.
"They have done so well catering for all their athletes and made sure we are all well equipped with a home gym and weights equipment," she said.
"The coaches check in regularly with us, we have regular Zoom meetings, HR monitoring and testing."

Despite the rare chance to spend more time in the Latrobe Valley as a result of COVID-19, the pandemic has played havoc with what was looming as a hectic 2020 campaign for Vuillermin.

"Last year our boat finished fourth at the World Rowing Championships in Linz, Austria and successfully qualified the PR3 four plus boat for the Tokyo Paralympics," she said.
"Our 2020 selection trials were to be held in the first week of April and then we were going to set off for our international campaign three weeks after that where we would compete in the Gavirate International Regatta and World Cup."
Vuillermin praised the International Olympic Committee for the recent move to reschedule Tokyo until 2021.
"It's the best decision they could have made, what it does is gives us another whole year to get better," she said.
Rowing Australia is trying to ensure its national team members remain sharp during this time of uncertainty.
Vuillermin said the competitive juices remain flowing thanks to cutting edge technology.
"Rowing Australia is running our interstate regatta online, so you get on your ergo and log your own kilometres onto the website," she said.