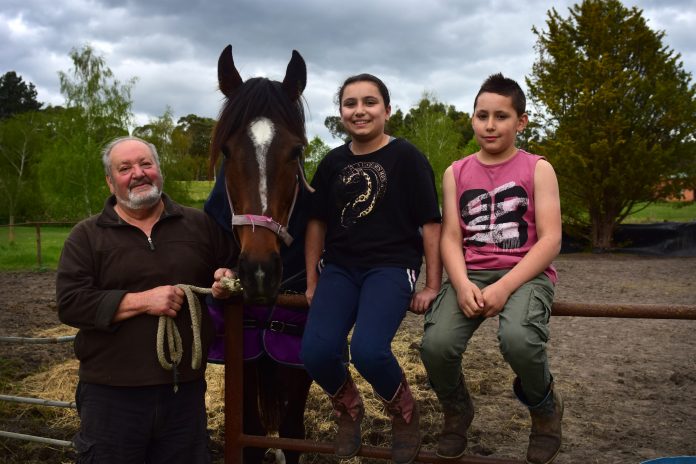 Gregor Mactaggart
Charlie Gafa is living proof of the old adage that good things come to those who wait.

Gafa, 73, prepared his first winner at Moe after more than three decades as a licenced trainer when bonny mare Heartland Raider took out the last race on Monday.
Heartland Raider's success in the Moe Optical Moe Cup October 16 Benchmark 58 Handicap (2088m) sparked jubilant scenes post-race as Gafa was warmly congratulated by fellow trainers and racing officials.
"I've had a few placings and been nosed out in some photo finishes, so it was good to finally have a winner at Moe," he told The Express.
"I always felt she could do it because she's a little gem.
"I'm a fan of sectionals in races and her sectionals in some of her recent races were pretty good.
"It's tremendous, I've had plenty of congratulations from plenty of people.
"I've got thank my track rider Tracey, who does a great job, and her jockey Matt (Cartwright).
"He rode her the previous start at Sale and was laughing when he came back after the race because she just wanted to keep going, so we knew she would be right to go."
Gafa describes himself as a hobby trainer and has never had more than a handful of horses in work at a time.
At the moment, his stable consists of one horse, the daughter of Victoria and South Australia Derby champion Rebel Raider.
"We go through the bloodstock auctions these days to find a horse," he said.
"She was a late three-year-old who was broken in, but hadn't raced and wasn't even named when we bought her for $1400.
"My granddaughter Lauren, who is 12, she loves her horses and especially Heartland the TV show.
"So I said she could name the horse and every name we submitted had Heartland in it, so we ended up with Heartland Raider."
Fittingly, family played a key role in Gafa starting his training career in the first place.
"My daughter Bernie (Bernadette) was in the pony club and competed with distinction as a showjumper," he said.
"One day I saw an ad in The Express actually, about a bloke from Bairnsdale who was selling a broodmare.

"So we went up there and the mare had a foal at foot and was in foal again, so we got a three in one deal."

Gafa started his training career on the picnic circuit and didn't have to wait long for his first success.
"You had to get a picnic licence first to see if you could train," he said.
"In my third race, I won the 1991 Drouin Cup with Village Park."
Bigger wins would lay ahead courtesy of the two horses Gafa could not split when quizzed on who has been his best horse.
"Red Charovea was a little red chestnut who was headed to the knackery because his owner thought he would be too small to make a racehorse and we bought him for $500," he said.
"He won six races in total, three at Bairnsdale, won a race at Sandown and ran a number of placings in town.
"Blacktype Magic was the other one. He won a Horizon Petroleum Traralgon Cup in 2001, but that wasn't his best win.
"He won the Ron Casey Memorial race at Mornington later that same year and ran a time just outside the track record."
As for what is next with his new stable star?
"I'm tempted to nominate her for the Moe Cup, but I want to see the sectionals from Monday's race before I make a decision," he said.
"There's the Cup and also a Benchmark 70 over 2050m on Cup Day, so we'll see what happens."