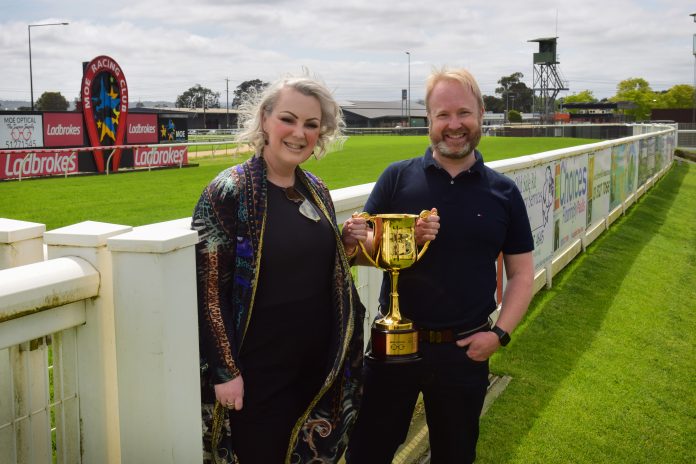 Tessa Randello and Gregor Mactaggart
Tomorrow's Moe Cup meeting will not be open to the general public.

Moe Racing Club chief executive officer Shane Berry told The Express that the restrictions still in place for the COVID-19 pandemic had put the kibosh on any hope spectators would be on course.

"We can't have anyone around racing at the moment, it's too much of a risk," Berry said.
"We are just devastated, we had plans in place to have spectators at the races, and we finally got to have the event on a Friday.
"But at least we are still allowed to race at the moment, it is just sad we are not able to celebrate it properly.
"We are just trying to look forward and cross our fingers that we can have lots of people on course for our Christmas Day meeting and hopefully we never have to go through anything like this again."
It is a hammer blow to the MRC, which would have welcomed a crowd of about 4000 in a normal year.
But there was some hope offered by Racing Victoria last week when it came to owners.
The governing body announced a resumption of limited owner attendance on regional Victorian tracks.

"Turfside will just be trading under normal restrictions, unfortunately we don't have the set-up to attempt to have 50 people in the outdoor area, so it will just be inside," Berry said.

"I imagine there will be a lot of people having a picnic in Apex Park on Moe Cup Day up and watching up against the fence, so that way they will still get a good view of the racing."

Despite the lack of a crowd, the racing action will be strong on Cup Day with nine races on offer.

The Moe Optical Moe Cup (2050m) will be run and won at 3.30pm.

A field of 11 accepted yesterday for the $130,000 race, headlined by Chris Waller's Captain Cook, who will be ridden by Hugh Bowman.

Two local hopes in the race are Monmouth, trained by Allison Bennett and Charlie Gafa's Heartland Raider.

Television coverage of the race day is available on Racing.com (Channel 68 on free to air television) and Sky Channel, while RSN927 will broadcast all the races on radio.

Racing starts from 12.10pm, with the last at 4.40pm.

SPORTSBET MARKET FOR THE $130,000 MOE OPTICAL MOE CUP (2050m): $3.60 No Effort, $4.40 Think We're Due, $5 Shot of Irish, $6 Don't Doubt Dory, $13 Midterm, $15 Captain Cook, Peso, Monmouth, $17 Silent Command, $21 Our Big Mike, $151 Heartland Raider.