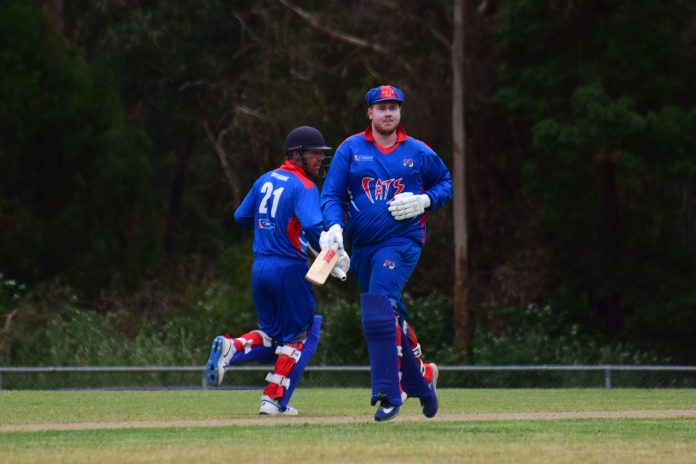 LIAM DURKIN
CRICKET
LVDCL
By LIAM DURKIN
CATS Cricket Club has seen the Latrobe Valley and District Cricket League from all angles.
In the three seasons the LVDCL has been running, CATS have gone from runner-up in Premier A to relegated the following season, to then be premiers in A Grade in the season just gone.
This up-and-down journey has been indicative of how things can change from year to year in local cricket, and with CATS claiming its maiden first grade premiership last season, the club will want to ensure that glory is no longer basked in as it again has a crack in the premier division.
As Trafalgar found out last season, the biggest danger after gaining promotion is that you will come straight back down 12 months later.
This danger will be one of many challenges CATS face this season, and returning captain Ben Julin said his players were up for the fight.
"I think it has made everyone more hungry to be honest, to back it up and prove that we are good enough to win in the top flight," he said.
"We're well aware of the standard and how competitive the premier division is, with the likes of Churchill, Mirboo North and Morwell, those sorts of teams are always strong … we've got to be on our toes every week."
CATS proved their worth in the cross conference section last season, defeating Premier A finalists Latrobe comfortably and making 239 against eventual premier Mirboo North.
Referencing some of these performances in the one day format is sure to give CATS confidence heading into 2021/22, as is the knowledge young players have shown they are able to stand up in big games.
Nathan Harrup epitomised this last season, with a coming-of-age innings of 77 in the grand final victory.
"That was huge for a kid like him confidence wise," Julin said.
"Even young Dylan Keyhoe throughout the year knocked up a few 30s and 40s, so improving every game is promising for the next few years at the club."
The skipper will again work alongside coach Davin Charleston and also have former first class players in Callum Stewart and Zimbabwean test player Tinashe Panyangara at his disposal.
Retaining Stewart for the jump up to Premier A has been a huge coup for CATS, after the all rounder was heavily linked to other clubs during the offseason. Julin said it was a luxury to play alongside players of that ilk.
"It's pretty easy as a captain when you've got blokes who know where they are going to be bowling the ball and can set their own field," he said.
"They've got plans before they even mark their run up so it makes my job very easy.
"If I'm every struggling for ideas or need someone to lean on, Cal and Tinashe are the heads to go to, especially Tinashe, I've never met anyone that can read the game like he does, he's quite unbelievable."
An added luxury for CATS will be the fact their premiership squad remains virtually intact.
The only departing member is military medium bowler Jack Blythman who has moved to the city, while Tyler Brown's availability is not confirmed.
Joining CATS this season is youngster Mitch Bellingham from Traralgon and District Cricket Association club Imperials, where he enjoyed a full season of A Grade.
In addition, CATS have also got Sam Hoch back to the club after a few seasons away from the game.
While acknowledging the landmark achievement of CATS first A Grade premiership carried a lot of meaning, Julin said that moment in time was now confined to the history books, and the side would need to shift its focus onto what was ahead.
"Winning the flag was huge but it was a little bit of mixed feeling winning the bottom division, so I think that's what's made everyone hungry to win it (in Premier A)," he said.
"I don't think anyone is content with winning that division, no one is feeling lax about the upcoming season."