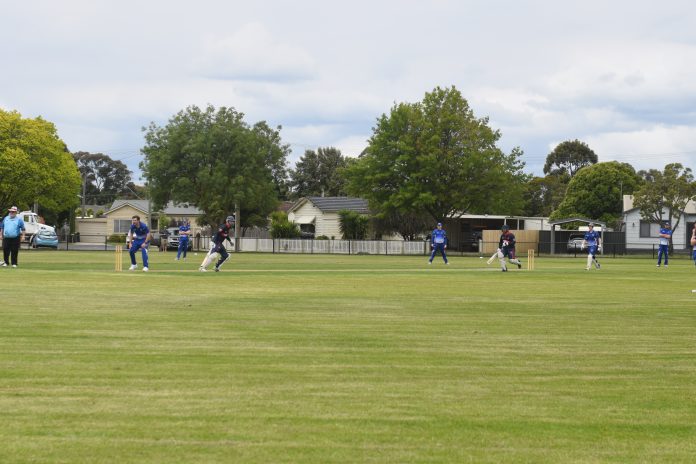 STAFF WRITERS
CRICKET
TDCA
THE first major shock for the season has happened in Round 2 as Imperials who many had tipped not to win a match this season have knocked off last season's semi-finalists in Rovers.
This game was always going to be a close one and came down to the 48th over where Brad Sizeland took the last wicket of Rovers to bowl them out for 131, 17 runs short of Imperials total.
Ryan Morley, dropped on 0, showed great captaincy and led his team from the front to make a well-made 53 which included three fours and one six.
Second top score for Imps was Rovers extras – at 28, 21 of these being wides and then Ross Williams, at the tail end, made a solid 22 not out for Imperials taking the total to 147 after 50 overs.
Dougal Williams got 4/14 off 9 overs, Simon Duff got 3/28 off 10 overs and Darion Duncan 1/22 were the best bowlers for Rovers.
The top four in Rovers batting order got some good starts, but all failed to capitalise on that and lead them to a victory.
Tyler Pearce made 24, Ewan Williams 26 and Dougal Williams 19 were the best while Darion Duncan tried all he could down the order making 23 before Ross Williams claimed him caught and bowled.
Williams was the pick of the bowlers claiming three wickets while the old warrior Brad Sizeland claimed two and new player to the club Tuan Abdeen bowled beautifully, taking 1/14 from 10 overs which included five maidens.
Imperials 9/147 defeated Rovers 10/131.
EX Students have experienced a shaky start after Glengarry made a statement in the grand final rematch, convincingly beating the Sharks at home.
A depleted Ex Students won the toss and sent Glengarry in, but the Magpies countered well and were able to make a good score of 195 after 50 overs.
The Glengarry team all batted well, and although Lee Stockdale (3/36), Michael Warne (2/39) and Mitch Harris (2/41) all bowled well, they couldn't stem the bleeding enough.
With a large total to chase Lee Stockdale gave himself the best chance to make a big score and opened the batting with Matt Dyke, but with 30 on the board Stockdale was bowled by Cam Graham for 16.
It then got ugly for the Sharks as Jackson McMahon was also bowled for a duck by Graham, Nick Millington was run out for a duck, and Mitch Membrey could only make five to have the score struggling at 4/46.
Mitch Harris then joined Dyke and put on a good 50-run partnership showing some resistance, but when Dyke was eventually out to the bowling of Nat Freitag the game was all but over.
Harris ended the day making 48 as his rivalry versus Freitag continues to grow, Dyke made a
hard fought 35 and Andy Matthews finished with 11 not out.
Freitag finished with three wickets while Cam Graham, Hamish Busk and Sam Marks all claimed two in a dominating display.
Glengarry 8/195 defeated Ex Students 10/136.
TOONGABBIE got off to a ripper start on Saturday and announced themselves as a genuine chance for the premiership this season after bowling out Gormandale for only 95, thanks to the pace of Keenan Hughes, stock bowling of Kev Stoddart and left-arm spin twins Rob Wheildon and Matt Barry.
Things just didn't go to plan for the Tigers as wickets fell at a steady rate.
Chris Lehner tried all he could as he top scored for Gormandale with 17 runs from 58 balls with the next best being Luke Henderson (16 not out) and Dylan Freitag (16).
One thing's for sure though, the Tigers don't quit and early wickets gave them a genuine sniff as Toongabbie were struggling at 3/18 when Tim Dunn was knocked over by Nat Campbell.
But the ship was steadied by the two Zac's, Russell and Tactor, who took some time out of the game and got the shine off the ball so Kev Stoddart (30 from 44) and Jim "the strike rate" Chalmers (21 not out from 14 balls) could finish off the innings.
Toongabbie not only take the win but also claim the bonus point for the match which sets them up massively for the season.
The Tigers will lick their wounds, but will be pleased to be playing at home next week where they will welcome Yarram & District.
Toongabbie 6/98 defeated Gormandale 10/95.
ROUND 3 PREVIEW
IMPERIALS V TOONGABBIE
IMPERIALS and Toongabbie, both coming off a win last week will be fired up and look at going for two in a row.
Ryan Morley started off the season well with a 50, so will be feeling confident going into Round 3 and having to face up to the pace of Keenan Hughes as well as the stock bowling from Kev Stoddart and left-arm spin of Matt Barry.
This game is going to be an interesting one, and a few quick wickets from Imperials, could help them to get the upper hand against Toongabbie, and potentially bowl them out for a very low score and chase the runs down.
However, Toongabbie bat very deep, and will be hard to bowl them out for an easy and chaseable score.
One to watch: Matt Barry, Toongabbie's young left arm orthodox will be spinning a web out and should pick up a handful of wickets.
Prediction: Toongabbie will prove too strong for Imperials, as Matt Barry and Keenan Hughes both take a handful of wickets.
GORMANDALE V YARRAM
YARRAM, yet to play a game this season will take on the hurting Gormandale after their loss in Round 2.
Gormandale have the spin combination of Luke Henderson and Nat Campbell, which will be their key to success, as Henderson can hit a spot every ball, and Campbell can turn the ball sharply both ways.
This will trouble the likes of Brett Pedlow, and Anthony Scott, however they have played them both before and know how to face them.
So they must be patient, wait for the bad ball and then punish it to the boundary.
This will help them accumulate runs and set Gormandale a decent score to chase.
Gormandale will not feel so confident with the bat, as only a few players made double digits last week, with the top score for them being 17.
So, the nerves will definitely be going, but for the likes of Chris Lehner and Kent Hammond, this is something they have done before.
One to watch: Brett Pedlow, will be one to watch with the bat, as his opening innings can set up Yarram for success.
Prediction: Gormandale do have the home ground advantage, however, Yarram will be fired up to take home a win for their first game of the season. Yarram will get over the line, after chasing a decent score down the Gormandale sets them.
ROVERS VS EX STUDENTS
THIS match is always very one sided and in favour of Ex Students.
Rovers over the past three or so seasons, have always been dominated by Ex Students, being bowled out for very low scores under 100 runs, and having Ex Students make it without a worry.
Rovers need to lift their game in they are even going to have a chance at being competitive, otherwise this round will just be another easy win for Ex Students.
Lee Stockdale and Mitch Harris will be two to keep an eye on.
Stockdale and Harris, both very talented, should have a field day and clean up Rovers batting line-up, and punish their bowling line-up, helping them to take home their first win of the season.
One to watch: Mitch Harris will be one to keep an eye on, as he can bowl line and length, and get the ball to move, will also being a quality batsman, and should have no trouble facing Rovers bowling.
Prediction: This will be a walk in the park for Ex Students and should do what they have done the last three seasons to Rovers.