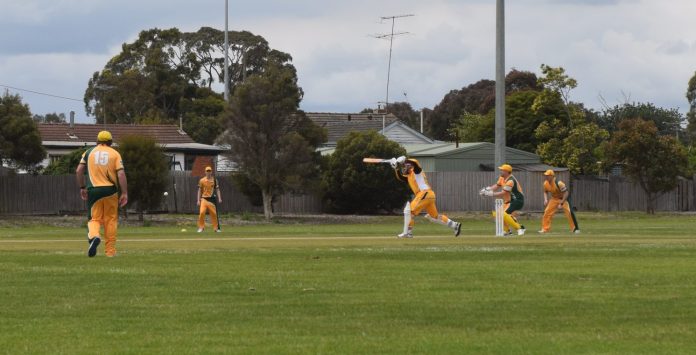 LIAM DURKIN
CRICKET
LVDCL
By LIAM DURKIN
JEERALANG-BOOLARRA will be looking to make it back-to-back wins when it travels to Traralgon West this Saturday.
The Panthers were the big talking point after Round 1, following a comprehensive victory over Latrobe.
Led by new recruit Nila Thillekarathna, who scored a match-high 81, and sound contributions from the two Ben's, captain Heath (53) and wicket-keeper Duffy (42), the Panthers compiled a score of 8/232, which proved too great for the Sharks, who mustered 171 in reply.
Thillekarathna made it a debut to remember, backing up his heroics with the bat by taking the last three wickets to finish with great championship point figures of 3/8.
The timing could not be better for Thillekarathna given he is coming up against his old side this weekend. Traralgon West will know what to expect from Thillekarathna, and will want to ensure he doesn't have too much to skite about in front of his old teammates.
The Eagles are coming off a tale of two halves performances against Raiders.
Bowling wise there was plenty to like, as Traralgon West bowled Raiders out within 50 overs and shared the wickets between Adam Thow, who took 3/23, Rami Zafar (2/9) and Salman Rasool (2/41), while Tim Fitch only went for 15 off 10 overs.
However, things unravelled terribly with the bat, with the Eagles unable to string any partnerships together to eventually be routed for 79.
Madura Perera proved very hot to handle, taking 3/13, with all three of his wickets either bowled of leg before wicket.
RAIDERS' opponents this weekend in Churchill might have taken at least one point of reference as it prepares for what is shaping as match of the round at Yinnar.
While Raiders did do it fairly comfortably against Traralgon West, they did lose their last eight wickets for 60 runs.
The Cobras could see this as an opportunity to really put the acid on Raiders early by setting attacking fields to the likes of Liam Maynard and Mick Higgins at the top of the order.
If Churchill can grab two or three wickets inside the first 10 to 15 overs, or even better, inside the power play, it could be a classic case of 'three out all out' as far as the Raiders batting line-up is concerned.
The Cobras were clinical in their dismantling of Moe last week, bowling the Lions out for 122 before the dependable duo of Brendan Mason and John Keighran ensured the points, scoring 50 and 38 not out respectively.
Keighran could well prove just as much a mental threat to Raiders as a physical one, after he virtually single-handedly denied them a place in last season's grand final with an unbeaten 105 out of a score of 137.
The effort was described as one of the most incredible knocks in Gippsland cricket history, and the challenge for Raiders will be to make sure the bowlers don't tense up and have too many negative flashbacks when Keighran walks to the crease.
CATS will play its first game of the season when it hosts Morwell.
Both teams will go into the contest feeling conditioned for what is ahead, CATS because they will carry first game excitement, and Morwell because they have a game under their belt.
The Tigers took care of Centrals last weekend with relative ease, winning by six wickets.
Morwell fast bowler Travis Pickering got his season off to the best possible start, taking the first five wickets of the match on his way to figures of 5/34.
The Lions scratched out a score of 122, but Morwell, through Kris Fortuin, who made 44, and then handy double-figure returns from the rest of the top six, saw the Tigers home.
Centrals has the bye this week to gather its thoughts and regroup, while Mirboo North and Latrobe will have a chance to get back on the winners list when they meet on Saturday at Mirboo North.
Given the first round is generally built up as more important than it actually is, the Tigers and Sharks will not have too much cause for concern after really, all they did was lose a game of cricket.
With this in mind, the two teams might just be looking to address one or two key focus areas to improve on this weekend, to ensure the players aren't overloaded with information as the season is still in its formative stages.
For Mirboo North, cutting down extras might be the main point of call this weekend. The Tigers bowled 18 wides against Trafalgar last weekend, meaning they effectively gave up runs for nothing and had to bowl three extra overs.
Young Max Woodall looks a player of promise for the Tigers. Woodall opened the bowling last weekend and returned good figures of 1/15 off seven overs.
Latrobe had three players all score between 25 and 36 last weekend against Jeeralang-Boolarra.
Had one of those gone on to score an 80, 90 or even 100 it may well have proven the difference as the final margin was 62 runs.
Despite the shortcomings, the Sharks will be glad its players at least got starts and made some sort of impact in the first game of the season, which should mean some higher conversions are just around the corner.
TRAFALGAR is coming off a strong team performance against Mirboo North, and will want to add another W in the win column when it takes on Moe at Ted Summerton Reserve this weekend.
The Ships found an unlikely hero with the ball last weekend in Aydan Connolly, who took 5/14.
A jack-of-all-trades, Connolly has been the team's wicketkeeper in the last two seasons.
The Trafalgar coaching staff will surely be pleased its players were actually able to win a match last weekend batting first, as the Ships have had a tendency in recent seasons to completely botch the opportunity of batting on a new strip.
Billy Claridge scored a mature 43 last weekend, and the innings could signal the start of a significant growth period for the 17-year-old this season.
In preparing to take on Moe, the Ships can expect a war of attribution to ensue.
Traditionally Moe strictly adheres to the mantra of 'bat the overs', and this was again seen last weekend against Churchill.
Although the Lions only managed 122, with Noah Kane top scoring on 27, they did take their innings to the penultimate over, so Trafalgar cannot be surprised if they find themselves out in the field for the full allotment.
To draw an abstract analogy, Moe could be seen as crocodiles, in that they don't attack opponents, but rather drag them to the water and wait for them to drown.
For Trafalgar, the challenge will be to stay ahead of the game and keep their heads above the water.