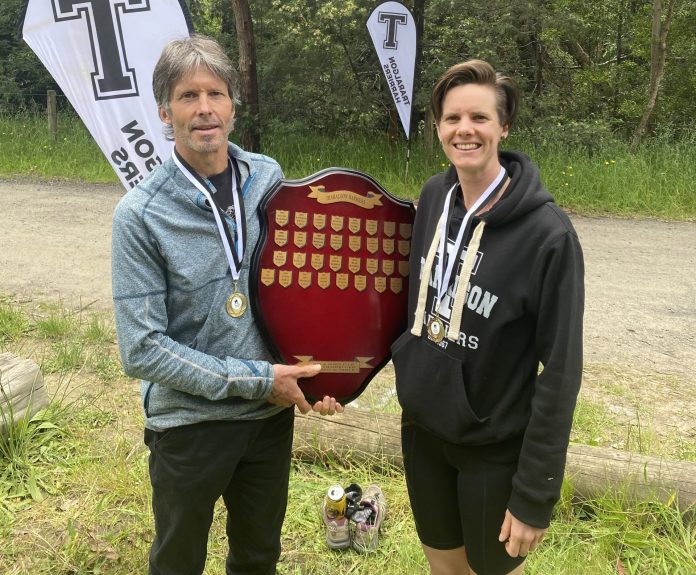 Miles Verschuur
Fresh out of lockdown, the Traralgon Harriers hosted their annual hill running championships, named after club life-members Ray and Doris Ellis at Tyers Park on Sunday, November 21.
Although runners usually vie for the perpetual trophies over 16 or 8km, this year, a new approach was taken, with distances of 22km and 10km to incorporate the stunning Wirilda Walking Track.
With the recent heavy rainfall creating some serious rapids in the Tyers River, the new course had to be altered slightly to ensure runners' safety.
The new course tested runners to their absolute limits, travelling from Tyers Park to the Moondarra Dam wall and return.
Nevertheless, 45 runners turned out to enjoy the winding tracks along the Tyers River.
In the men's 22km, it was Australian Marathon representative, Ian Cornthwaite and Australian Adventure Racing Stalwart, Rob Preston, who battled it out across the 2 ½ hours of racing to finish in a dead heat, with Glenn Crawford following in third.
In the women's event, Yani Cornthwaite was close behind the top three men, finishing in 2:37.42, with Kylie Murray crossing the line only 19 seconds later. Mandy Ellis powered along the tracks of Tyers Park to clock in as the third female.
Dual Traralgon Marathon winner and outright winner of the recent Summersgill Championship, Narelle Crozier was leading the 22km field, but was on call from her workplace and was forced to retire when she received an urgent message.
Two teams contested the 22km relay event, with Team TTRG, consisting of Harriers president Phill Mayer, Kate Mayer, Michael Walker and Tobiasz Grzmil speeding around the rugged course to collect the medals.
In the male 10km, Jay McGowan blitzed the undulating Pipeline Track to stop the clock at 51:22, with Clinton Jolly motoring into second and Charlie Twomey rounding out the podium places.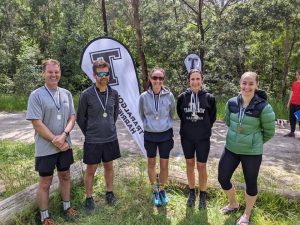 For the females, Kay Arrowsmith and Bryanna Mifsud ran into together collecting the gold and silver medals respectively, with Alysha Duncan earning bronze in 68:03.
Race directors Greg Semmler and Miles Verschuur were pleased with how the raceday
went.
"It was great to see people being able to get out, enjoy the racing experience in such a beautiful location, so close to home," Semmler
commented.
"The Harriers hope to grow the event in the future, to see more people get out, release some endorphins and enjoy the beauty of our region," Verschuur added.
Results
22km: Ian Cornthwaite 2:28.19, Rob Preston 2:28.19, Glenn Crawford 2:35.42, Yani Cornthwaite 2:37.42, Kylie Murray 2:38.01, Kevin Langberg 3:24.58, Ash Crawford 3:26.09, Mandy Ellis 4:08.41, Collette Hofmann 4:29.08, Ree Graham 4:29.08, Tracey Stevens 4:29:08, Sally Eenjees 4:41.07, Gary Fox 4:41.07, Liz Kenney 4:41.07, Georgia Callaway 4:46.23, Narelle Crozier DNF, Ian Twite DQ. 22km Relay: Team TTRG 2:51.25, Team Love DNF.
10km: Jay McGowan 51:22, Clinton Jolly 55:40, Charlie Twomey 58:59, Kay Arrowsmith 1:03.09, Bryanna Mifsud 1:03.09, Chris Van Unen 1:03.09, Alysha Duncan 1:08.03, Stephen Renehan 1:08.10, Tania Whitehead 1:10.00, Cat Leonard 1:12.08, Callie Cook 1:16.37, Chris Gallivan 1:16.38, Sue Stranger 1:21.32, Kathleen Kent 1:23.34, Michelle Sawyer 1:23.40, Helen Whitby 1:28.00, Ann Bomers 1:34.50, Allison Triggs 1:41.53, Michelle Colwell 2:05.13, Kathy Quinn 2:05.13.