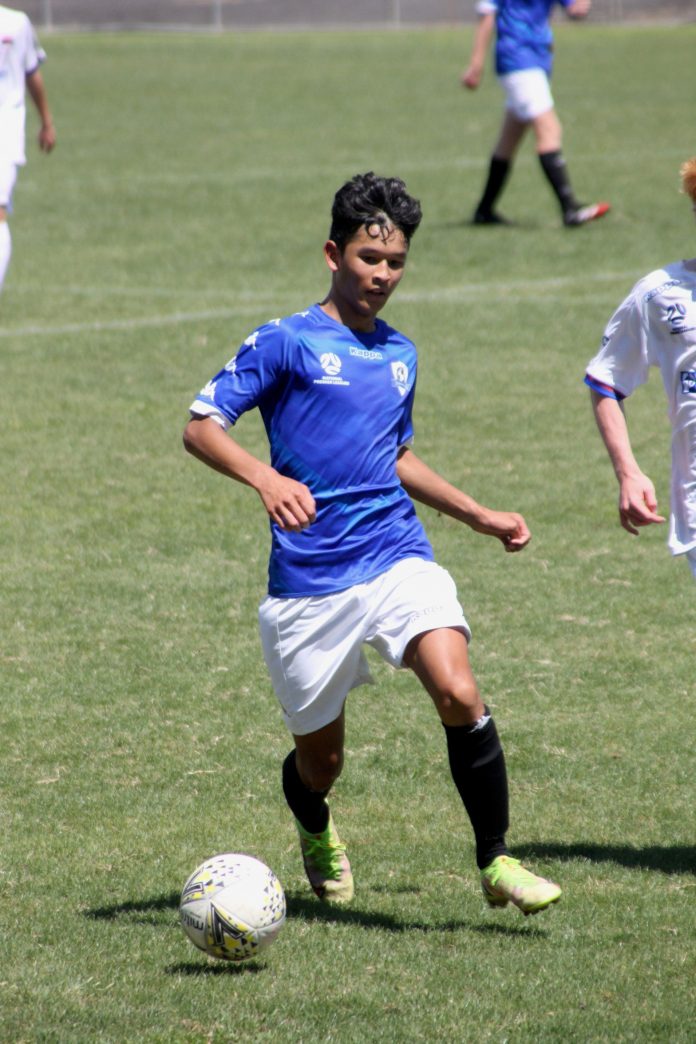 STAFF WRITERS
SOCCER
GIPPSLAND FC
Gippsland FC took on Langwarrin in Round 2 qualifying of the National Premier Leagues Victoria on Sunday.
Under-15
A DIFFERENT GFC Under-15 line up hit the park with the squad hit by injury and many lads had been required to isolate because of the COVID virus.
As the team only had 12 fit players and were missing regular starters, many players were required to fulfil roles they were not used to playing.
Despite being required to play a more compact, defensive structure, Gippsland was still able to generate a number of goal scoring opportunities which required the Langwarrin defenders to scramble to keep them out.
Langwarrin though, managed two goals in both halves and would run out 4-0 winners.
Gippsland defenders Noah Jackson and Tanna Leicester battled manfully throughout the match.
Makeshift defender Spencer Davenport gave his coach another centre back option combining well with key defender Lucas Halden and making some timely tackles.
Under-16
It WAS another tough game for the Under-16 team.
They did well to hold the strong Langwarrin team to three goals in the first half.
Injuries to key players left the team struggling in the second-half.
New goalkeeper Jeffery Pearson made many great saves despite the final score of 11-0.
Ronald Kong had a couple of shots on goal, however they didn't make it into the back of the net.
Among the best were Rex Parini, Ronald Kong and Jesse Dugard.
Under-18
The heat was on in more ways than one when Gippsland Under-18 team took on Langwarrin.
The visitors were applying some intense pressure on Gippsland FC as they pushed for the opening goal in a frenetic first 25 minutes.
Gippsland only needed the slightest of chances with Hayden Berton slotting the opener from an acute angle following some great lead up play.
That goal would see Gippsland FC go into half-time with a hard-fought lead.
Both teams knew they were in with a chance however with Billy Whitmore getting on top in the midfield the second half started to go in favour of the home side.
At the hour mark Tana Betera would rise above all and head home his team's second goal after another fine cross.
A quarter of an hour later and Betera would have another chance and take it he did, lifting the roof off the stadium with a spectacular bicycle kick goal which gave the Langwarrin goalkeeper no chance.
After the fans took their seats again following the goal of the year, Brodyn Taylor would make a run down the wing and force a save from the Langwarrin keeper only for Hayden Berton to tap home for his second goal capping off a fine game for the Gippsland forward.
It was a great performance by Gippsland to score an emphatic 4-0 win.