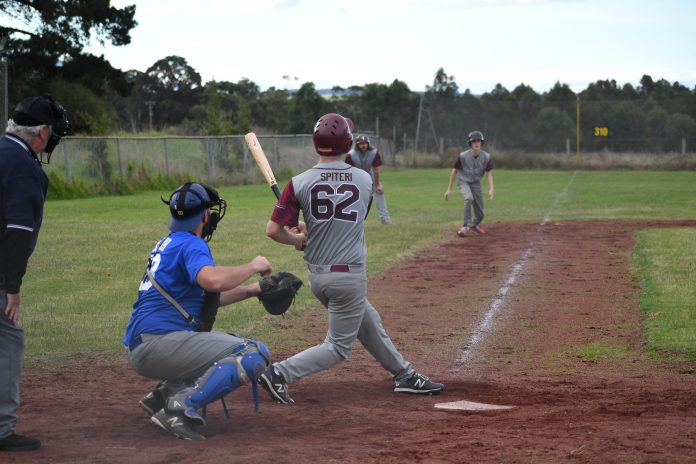 AMY FORRESTER
BASEBALL
LVBA
By AMY FORRESTER
SATURDAY was the first game back for our junior players.
Under-10s played first with Under-13s following.
All the kids were excited to be back on the field after having their season cut short last year due.
Sunday had an early start for the Under-16 teams.
Taking to the field for their first game of the season with some outstanding plays made by all, it's going to be a great season.
A GRADE
MOE/NEWBOROUGH vs TRARALGON REDSOX
IT WAS a tough game for the Traralgon Redsox who lost to the Moe/Newborough Dodgers in a result of 9-2.
Playing nine innings, Nathan Simpson led things off on the mount pitching for the Dodgers. Showing a strong game Simpson only allowed the Redsox eight hits over the nine, surrendering two runs and striking out five.
Luke Hornstra was the first to score for Traralgon in the first innings.
Tom Rynberk started off pitching for the Redsox.
Pitching three innings, he allowed four hits, three runs, striking out one and walking one. John Kus and Josh Graham each contributed in relief pitching for the Redsox.
Multiple hits were made by each side with the Dodgers getting 14 hits and Redsox eight.
SALE RANGERS vs CHURCHILL BRAVES
SALE Rangers two pitchers didn't allow a single hit, as they defeated Churchill Braves 11-2.
An early lead helped propel Sale to victory.
Scoring on an error in the first innings, Jack Nessham collected a fields choice, a double by Will Hector, a single by Kevin Arbuthnot was followed by a single by Joel Hector all in the second innings which saw Sale establish a lead.
Brad Jones was on the mount for Churchill, lasting two innings allowing five hits, seven runs and only one strikeout.
Bryce Haley, Rhys McKenzie and Jacob Dickinson contributed in relief pitching for the Braves. Joel Hector was on the mount for Sale allowing zero hits, two runs, striking out seven and walking one in four innings.
Will Hector took the final spotlight striking out Haley to get the last out of the game.
B GRADE
MORWELL Cougars fell behind early and couldn't make a comeback in a 12-1 loss against Moe/Newborough Dodgers.
The Cougars struggled to contain the high-powered offence of the Dodgers.
Sale Rangers also fell behind early and couldn't come back in a 21-0 loss to Churchill Braves.
Churchill pulled out all the tricks with a total of 13 hits with some of those being multiple hits, and with 14 stolen bases there was no stopping them.
C GRADE
MORWELL Cougars lapsed early and struggled to make a comeback with a 16-7 loss to Moe/Newborough Dodgers.
Churchill took the win against Sale Rangers 9-0 due to a forfeit on Sale's behalf.
LVBA STANDINGS:
A GRADE: Moe/Newborough 6 points, Traralgon 4, Churchill 0, Sale 0
B GRADE: Churchill 6 points, Traralgon 4, Moe/Newborough 2, Morwell 0, Sale 0
C GRADE: Churchill 6 points, Traralgon 3, Moe/Newborough 2, Morwell 0, Sale 0