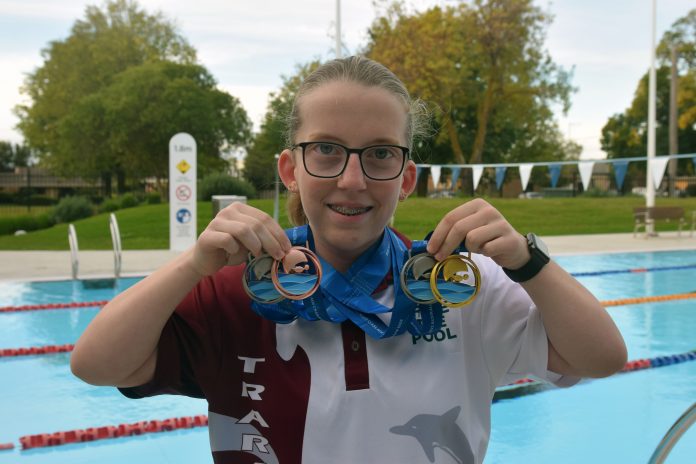 LIAM DURKIN
SWIMMING
By LIAM DURKIN
THE Latrobe Valley might have another Paralympian in the making.
Churchill swimmer Kayla Wilson recently returned home from the Australian Age Championships in Adelaide with one gold, two silver and one bronze medal.
The performances continued a steady rise for the 16-year-old, who has dominated the pool in the last five months.
Wilson started 2022 winning three gold and two silvers at the Victorian Country Championships in Mildura, and then followed up by winning all four multi-class events at the local Gippsland Championships in February.
Not to be outdone, the youngster then won a remarkable 10 gold medals at the Victorian State Championships in March before making her way to Adelaide for the nationals where she won gold in the Girls 15-16 100 metre breaststroke, silver in the Girls 15-16 50m freestyle, silver in the Girls 15-16 100m breaststroke multi-class and bronze in the Girls 16-18 200m individual medley.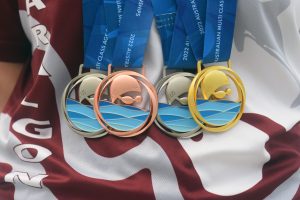 Wilson, who lives with hypochondroplasia (a form of dwarfism) said she was happy with how she performed in Adelaide.
"It was a good experience. I flew across with my coach Dean (Gooch) and back by myself. I had 10 events in Adelaide, I was very proud of my efforts and got PBs in most of my events," she said.
"I was just hoping to get a PB and to get into the top five which I did for most of my events."
Wilson has been swimming since age nine and trains most nights of the week either at Churchill or in Traralgon at Ford Swim Centre.                                                                     Traralgon Swimming Club head performance coach Dean Gooch congratulated Wilson on her achievements, saying she had displayed a great level of commitment outside club hours.
"Kayla has been swimming with the club now for over six years and due to circumstances is unable to attend all her required sessions with the club thereby having to regularly train on her own during the week at the Churchill Leisure Centre," he said.
"She is a very determined young girl who is very resilient, self-sufficient and adaptable. She has so much upside to her improvement that a future in swimming at the multi class level could be a sustainable and long term journey for her as she works her way through the ranks of Paralympic swimming.
"Her recent results, even though fantastic, could just be the tip of the iceberg in relation to her future success in the sport."
Wilson's achievements have attracted the attention of those in high places, and she has been added to the Swimming Australia Paralympic National Development Squad – the only Victorian to do so.
In the next 12 months, Wilson will head up to the Gold Coast for three separate five-day development camps as the sport heads toward the 2024 Paris Olympic Games and 2026 Commonwealth Games, part of which will be held in the Latrobe Valley.
Wilson looks well on the way to follow in the footsteps of fellow Traralgon swimmers and Paralympic medallists Emily Beecroft and Ruby Storm.
"They were always people I looked up to and hoped I could get to that level," she said.
"If that is able to happen I would definitely like to take my swimming further."