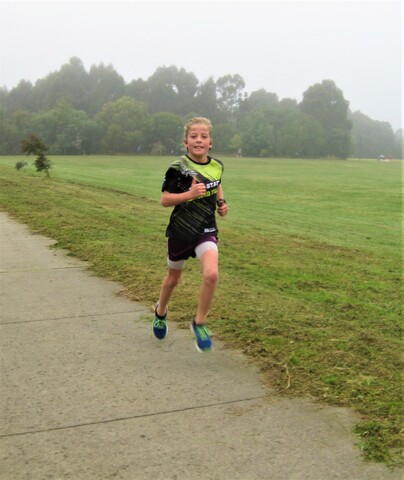 MILES VERSCHUUR
ATHLETICS
TRARALGON HARRIERS
By MILES VERSCHUUR
IN cold, rainy, and dour conditions, 44 walkers, runners, and joggers looped around the west end of Traralgon for the Stockdale Road 5km course, with some of the Athletics Victoria team members using the race as preparation for Saturday's event.
Nevertheless, in an extraordinary performance, 11-year-old speedster, Dempsey Podmore flew around the figure-eight course, finishing in 20.53, ahead of ultra-marathoner, Zack Beasley who completed the run in 21.17, while third went to Shane Gavin in 21.29, with Darrel Cross bearing down on Gavin in 21:32.
Club co-captain Yani Cornthwaite (23.58) was excellent in return to Thursday night running, the fastest female 'fresh' off a case of the 'spicy cough.' Amanda Reid in an impressive time of 24.40 was second fastest woman, marginally ahead of the evergreen, Liz Kenney (25.13).
Traralgon Harriers vice-president Andrew Legge took time to highlight "the diversity and the vast range of the athletes [on Thursday] night," with Podmore 11 years of age, and Harriers life member, Barry Higgins, a youthful 83, Legge commented, "there is no other club with that range of active participants."
On Saturday, a busload of 20 Harriers travelled to St Anne's Vineyard on the outskirts of Bendigo for the second round of the Athletics Victoria XCR season.
Running 2×4-kilometre laps around a tough course, the Harriers scored impressive team victories.
The fastest men were Corey Milner (28:42), debutant Zack Beasley (30:10), and Ian Cornthwaite (31:56) who also won a smashing victory in the Men's 60+ Category.
Emilie Cutler, Sarah Lewis, and Sally Theobald finished in high placings in the women's race against an extremely competitive field.
Results: Stockdale Road (5km): Dempsey Podmore 20.53, Zack Beasley 21.17, Shane Gavin 21.29, Darrel Cross 21.32, Clinton Jolly 21.40, Andrew Greenhill 21.58, Chris van Unen 22.02, Warren Shields 22.16, Jason Odlum 22.21, Pete Sanders 22.23, Tim Bye 22.55, Andrew Broberg 23.48, Yani Cornthwaite 23.58, Jerzey Podmore 24.17, Stephen McLeod 24.19, David Barr 24.39, Amanda Reid 24.40, Ron Verschuur 25.03, Liz Kenney 25.13, Dave Mann 25.37, Stephen Renehan 25.37, Kathleen Kent 27.20, Collette Hofmann 27.26, Phill Mayer 28.11, Kate Mayer 28.11, Clair Macumber 28.28, Tania Whitehead 28.44, Gary Fox 28.52, Maree (Ree) Graham 29.20, Mandy Ellis 30.17, Stacey Podmore 30.37, Callie Cook 33.07, Michelle Sawyer 33.21, Kylee Earl 33.33, Barry Higgins 49.30, Kathy Quinn 51.17, Michelle Colwell 51.17, Alli Triggs 51.17, Andrew Legge NTR, Michael Walker NTR, Nick Swinton NTR, Owen Notting NTR, Ann Bomers NTR.
Athletics Victoria @ Bendigo
Women's Open – 8km: Emilie Cutler 33:19; Sarah Lewis 35:52; Sally Theobald 37:09; Yani Cornthwaite 37:41; Elizabeth Kenney 41:57; Michelle Sawyer 46:39; Callie Cook 48:39; Ann Bomers 56:55;
Men's Open – 8km: Corey Milner 28:42; Zackary Beasley 30:10; Ian Cornthwaite 31:56; Greg Semmler 33:58; Darrel Cross 34:47; Andrew Greenhill 36:08; Stephen Renehan 36:37; Mark Rossiter 37:14; Timothy Bye 40:07; Ian Twite 41:05; Ron Verschuur 44:27;
Under-18 – 4km: Miles Verschuur 15:07.